River Lagan: Bag of 28 pipe bombs and bomb parts found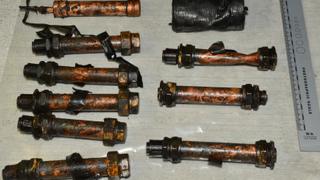 A bag containing 28 pipe bombs; an improvised under-car bomb; two grenades and other bomb-making equipment has been found in Belfast's River Lagan.
The holdall bag was discovered in the water near the city centre on Thursday, while the river was being dredged.
Police were called to the scene shortly after 16:00 GMT and officers closed Queen Elizabeth Bridge and Lagan Weir footbridge to examine the weapons.
They have described it as a "significant munitions find".
'Designed to kill'
The haul included components for an improvised grenade launcher, but police do not yet know how the weapons got into the river or how long they have been in the water.
They said they suspect the bag may have been dumped by someone who "panicked".
"These potentially lethal weapons were designed to kill, or seriously injure, their targets, which include police officers and members of the public," said Det Ch Supt Raymond Murray.
"History tells us that they would be used recklessly and indiscriminately, with little regard as to who would be the final victim.
"Thankfully, they did not reach their destinations or targets, and have been taken out of circulation."
The list of munitions recovered by the PSNI included:
28 suspected pipe bombs
one under-vehicle improvised explosive device
components for use in coffee-jar bombs
two improvised grenades
component for an improvised grenade launcher
an improvised smoke grenade.
An Ammunition Technical Officer (ATO) carried out an examination of the objects at the scene on Thursday night and the weapons have been taken away for extensive forensic examination.
Mr Murray said the PSNI investigation is at an early stage and officers are "unclear at this time how old these munitions are, and how they came to be in the water".
"They do have the appearance of having been dumped by someone who panicked, perhaps as a result of police activity, but when that may have happened is not yet clear."
He added: "Clearly, those responsible for dumping these extremely dangerous munitions, and in the manner in which they did, demonstrated a blatant disregard for the safety of the community."
Mr Murray thanked those who first found the weapons for reporting the incident to police.
He also appealed to anyone with information about the incident to contact detectives.
It is being investigated by the PSNI's Terrorism Investigation Unit.
Both the Queen Elizabeth Bridge and Lagan Weir footbridge have reopened.