Thirty pigs dead after slurry pit incident in County Antrim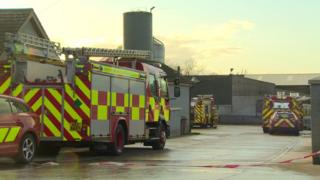 Thirty pigs have died after falling into a slurry pit at a farm in Aghalee, County Antrim.
The Northern Ireland Fire and Rescue Service (NIFRS) said six of its crews attended the scene at Ballinderry Road.
The fire service and a specialist Large Animal Rescue Team was called at about 09:20 GMT on Saturday.
NIFRS Group Commander, Andrew Woods, confirmed that a further 25 pigs were also rescued.
He said: "You can imagine the slurry pit, there's going to be an awful lot of slurry and the pigs are in a very agitated state, so trying to rescue these pigs from the slurry would be a very difficult and time consuming operation.
"It is a difficult scene for crews to deal with, but we have measures in place, coping mechanisms, that firefighters can avail of if necessary."
The Health and Safety Executive said it was "aware of the incident and are making initial enquiries".