Man charged with 'hate crime' attack in Omagh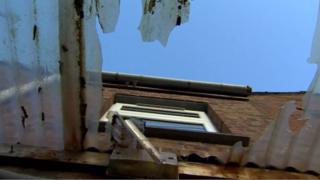 A 50-year-old man has been charged following an attack in Omagh in which a woman jumped from an upstairs rear window with a three-year-old boy.
Police described the incident in St Patrick's Terrace at about 22:25 GMT on Saturday night as a "hate crime".
The woman, who is from Ukraine, sustained pelvic injuries.
The man has been charged with eight offences including making threats to kill.
Police were told a man shouted racist abuse and was wielding a bat as he tried to force his way inside.
They said the 22-year-old woman and the boy were "so in fear" they leapt from a first floor window.
The woman's partner, who is from Pakistan, told BBC News NI: "In the back there is this plastic sheet thing and it is quite thin. She didn't know about this when she put her feet because when you are carrying a child it is quite heavy and she just fell down".
He said she has been told she will need surgery, while the child had a sore ankle.
The man has also been charged with grievous bodily harm with intent, possession of an offensive weapon, criminal damage and harassment.
It is expected he will appear before Enniskillen Magistrates' Court on Monday.