Pat Finucane: Family receive 'no assurance' of inquiry from SoS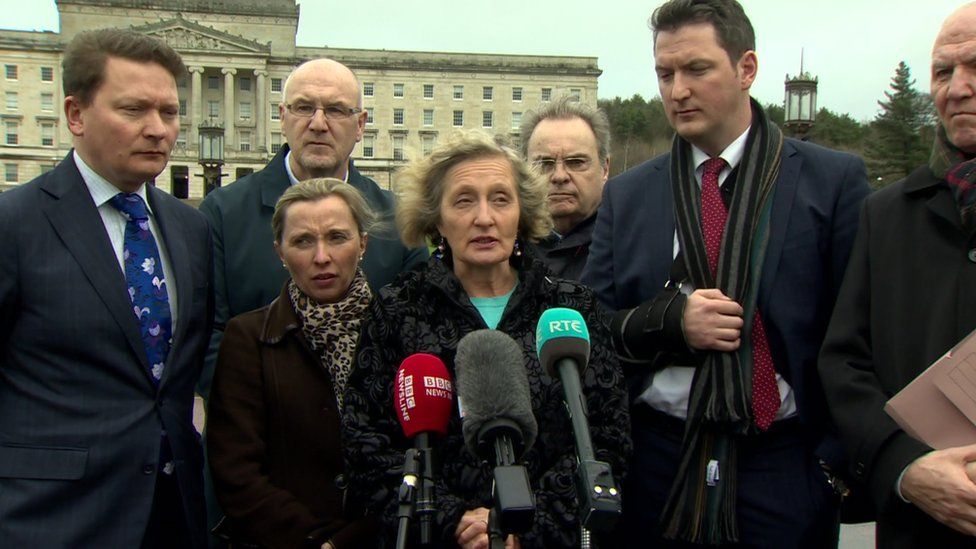 Relatives of the murdered solicitor Pat Finucane have not received any assurance from the British Government that a public inquiry into his death will be called.
His family met the new Northern Ireland secretary, Brandon Lewis, at Stormont on Friday.
Tanaiste Simon Coveney is also due to meet Mr Lewis soon.
Mr Finucane was shot dead by loyalist paramilitaries in 1989. There have been long-standing allegations that members of the UK security forces colluded in his murder.
His family has been urging the government to hold a public inquiry into the case.
Assessment 'within weeks'
After meeting Mr Lewis, Mrs Finucane said she had not heard anything to indicate an inquiry will happen yet.
She added that the secretary of state told her he would make an assessment "within weeks, not months".
Her son, the Sinn Féin MP John Finucane, said this was the first time they had secured a meeting with the British government, despite requests to his predecessors, Julian Smith and Karen Bradley.
Mr Lewis has also met Tánaiste (Irish deputy prime minister) Simon Coveney at Stormont.
It was their first meeting since Mr Lewis replaced Julian Smith.
Mr Coveney says he has impressed upon the new Secretary of State the need to implement legacy plans "in full".
The pair held their first official meeting at Stormont on Friday afternoon.
Mr Coveney said Mr Lewis faces "a number of challenges" in his new role.
In the latest Stormont deal, the government pledged to introduce legislation - within 100 days - to implement a legacy deal struck five years ago.
It includes an Historical Investigations Unit (HIU) to look into Troubles killings - a proposal that jars with calls from some Conservatives - and a commitment from Number 10 to end all "vexatious prosecutions" against former Northern Ireland veterans.
Mr Coveney paid tribute to Mr Smith, saying he was a "tough act to follow" - but that he would work with Mr Lewis to uphold all aspects of the deal.
He also said he had discussed Brexit with the new secretary of state.
The meeting follows the Irish general election, which saw Mr Coveney's Fine Gael party come in third place.