Coronavirus: Foster and O'Neill scale back US trip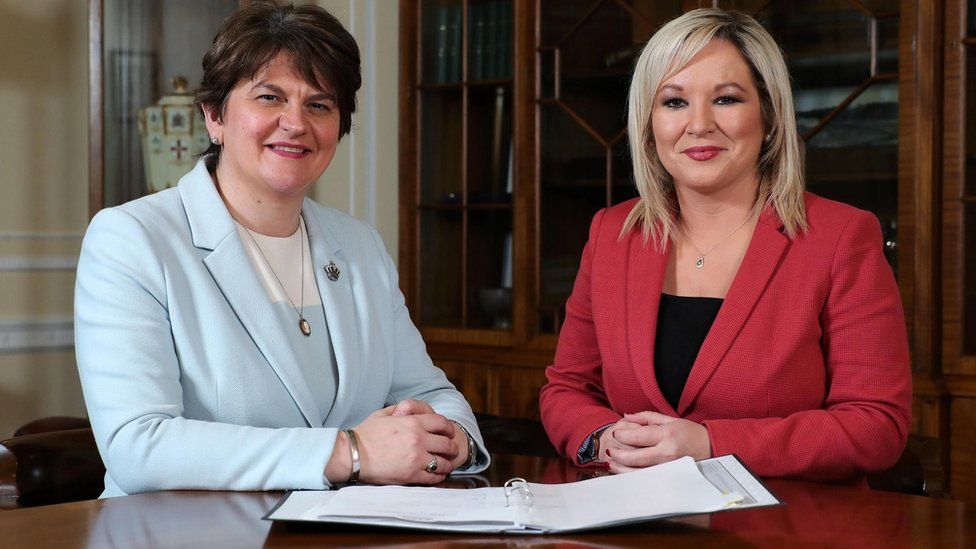 Stormont's leaders are set to scale back their St Patrick's Day trip to the US in response to the coronavirus outbreak.
Arlene Foster and Michelle O'Neill intend to cancel plans for the New York leg of their itinerary next week.
They are still expected to travel to Washington DC to meet political and business leaders.
Meanwhile, a second case of coronavirus has been confirmed in the Republic of Ireland.
RTÉ News is reporting it involves a female in the east of Ireland who travelled from northern Italy, which has become a major centre of infection.
A teenage boy from a school, also in the east, was confirmed as the first case in the Republic on Saturday.
It is now advising against travel to the four affected provinces, previously it was to nine named towns.
The change in Northern Ireland's first and deputy first ministers' plans, as first reported by PA News, comes as No 10 has ramped up its planning to try to combat coronavirus.
Mrs Foster and Mrs O'Neill had planned to visit New York at the start of next week but with more emergency UK-wide government meetings scheduled for then, Stormont sources said they plan to take part in those discussions before heading to the US.
The executive office said full details were yet to be confirmed.
Earlier on Tuesday, the economy minister said Northern Ireland was "open for business" despite concerns about the potential spread of coronavirus,
Diane Dodds said people should "continue to work and live as normal" and at this stage it was about "containment, good hygiene and scientific advice".
The number of cases overall in the UK rose from 39 to 51 on Tuesday.
It also warned police may need to focus only on responding to the most serious crimes and maintaining order if the virus spreads.
Other possible measures could include school closures, reduced social gatherings and working from home.
What do I need to know about the coronavirus?
Health officials in Northern Ireland have said routine hospital appointments and surgeries may be postponed if Covid-19 - the respiratory disease caused by the coronavirus - infects large numbers of people.
Dr Miriam McCarthy, from the Health and Social Care Board, said officials would be looking at "designating areas where they may admit people affected by Covid-19".
On Tuesday, it emerged the Northern Ireland exams body was drawing up plans to manage potential disruption to GCSE and A-level exams due to coronavirus.
The Council for the Curriculum, Examinations and Assessment (CCEA) said schools should prepare for the 2020 summer exams as normal.
Also on Tuesday, the Republic of Ireland's health service said it had written to members of a small musical group asking them to self-isolate until Sunday 15 March, as a precautionary measure linked to the first confirmed case of coronavirus in the country.
A community band session last Saturday was attended by that patient.
In Northern Ireland, a few GCSE and A-Level exams begin on 4 May with the main timetable beginning on 11 May.
Exam bodies in England, Wales and Northern Ireland are updating existing contingency plans to deal with disruption.
Those plans include what arrangements to make if schools are closed for an extended period or if pupils are ill and cannot sit an exam as planned.
Any announcement on widespread national disruption - like the closure of schools - would be the responsibility of relevant government departments.
However, CCEA and other exams regulators would provide advice on any resulting disruption to exams and assessments.
Some schools in Northern Ireland have cancelled planned trips to Italy.