Larne: Police wait to question mother over fatal stabbing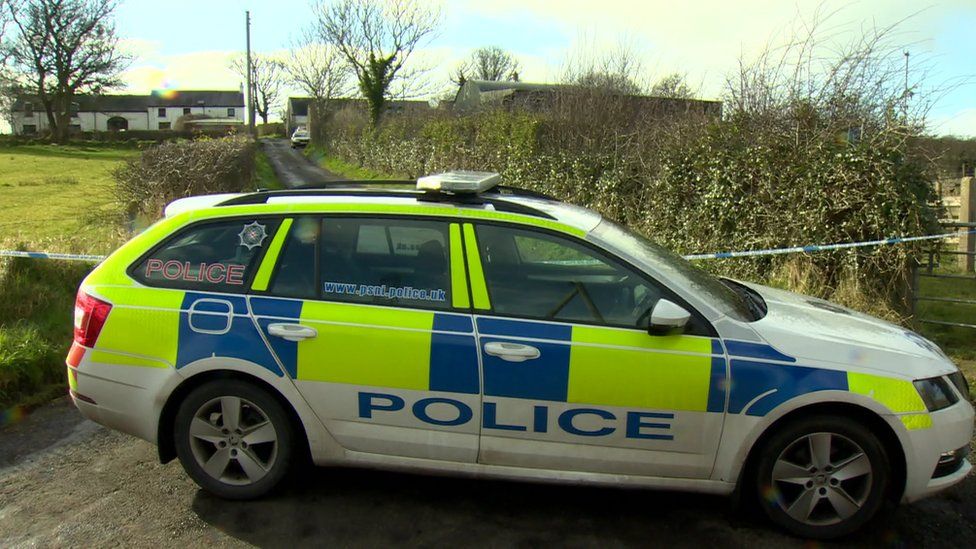 Detectives are waiting to question a woman about a fatal stabbing incident in County Antrim that left one of her children dead and a baby injured.
The woman, who is in her 30s and has been named locally as Fiona Magowan, is critically ill with a knife wound.
Police say they are not seeking anyone else in connection with the incident.
The dead child is believed to have been aged about two.
The woman was taken to hospital in Belfast along with her injured baby on Monday.
Information on the baby's condition has not been released by hospital authorities.
The mother is a nurse, according to neighbours who have spoken of their shock at the stabbing.
They reported hearing a police helicopter in the area at about 10:30 GMT on Monday.
It is understood the family has been living in the farmhouse for less than a year.
The house and outbuildings are situated on a narrow lane on a hillside overlooking Larne Lough.
"I heard the sirens and the helicopter, the air ambulance, came and it landed up at the back of the farm," neighbour Rhonda Kernohan told the Press Association.
"We thought it was a farm accident but when we looked out there was a lot of shouting and a lot of police, a lot of ambulances about."
Another neighbour added: "We are feeling absolutely awful, so sad it is terrible.
"The shock of it, when it happens nearly on your doorstep."
Forensic investigators were at the scene for much of Monday and took a number of items from the house.
On Monday, the Police Service of Northern Ireland (PSNI) said their investigation was "at an early stage" and detectives are "not looking for anyone else" in connection with the child's death.