Flybe: NI reaction as airline is set to collapse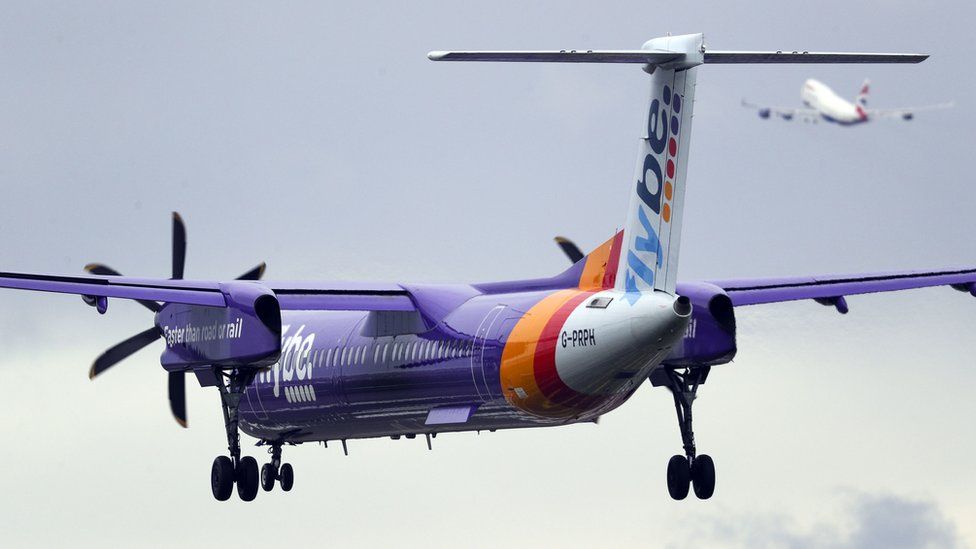 A vital travel link between Northern Ireland and the rest of the UK could be under threat due to the expected collapse of airline Flybe.
The Exeter-based company said the impact of the coronavirus outbreak on demand for air travel was partly to blame for a recent downturn in bookings.
Flybe operates 80% of the flights at Belfast City Airport.
At least 41 Flybe flights are due to arrive there on Thursday, with 39 departures planned too.
On Wednesday night, Belfast City Airport said it could not comment on the situation at this time.
The Flybe website said the page was "no longer live".
First Minister Arlene Foster tweeted she had spoken to the UK government "regarding impact of Flybe on local workforce and travellers as well as importance of key routes for air connectivity in Northern Ireland".
The response would be a "big test" of the government's commitment to UK regional connectivity, she added.
Many passengers took to social media, asking what will happen with flights booked for Thursday and in the coming days and weeks.
Some had booked their travel just hours before it became apparent there were serious issues.
Other passengers turned up for their flights with information coming on a piecemeal basis.
.@flybe are who I fly with when going home from University. I rely upon them as an affordable and nearby choice for travel. Staff have always been so lovely and I'm heart broken for them tonight but also worried about Belfast City Airport that relies on Flybe https://t.co/9hSKQi3TwE

— ⚫🖤Felicity McKee (@mckee_felicity) March 4, 2020
Some boarded planes which then had to turn back to the terminal after taxiing to the runway.
BBC sports presenter Holly Hamilton was flying from Manchester to Belfast and was stuck on board while deliberations were made over the flight, which eventually took off.
We made it to Belfast. Thank you so much to the amazing pilot and crew that got us here! A lot of very grateful passengers on board what looks like the last ever Flybe flight.. Thanks Peter, Carol & Ingrid. A credit to #Flybe 👏 pic.twitter.com/cDEWCnUn0l

— Holly Hamilton (@HollyHNews) March 5, 2020
Northern Ireland's politicians have also taken to social media to express their dismay.
East Belfast DUP MP Gavin Robinson said he would consult Economy Minister Diane Dodds on how to minimise the impact.
Worrying news that Flybe are on the verge of collapse. As a key operator within Belfast City Airport, the impact of such a loss will be hard felt. My thoughts are firmly with staff who face immediate uncertainty. Over the next few hours and days, I will continue to work alongside

— Gavin Robinson (@GRobinsonDUP) March 4, 2020
Other politicians suggested it might be time to look at all of the available options, including an overhaul of current provision.
South Belfast SDLP assembly member Matthew O'Toole called for an economic strategy on an all-island basis.
Expected #flybe news is a horrible jolt for Belfast and NI, for affected staff. Our economy needs connectivity, so we need to urgently explore options for ensuring we have it. But we are also overdue an actual economic strategy looking at both NI-GB and all-Ireland connectivity

— Matthew O'Toole (@MatthewOToole2) March 4, 2020
North Down MP Stephen Farry called the development "deeply worrying news" and said the collapse was likely to be discussed in the House of Commons on Thursday.
He also wants the future of the airline and the future of Belfast City Airport to remain separate.
Deeply worrying news. First thoughts must be with jobs at risk. FlyBe is crucial to NI's air connectivity. Important that future of FlyBe and ongoing role for GBBCA are separate. Government needs to protect connectivity. Expect urgent statement in Commons.https://t.co/ryxHsEjN3L

— Stephen Farry (@StephenFarryMP) March 4, 2020
The collapse of Flybe may not spell the end of its routes from Belfast.
Some commentary that "this is the end" for Belfast City Airport. Many of the routes Flybe operates there are popular and profitable. I understand that last time we were in this situation the airport was privately confident the routes would be taken up by another carrier.

— Richard Morgan (@BBCRichardM) March 4, 2020
It is understood Belfast City Airport bosses had discussed the availability of other carriers in that scenario.
However, that profitability may be mitigated by other factors, according to Belfast-based economist Richard Ramsey.
"NI already soon to be facing a sea-border from Brexit. Now a partial air border with strategic air-routes stopped/reduced from Flybexit," he tweeted.
Under normal circumstances other airlines could come in & snap up slots.But other airlines will be looking at self-preservation or waiting until the Coronavirus passes. No rush to get slots with (temporary) slump in demand. So NI likely to be an air access black spot for a while

— Richard Ramsey (@Ramseconomics) March 4, 2020