Loganair takes up two Flybe Belfast City Airport routes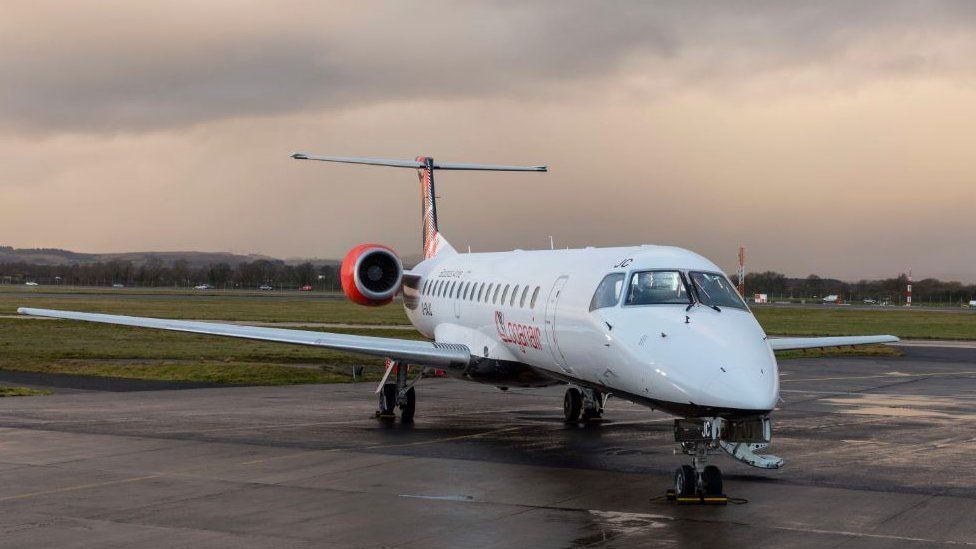 Scottish airline Loganair has announced it will take up two routes formerly flown by Flybe out of Belfast City Airport.
Flybe went into administration earlier on Thursday, putting 2,000 jobs at risk across the UK.
All Flybe flights were cancelled and its passengers have been advised not to go to the airport.
Flybe operated 14 routes from Belfast City Airport - about 80% of its scheduled flights.
Loganair said the two routes - between Aberdeen and Belfast and Inverness and Belfast - will commence on 16 March and 23 March respectively.
The airline will be taking up 16 formerly Flybe routes across the UK and has opened a special recruitment line for former Flybe employees.
Belfast City Airport said "a number of airlines" have expressed interest in taking over its routes affected by the collapse.
Belfast City Airport's chief executive said it was a challenging time for both staff and customers. but he was confident of rebuilding its network.
"In the last 24 hours, we've had an interest in all of our network," Brian Ambrose told the BBC's Good Morning Ulster programme.
"For some of the larger routes, we've had multiple interest from a number of airlines.
"So I'm confident that within the next days and weeks we will be announcing backfill on a number of those routes and it's a matter of how quickly airlines can get aircraft available.
"The airline was a significant economic driver for the region, carrying 1.6 million passengers to and from Belfast in 2019," he explained.
Analysis by Chris Page, BBC News Ireland Correspondent
Northern Ireland is particularly reliant on air links, simply because of its geography.
To get to any other part of the UK from here, you have only two options - go by sea, or by air.
Local MPs stressed those circumstances in their questions in parliament.
Stephen Farry from the Alliance Party said Northern Ireland had in effect lost 25% of its air travel capacity "overnight".
The DUP's Gavin Robinson - whose constituency takes in Belfast City Airport - said the government had been "large in ambition" for regional connectivity but "light on detail".
Transport Minister Kelly Tolhurst told the Commons she "absolutely recognised" Northern Ireland had specific concerns.
She pointed out that the Conservative Party manifesto contained a commitment to consider devolving short-haul air passenger duty (APD).
Mr Ambrose said that Flybe had operated "a strong and profitable base" from Belfast which would prove attractive to other carriers.
He also said he was also hopeful that some of the airlines might consider hiring Flybe staff.
"We were talking to a number of staff last night when they came off shift and they're going home to let their families know they've lost their jobs," said Mr Ambrose.
"As we secure these routes, we will be certainly telling the incoming airlines - if they need staff, if they need engineers and pilots and crew - they have quality staff who have been working here for many years and hopefully some of them will pick up jobs in the process."
In a statement, Flybe said it had been unable to overcome significant funding challenges.
The Exeter-based carrier said the impact of the coronavirus outbreak on demand for air travel was partly to blame for its collapse.
Flybe CEO Mark Anderson said the UK had lost one of its "greatest regional assets".
Economy Minister Diane Dodds said she deeply regrets the closure of Flybe.
"Maintaining air connectivity is absolutely vital to Northern Ireland - to enable access to the economic market in Great Britain and for tourists arriving to our airports from Great Britain and beyond," she said.
She added: "My department will work closely with [the Department for Transport] to assist, as required, with the repatriation of Northern Ireland passengers."
The collapse of Flybe has also caused concerns for staff and students at Queen's University, Belfast (QUB), many of whom relied on the routes for academic collaboration with other UK universities.
"This is very challenging for us," said QUB Faculty Pro Vice-Chancellor, Prof Stuart Elborn.
"We've students and staff who commute using the Flybe airline very frequently for research, for education.
"We've a number of joint post-graduate programmes - for example one with Aberdeen which is very important to us and the only flight to Aberdeen to Belfast and back is Flybe.
"So this will have an impact for sure and we will have to seek ways to mitigate that."
Have you been affected by the collapse of Flybe? Share your experiences by emailing haveyoursay@bbc.co.uk.
Please include a contact number if you are willing to speak to a BBC journalist. You can also contact us in the following ways: