Coronavirus: First death confirmed in NI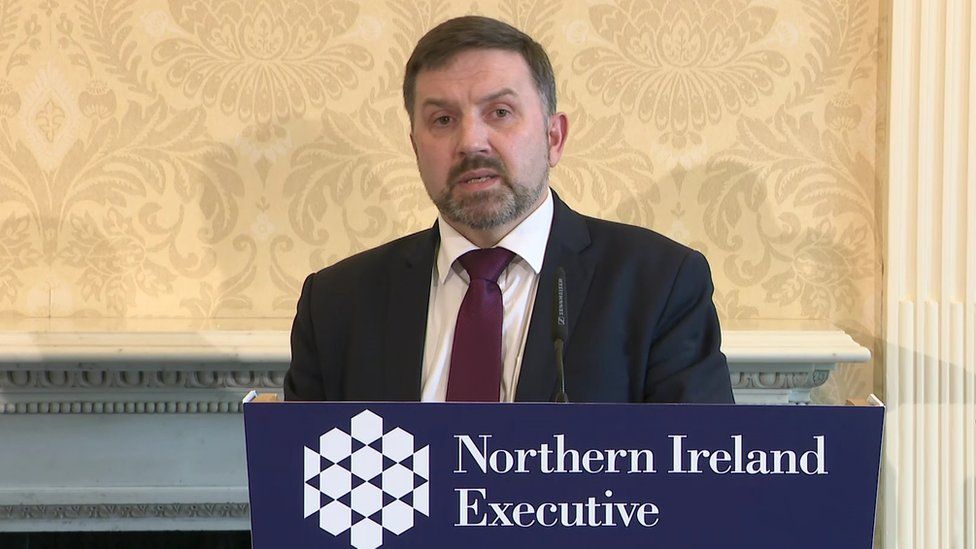 The first coronavirus-related death in Northern Ireland has been confirmed.
The patient was male, elderly, had an underlying medical condition and was being treated in a hospital in the greater Belfast area.
The patient was among the 77 people who have tested positive for Covid-19 in Northern Ireland.
On Thursday, the Department of Health said that in the case of an 80% infection rate, the NI death toll could be in the region of 14,000.
Health Minister Robin Swann described the scale of the impending surge as being "of biblical proportions".
"Our health service is already fast becoming unrecognisable before our very eyes."
Speaking later on the BBC's The View programme, Mr Swann said: "I don't want to be alarmist... if we take an 80% infection rate of the population of Northern Ireland, and we take a 1% mortality rate out of that, we're looking at in the region of between 14,000 and 15,000 deaths. That is nightmare, worst-case scenario."
As of Thursday at 14:00, 1,646 tests had been carried out in Northern Ireland, with 77 confirmed cases and one death.
There are now 557 confirmed cases in the Republic of Ireland after 191 new cases were announced on Thursday, with a further death being recorded, bringing the total to three deaths associated with COVID-19.
Outlining plans to deal with a surge, Mr Swann earlier said testing capacity would be expanded to about 800 Covid-19 tests per day.
His department is considering bringing in private suppliers at the beginning of next week.
Mr Swann announced that third-year nursing and midwifery students due to qualify within six months would be redeployed to clinical care duties.
"This will happen within the next 14 days and will provide support of up to 800 senior nursing and midwifery students," he said.
Meanwhile, about 230 final year medical students at Queen's University will join the medical register four months earlier than originally envisaged.
Stressing the importance of "social responsibility" in terms of following government advice regarding precautions, Mr Swann said: "These aren't light requests, these are things that will pull down [the number of deaths] significantly."
On The View, he added: "You may think you're going to be fine. Think about your father. Think about your mother. Think about your grandfather. Think about your next door neighbour, because your actions today will have an adverse effect in a fortnight's time on those individuals. So be responsible."
'These measures come at a cost'
Mr Swann said if social distancing and other measures were properly implemented, they could reduce the peak by some 50% and reduce deaths by up to a third.
He said planning assumptions indicated 8% of infected people would need hospital treatment, 0.7% would require critical care, and 1% would die.
However he added the figures would vary highly depending on age and other health factors.
"There is no doubt that these measures come at a cost," he said.
"They will be difficult for people to stick to. They will have significant social and economic impacts. But they will save lives."
Deputy First Minister Michelle O'Neill paid tribute to the "amazing health workers who are doing everything they can to provide the best possible care for people in the most difficult circumstances".
More information on surge plans
All trusts have identified specific wards to provide additional bed capacity to respond to the needs of people with Covid-19 who need hospital admission;
Forty additional mechanical ventilators (30 adult units and 10 paediatric units) have been ordered bringing the total available in Northern Ireland to 179 by the end of March;
Plans are in place to rapidly increase the number of critical care beds as necessary;
Trusts are halting non-urgent appointments investigation and procedures.
Some 90 staff across a number of pharmacies are self isolating, according to Community Pharmacy NI - 20 pharmacists and 70 support staff;
Care workers are concerned about a lack of safety equipment to protect them from potential infection from coronavirus;
Pauline Shepherd, of Independent Health and Care Providers, described care workers as "ill-equipped". She said more resources and equipment are needed;
There is no risk to food supplies and while panic-buying is an issue, it is expected to end as people realise supply lines are secure and run out of space in their homes to store food;
DAERA's head of farming, Norman Fulton, said producers and retailers are coping well with the increased demand.
On Thursday afternoon, Belfast City Council announced that the chapel at Roselawn crematorium will close from Monday "in order to protect the staff who have to undertake [cremations], and also to protect grieving families and friends from the growing transmission of Covid-19".
Cremations will continue to be carried out, but no family can attend them.
"We understand that families may wish to make alternative arrangements to hold a service or ceremony elsewhere," it said in a statement.