Coronavirus: Call to reopen cemeteries divides NI parties
By Jayne McCormack
BBC News NI Political Reporter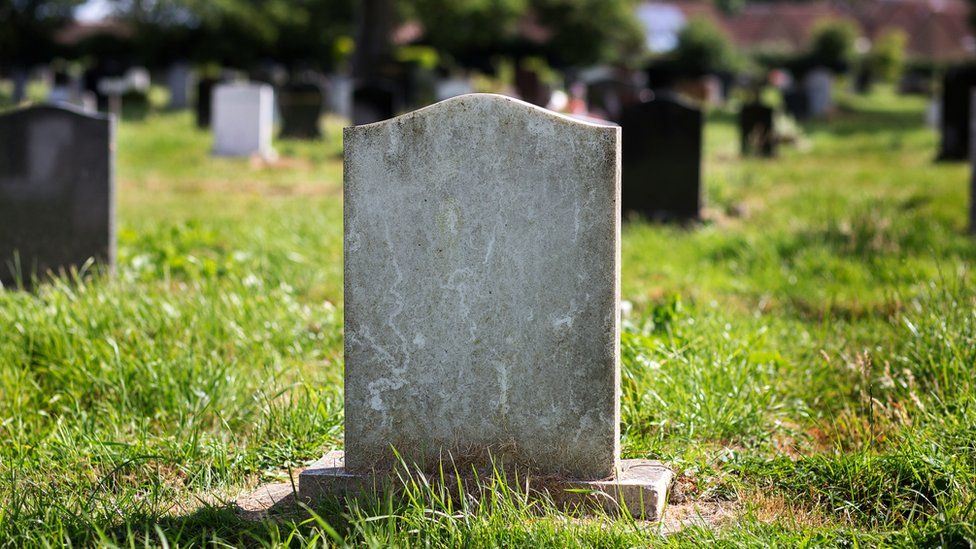 The Stormont parties are divided over a call to reopen cemeteries across Northern Ireland on a controlled basis.
Cemeteries were closed when the lockdown was announced by the Stormont executive last month.
While they are operated by councils, the executive holds the legal power to decide when they should reopen.
The DUP and UUP support the move. Sinn Féin and Alliance are opposed, while the SDLP is seeking advice from health officials on the proposal.
Speaking on BBC Radio Ulster's Stephen Nolan Show, DUP MP Sir Jeffrey Donaldson said it was "about making balanced judgements".
First Minister Arlene Foster said she believed cemeteries should reopen, but that the executive would need to come to a "collective decision" on the matter.
Deputy First Minister Michelle O'Neill said she recognised the sensitivities involved, but added that public health had to be the priority.
"We are still in the middle of a pandemic," said Ms O'Neill. "I can assure the public at home that as soon as we're in the position to lift the restrictions we will."
Earlier Sinn Féin junior minister Declan Kearney told the assembly that keeping cemeteries closed was a price worth paying.
"I and executive colleagues understand how difficult it is that members of our families, friends and community are being denied solace which moments of reflection at gravesides can provide, but that is the price we must pay.
"No other interest can take primacy over our public health."
Sir Jeffrey said he believed a system could be put in place in order for people to visit cemeteries without putting themselves and others at risk.
He suggested a one-way system could be set up, or that opening hours should be reduced and that social distancing measures should be strictly adhered to.
"We allow people to go out to the supermarket, where they queue up," he added.
The Ulster Unionist Party's Mike Nesbitt said he did not believe keeping cemeteries closed was a price worth paying, in order to curb the spread of the virus.
"I know I could visit my father's grave at Roselawn (Crematorium) and the authorities could ensure social distancing is maintained in a way it is not maintained at our supermarkets on a daily, hourly or minute-by-minute basis," he said.
"There is more we can do to be consistent, empathetic and recognise our common humanity."
The SDLP leader Colum Eastwood said he has written to the Department of Health seeking the latest scientific advice on proposals to open cemeteries.
"If possible, we will do all we can to relieve the emotional distress that people are under," he said.
"But ultimately, we must prevent any unnecessary loss of life. The advice of the chief medical officer and chief scientific officer will be critical in making these determinations."
The Alliance Party said that while it had sympathy with those wished to visit the grave of a loved one, it was "important we maintain the stay-at-home guidelines until the lockdown restrictions are relaxed".
Any changes to the current position will be a matter for the entire executive, it added.
A Londonderry woman who has been protesting against Derry City Cemetery being closed to the public because of lockdown restrictions said she will not stop until it is re-opened.
Etta Darcy's husband, Hugh, died last August and is buried at the cemetery.
Mrs Darcy told BBC Radio Foyle that visiting her husband's grave was "her comfort."
The widow said many people, like herself, deal with their grief by visiting their loved ones at cemeteries.
Mrs Darcy said she would visit her husband's grave before the lockdown and sit with him for one to two hours everyday,
"It feels terrible" to not be allowed to have that, she said.
Derry City and Strabane District Council, which manages most cemeteries in the district, stressed the site remains closed because of Northern Ireland executive guidance.
A council spokesperson said council "understands how difficult this is for people" but the decision to reopen is "not the council's to make".