Coronavirus: Minister calls for review of garden centre ban
By Jayne McCormack
BBC News NI Political Reporter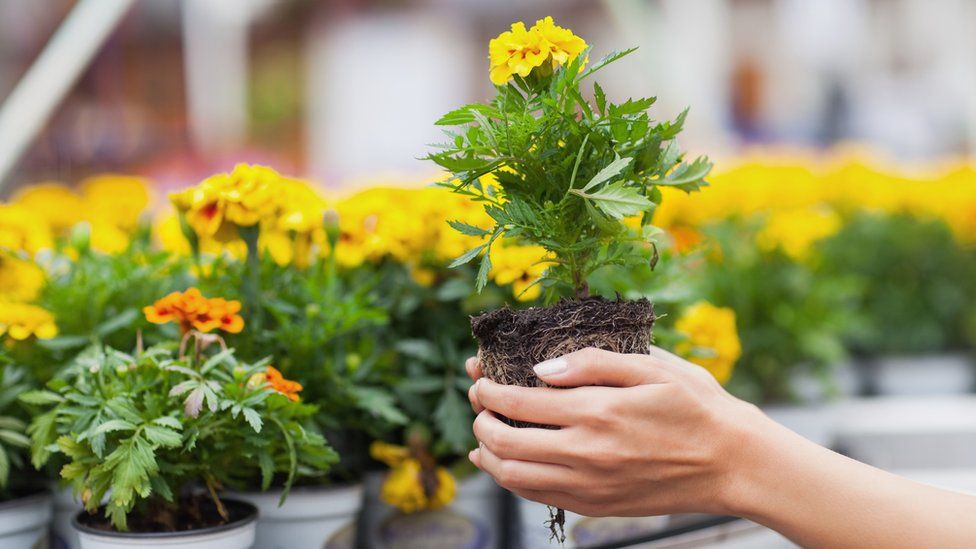 Environment Minister Edwin Poots has suggested garden centres should be allowed to reopen, if they can manage social distancing.
Executive ministers are engaged in discussions about some lockdown restrictions that could be lifted in Northern Ireland.
Last week, they agreed cemeteries could reopen on a controlled basis.
Mr Poots said the centres were normally large facilities which had a limited number of people present.
Latest figures published by the Department of Health on Wednesday showed nine more people in Northern Ireland have died with coronavirus.
That brings the total number of deaths to 338, although this figure, which relates mainly to hospital fatalities, is likely to rise.
In the Republic of Ireland, another 31 people who had been diagnosed with the virus have died, bringing the total to 1,190.
Speaking at the executive's daily press conference, Mr Poots said the executive had discussed reducing a number of other lockdown restrictions.
"I believe we can move forward with a graduated response rather than have a 'big bang' at some stage and those things which cause the least risk - without losing the message - are things we can consider," he said.
In other developments on Wednesday:
"Garden centres are normally large facilities and limited numbers... so they are places where you can have social distancing.
"The alternative for the executive to not opening garden centres over the next number of days or weeks is that they offer a large compensation package to garden centres."
About 60% of goods in garden centres are sold between April and June and have a "shelf life", he added.
Communities Minister Deirdre Hargey said the executive will review the lockdown restrictions by 9 May - but stressed the importance of having enforced them in the first place.
"Hopefully, through a co-ordinated plan looking at the medical advice and the modelling, we can start to do that in a way that reduces the loss of life," said the minister.
She also warned that lifting more restrictions too early could lead to a bigger rise in cases and deaths from the virus in Northern Ireland.
The latest statistics show there were also 55 more cases of coronavirus diagnosed in NI, bringing the number of confirmed cases to 3,463.
There are now 69 outbreaks in care homes and 30 patients with Covid-19 in intensive care, four fewer than the total recorded on Tuesday.
With 376 more confirmed cases in the Republic of Ireland, the overall number infected there is now 20,253.
Universal credit claims still rising
Mr Poots also suggested there could be a phased reopening of some churches that can adhere to social distancing.
He said: "If you have a church where you can't facilitate social distancing but people want to come together, could you have a drive-in church so people don't get out of their cars but can still come together?
"I believe we can keep people with us if we have a graduated response, ensuring we do not put at risk a further rise of the virus, whilst giving people a little more latitude to engage in some of the activities they prefer to engage in."
Ms Hargey revealed that in the last five weeks, 57,000 new claims have been made for universal credit in Northern Ireland.
She said on Monday, alone, 850 new applications were made and that £1.3m of emergency support payments had been paid out so far.
"There is a huge demand, people are struggling financially and they are moving towards the social security system," she said.
"We are responding well, people are getting paid on time."
Earlier, Health Minister Robin Swann said steps would be taken to ease the lockdown when the "time is right" for Northern Ireland.
He told BBC's Good Morning Ulster programme that reports of increasing traffic on the roads made him concerned about complacency and said that people's actions still mattered in terms of containing the virus.
"We've had the indicators that there's fewer people being admitted to hospital because of Covid-19, we have fewer people in the ICU," he said.
"But that's because of the actions that were taken by people three weeks ago."