Coronavirus: Robin Swann says lockdown debate getting ahead of itself
By Jayne McCormack
BBC News NI Political Reporter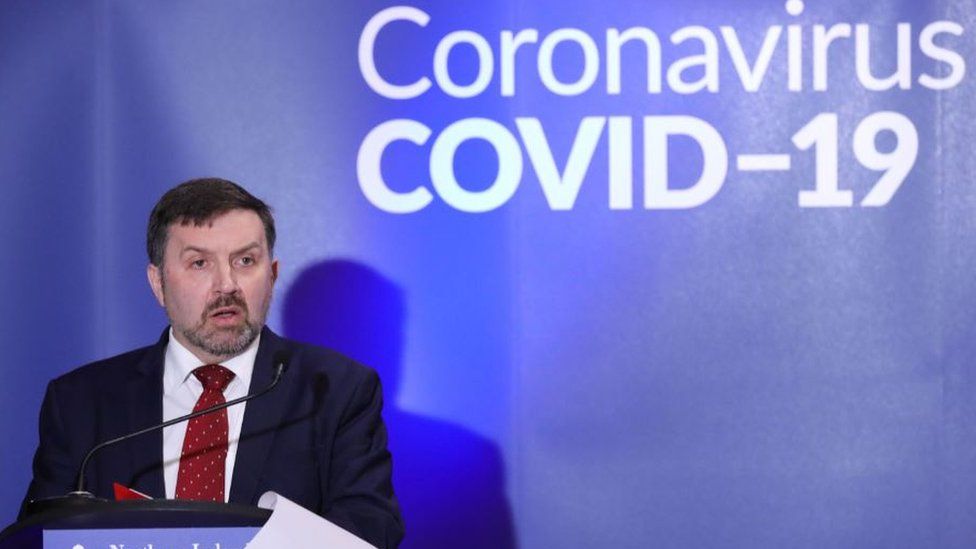 The debate about easing Northern Ireland's pandemic lockdown restrictions is "getting ahead of itself", the health minister has said.
A further 17 Covid-19 related deaths in NI were reported by Robin Swann's department, bringing its total to 404.
The executive is holding talks about whether to relax any measures to curb the spread of the virus.
"Call it my May Day alert," said Mr Swann, as he urged people to stay at home this bank holiday weekend.
Northern Ireland's Executive must review whether to amend the coronavirus regulations by Saturday, but some ministers have already said any changes need to be gradual.
Deputy First Minister Michelle O'Neill wants the Executive to publish its plans for emerging from restrictions on Thursday.
Stormont should not have to wait until a British government's plan emerged, but rather make public its own blueprint, the Sinn Féin deputy leader told RTÉ News.
'Nowhere near finish line'
Earlier, commenting on considerations on how to ease the lockdown, Mr Swann said: "Please don't take this as meaning we're near the finishing line - nothing could be further from the truth.
"No matter how good the weather is, how strong the temptation might be, don't give in, don't give up."
Northern Ireland's Chief Medical Officer, Dr Michael McBride, said he was reluctant to outline a schedule for potential phases of easing restrictions.
"We have to be careful about our public messaging here, people have persevered but people are tired," he said.
"We have a number of weeks to go yet before I believe we could step down... a number of restrictions."
In other developments on Tuesday:
The warning came as it emerged the UK's death toll (29,427) had now surpassed Italy's (29,315), while in the Republic of Ireland the death toll stands at 1,339, with a further 23 deaths announced on Tuesday.
The NI health department's figures mostly relate to hospital deaths; a weekly report published by the government statistics agency, Nisra, records all deaths where Covid-19 is mentioned on a death certificate and shows NI's death toll will be higher.
Mr Swann said the front-line fight against the virus was now in Northern Ireland's care homes, as the number of hospital admissions due to Covid-19 was falling.
Mr Swann also told the press conference:
Since 16 March, there have been 125 acute respiratory outbreaks in care homes, with 72 of those confirmed as Covid-19 clusters and the remainder mainly flu-related
Additional funding of £6.5m has been provided to help the care home sector
A pilot contact tracing programme went live last week and there are plans to scale it up further by mid-May
Dr McBride said the public response to social distancing guidelines had so far been "outstanding".
"Every single one of you has saved lives but it is important we stay the distance," he added.
What could NI lockdown plan look like?
The executive began detailed discussions on Monday about whether to lift some lockdown measures.
Mr Swann said he agreed that a plan needed to be outlined by ministers this week to set out what could happen as NI moves through the first wave of the pandemic.
"What things will look like, what changes can't be made - we need to have those conversations," he added.
"There will be a new normal in Northern Ireland for a long time while we try to get Covid-19 under control."
On Sunday, the Prime Minister Boris Johnson is due to set out his own plans about potentially relaxing some aspects of the lockdown.