Ballycastle: Clare Smyth and daughter Bethany, 3, killed in crash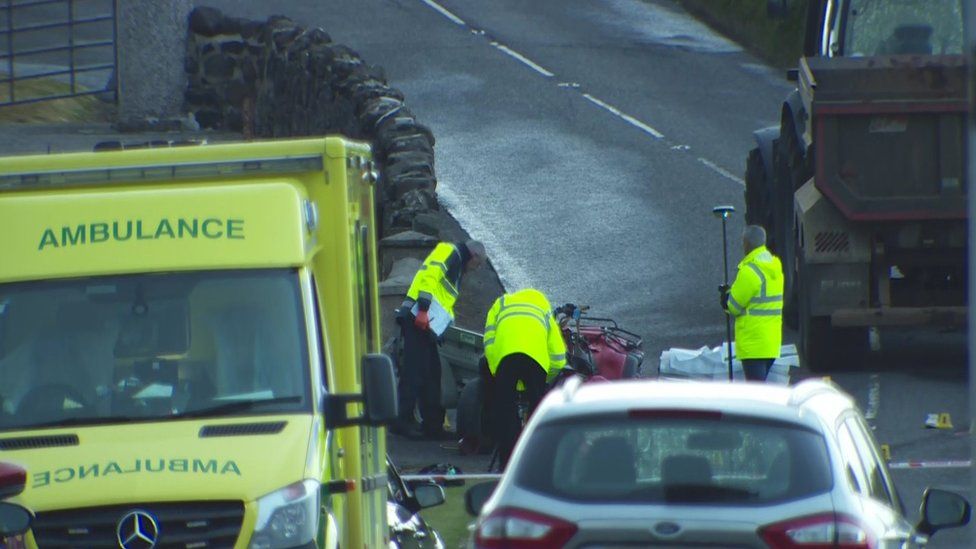 A mother and daughter killed in a road crash just outside Ballycastle, County Antrim, have been named as Clare and three-year-old Bethany Smyth.
Another daughter, Hannah, five, is critically ill in the Royal Belfast Hospital for Sick Children.
The PSNI said a quad motorbike and a tractor collided at 16:50 BST on Tuesday on the Whitepark Road.
Rev John Stanbridge said it was "a tragic and freak accident that has changed a family forever".
The family's minister, from Ballycastle and Croaghmore Presbyterian Church, said he had spoken to Ryan Smyth, who is at his daughter's bedside in hospital.
"He would like express his thanks for the prayers of everyone, especially those in Ballycastle, and asks that people continue to pray for wee Hannah," said Rev Stanbridge.
"He has also asked me to express his deep appreciation and thanks to all the emergency services who attended the scene, to the doctors and nurses in the Causeway Hospital and the surgical team in the Royal, where Hannah is now."
Mrs Smyth was described as a "much loved and esteemed leader and officer of 357 Dunluce Presbyterian Girls Brigade for the past 15 years, and she will be sadly missed by all the girls and leaders", Rev Alan Buick from the church said.
North Antrim MP Ian Paisley said it was an "indescribable loss".
He said the family was well-known and respected and that social distancing would make grieving particularly difficult in a rural community where everyone knows each other and would want to help.
"I think people will know that the real contact will be in our hearts and hopefully that love, and compassion and prayer will be felt and the community will be able to get around this family and help them," he said.
Ulster Unionist councillor Joan Baird, who heard the emergency service sirens from her home, said grieving had been made more difficult by social distancing.
"That's the thing about it, because your immediate response is to try to go to them," she said.
"That's what I thought the minute I heard about this and then I remembered 'no I can't do that'.
"There'll be so many people feeling that, that they can't go and actually give them the support and help that they need so much at this time."
The ambulance service said it sent two rapid response paramedics, three emergency crews, one doctor and two ambulance officers to the incident
"The PSNI and Coastguard also assisted in the incident," a spokesperson said.
"Following assessment and initial treatment at the scene, one patient was transported to Causeway hospital initially before being transferred onwards to Belfast by coastguard helicopter."
The Whitepark Road has since reopened and police have appealed for witnesses or anyone with dashcam footage to contact officers.