Coronavirus: Some NI pupils to return to school in August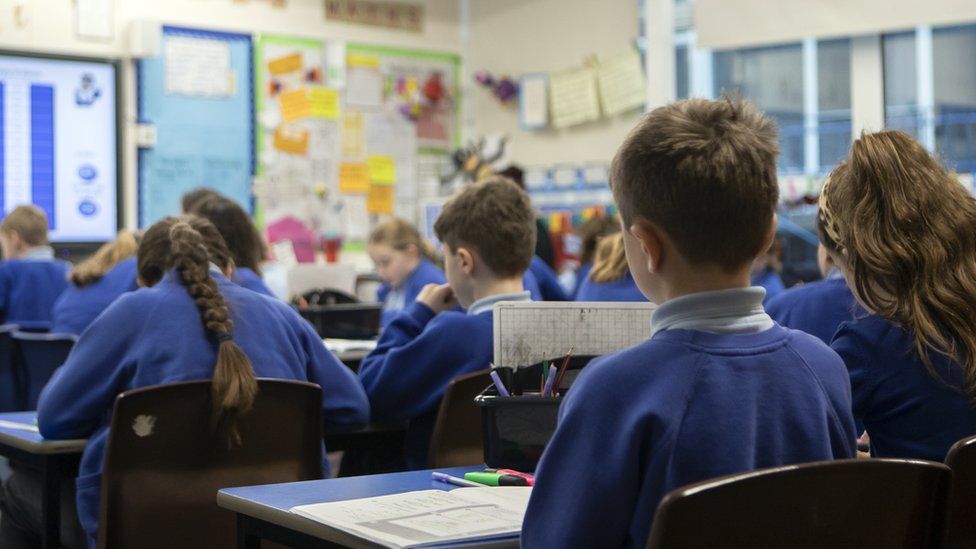 Some NI pupils will return to school in late August with a phased return for the remainder, Education Minister Peter Weir has said.
Mr Weir was speaking during a meeting of a Stormont committee on Thursday.
"Subject to medical guidance and safety, it would be my aim to see a phased reopening of schools," he said.
Mr Weir said the reopening of schools would begin with "limited provision for key cohort years in August, followed by a phased provision for all pupils at the beginning of September".
"Key cohorts" included students preparing for exams, such as GCSEs and A-Levels, and students transitioning from primary to post-primary schools, Mr Weir later clarified.
"This will not be a return to school as it was prior to Covid, but rather a new normal reflective of social distancing and a medically safe regime," said Mr Weir.
"For all pupils it will involve a mixture of scheduled school attendance and learning at home.
"In line with the executive's strategy contingent upon medically sound advice and susceptibility of the transmission of the virus, consideration may be given to a return of younger cohorts.
Speaking at Thursday's executive press conference, Mr Weir announced a new Education Authority scheme to provide laptops for disadvantaged pupils to support their remote learning.
The Department of Education would buy more laptops if required, he added.
Mr Weir said as many as 400 vulnerable children were attending schools that were open only to provide care - a figure Mr Weir described as "small but increasing".
Analysis: Huge undertaking for schools now
By Robbie Meredith, BBC News NI Education Correspondent
There will still be many questions for parents, pupils and teachers with this announcement.
I spoke to one principal who asked how he will stagger classes and maintain social distancing, especially among younger pupils - and that's just one school.
Although mid-August seems a long way off, it is a huge undertaking to enable pupils to come back and learn full time in September, even if they're not in school settings full time.
What about childcare, in cases where students are only in schools part of the week and at home for the remainder?
The one advantage we do have is that our schools will not open for the rest of this educational year, so we will be able to watch how it is managed in other countries and what problems they've faced and overcome.
But this is only three months away - it will take every day of those three months to iron out some of these issues.
The minister said some school pupils were more at risk of falling behind than others.
Kevin McAreavey, principal of Holy Cross Boys' Primary School in Belfast, said schools were entering "uncharted waters".
Getting to a point where grandparents could care for children again was important because many were "the chief childminders and also the ones who look after the homework", he said.
"It is going to be difficult," Mr McAreavey told the BBC's Evening Extra programme. "There is a lot of planning (required) around the detail."
Barry Corrigan, principal of Millennium Integrated Primary School in Saintfield, said the priority would be teaching pupils about good hygiene and working with parents to identify symptoms and limit the potential spread of coronavirus.