Coronavirus: Arlene Foster holds firm on 2m distancing guidance
By Stephen Walker
BBC News NI Political Correspondent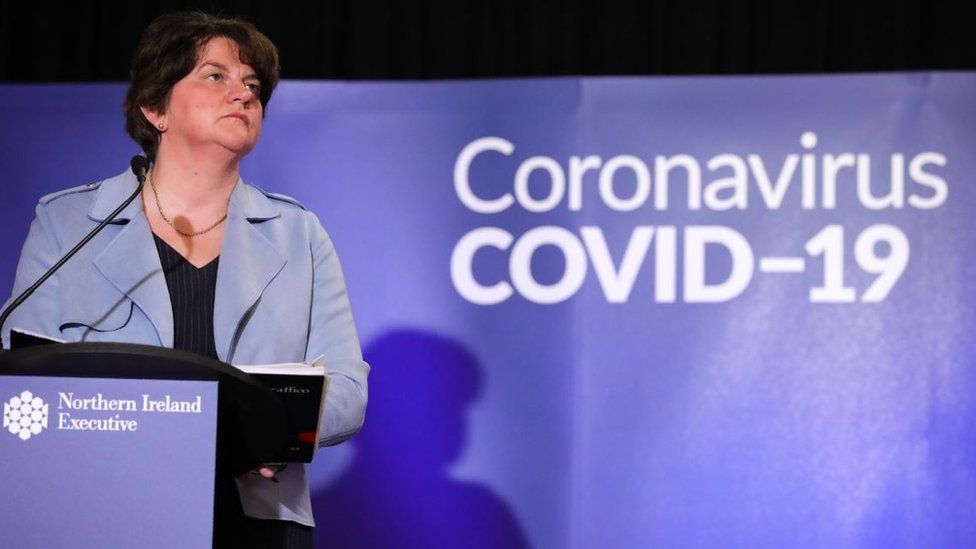 Social distancing rules advising people to stay 2m (6ft) apart remain in place in Northern Ireland, the first minister has said.
Discussions are continuing within the executive about reducing the distance to 1m, Arlene Foster said.
The World Health Organisation (WHO) says 1m is safe - but some countries, including the UK, have gone further.
Mrs Foster said the medical advice was that staying 2m apart was the "safest place to be".
Last week, Economy Minister Diane Dodds said she wanted health officials to provide guidance about reducing the distance, as it would make it more viable for the tourism and hospitality sectors to operate.
Mrs Foster said on Wednesday the issue was a matter of discussion and about "managing risk".
It was also about the length of time people spent close to each other, she said, adding that ministers were looking at how people could move to a 1m scenario in different settings.
It comes as there were no coronavirus-related deaths recorded in Northern Ireland in the past 24 hours.
This is the fourth day in a row and the fifth time since 18 March that a daily update from the Department of Health has recorded no new deaths in a 24-hour period.
The total number of deaths recorded by the department remains at 537. This figure is mostly focused on hospital deaths.
A total of 13 more people have tested positive for Covid-19, bringing the total to 4,818, according to the department's dashboard.
Asked about claims from the Finance Minister Conor Murphy that a better resourced health service would have prevented the lockdown, Mrs Foster said she "did not want to get into a political row".
She said lockdowns have happened "right across the world", and that the executive wanted to make sure the health service was "not overwhelmed" during the coronavirus pandemic.
Northern Ireland went into lockdown along with the rest of the UK in March.
Mr Murphy, who later clarified on social media that the lockdown was "necessary", told BBC's Good Morning Ulster programme that Northern Ireland would have been fit to cope with the pandemic, if it had a "very robust health service which was well resourced".
But "years of austerity" from Westminster had left the health service in a challenging position and led to the imposition of the lockdown, said the finance minister.
"The reason we had to go into lockdown, and people should understand this, is because the health service has been under-resourced through austerity cuts over many years," he said.
Wednesday 10 June should have been a great day for Conor Murphy.
With the arrival of £60m worth of personal protective equipment (PPE) from China, the finance minister could banish the negative publicity associated with a previous unsuccessful attempt to order the much needed gear for our frontline workers.
Instead, Mr Murphy tripped up halfway through his victory lap by claiming, on BBC Radio Ulster's Good Morning Ulster, that if it hadn't been for Westminster imposed austerity we wouldn't have had to go into lockdown at all.
This appeared illogical since, in the absence of a vaccine or cure, almost every nation has had to baton down the hatches.
There was also a certain incoherence, given Sinn Féin's previous enthusiasm for a swifter and harsher lockdown than the one Boris Johnson eventually imposed.
Cue a rebuke for Mr Murphy from Health Minister Robin Swann and a series of demands for the finance minister's resignation.
Read more from Mark here.
"So any attempt to deal with that is a big challenge, that's what we've been doing, and any attempt to restructure our health service is a huge challenge for the executive because we still suffer from the effects of nine years of austerity and our budgets are challenged across many departments."
Robin Swann, Stormont's health minister, said he took exception to the comments.
"No health service could have coped with running the dual process, it's not because we weren't up to it but that's how every other country managed Covid-19," he told BBC Radio Ulster's Stephen Nolan Show.
"I'll agree with him (Conor Murphy) on the fact that our health service is under-resourced, but it's not the reason we went into lockdown."
Later on Wednesday, Mr Murphy issued a clarification on social media, saying the lockdown had been "absolutely necessary to save lives".
Austerity policies have severely impacted on the capacity of Health and Social Care services, here and elsewhere, to respond to the Covid 19 pandemic. For clarity, lockdown has been absolutely necessary to save lives.

— Conor Murphy (@conormurphysf) June 10, 2020
But he maintained his original view that austerity policies had an impact on health services to respond to the pandemic.
Northern Ireland went into lockdown along with the rest of the UK at the end of March, when wide-ranging restrictions were imposed through new legislation.
The regulations are reviewed every three weeks and have already been extended and amended a number of times, as ministers have agreed to gradually lift some restrictions.
Mr Murphy and Mr Swann have also been involved in the executive's efforts to secure more personal protective equipment (PPE) for Northern Ireland.
On Wednesday, it emerged the first part of a £60m order from China has been delivered to Northern Ireland - but Mr Murphy has faced criticism over his handling of a failed bid to secure a joint order with the Republic of Ireland in March.
The finance minister said he was happy to "consider any request for appropriate information".
Meanwhile, it is understood that Department of Health panels will meet on Thursday to assess when certain childcare centres can open.
The first minister visited a childcare business in Moygashel, County Tyrone, on Wednesday, where she said she had raised the issue of opening childcare centres with Mr Swann.