Coronavirus: How Northern Ireland's new restrictions affect you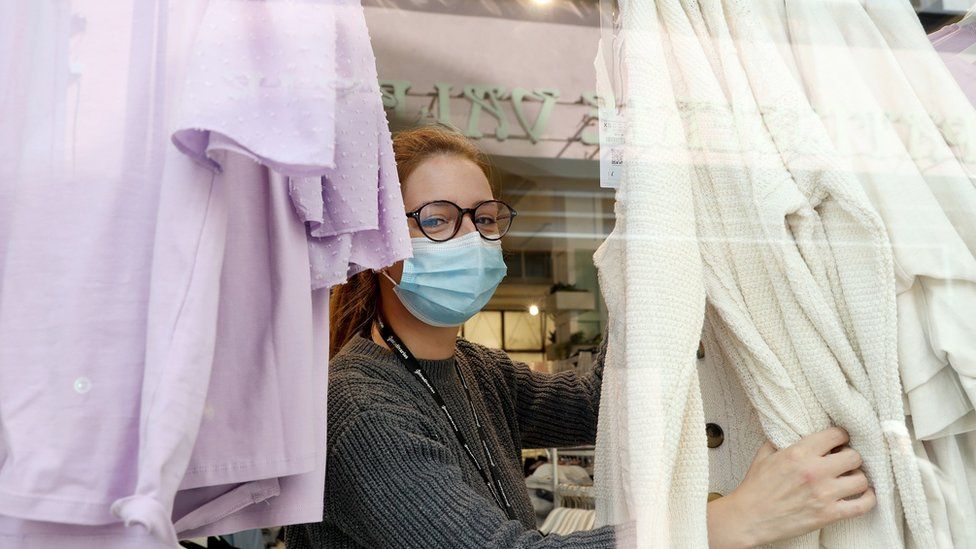 When lockdown was first introduced in Northern Ireland at the end of March, it saw a raft of new restrictions introduced on everyday life.
While many of those measures were relaxed, a number have since been tightened again.
A new six-week lockdown took effect in NI on 26 December, which will be reviewed after four weeks.
Further measures were also agreed on 5 January by the executive, in response to the rising number of cases after Christmas.
Here is a breakdown of what you can and can't do under the new guidelines and laws.
An order for people in Northern Ireland to stay at home - to stop the spread of Covid-19 - will become legally enforceable from 8 January
It will mean people can only leave home with a "reasonable excuse" such as for medical or food needs, exercise and work that cannot be done from home.
The health guidance maintains no "unnecessary travel" should be undertaken but has not imposed a formal travel limit in law
The executive says anyone travelling into Northern Ireland who plans to stay for at least 24 hours should self-isolate for 10 days
People who routinely cross the border for essential purposes will not be subject to restrictions
The Republic of Ireland has imposed a temporary travel ban on Great Britain, but the Irish government has said it will not introduce controls on the border with NI
The wearing of face coverings on most buses, trains and ferries was made mandatory in Northern Ireland from 10 July
There are exemptions for those with medical conditions
It is also mandatory for all post-primary children to wear a face covering on school transport services and public transport, unless they have a reasonable excuse
Since 20 July, there has been a phased return of MoT and driver testing services, with priority for taxis and buses due a first-time test, and vehicles not previously registered in Northern Ireland
People from different households in Northern Ireland are still not allowed to mix indoors
There are some exemptions, with bubbling allowed with one other household of any size
Indoor meetings between households in that bubble are limited to a maximum of 10 people, including children, at any one time
Caring responsibilities, including childcare, are exempt, as well as supported living arrangements
Visits required for legal or medical needs are allowed
Maintenance, repairs, installations and deliveries are also permitted
From 8 January, people are longer allowed to meet with other households in private gardens, but there are exemptions for people in a bubble
Pubs, cafes and restaurants
From 26 December, all hospitality venues have been closed, with the exception of providing takeaway and delivery services
Businesses providing takeaway services must close at 23:00
Outdoor areas are not to be used
From 8 January, those gathering in public spaces outdoors can do so in groups of six from two households, including children
Exemptions apply such as support bubbles but the full list of exemptions is yet to be published by the executive
However, people will be allowed to take exercise outdoors with one person from another household
Shielding advice was paused from 31 July, and those who were told to self-isolate no longer need to shield
The Department of Health issued updated guidance for clinically extremely vulnerable people on 23 December, saying they should should no longer attend work, if they cannot work from home
Weddings, baptisms and funerals
Churches can carry out normal services but the executive is engaging in further discussions with church leaders to move all services online until February
The 25-person limit on weddings and funerals came back into force on 26 December
No wedding receptions will be permitted either
It is mandatory to wear face coverings when inside and while entering and exiting places of worship
Non-essential retail had to close on 26 December and there is a list of those shops deemed to be essential - homeware is no longer included
Close-contact services such as hairdressers, beauty salons and barbers will also have to close
Since 10 August, it has been compulsory to wear a face covering in shops - but there are a number of exemptions
Since 26 December, off-sales closing time and the sale of alcohol in supermarkets is 20:00
Gyms were told to close again from 26 December
All indoor sport is still banned except for elite athletes
Individual and outdoor exercise and school PE can continue
Outdoor parks and play areas are allowed to stay open
Inter-school competitive sporting events are not permitted
Elite sport has been allowed to resume - without spectators - from 2 January
Angling can continue and the public angling estate is open, except for Portavoe Reservoir
Many pupils will not return to school until after the half-term break in mid-February, with nursery, primary and post-primary schools carrying out remote learning until then
Special schools will remain open as usual
Vulnerable children and children of key workers will have access to schools for supervised learning
Childcare settings will be allowed to remain open and childminders can continue their services
Payments to parents of children who receive free school meals will also continue, the Department of Education has confirmed
Further and higher education institutions should only deliver face-to-face learning when it's essential
All GCSE, AS and A-level examinations in Northern Ireland will not go ahead this year
Post-primary school transfer tests have been cancelled this month, but one of the providers, the Association for Quality Education (AQE) later announced that a single transfer test would be held on Saturday 27 February - subject to public health advice at the time
Hotels, holiday homes and caravans
Hotels, guesthouses, B&Bs, hostels and caravan sites and self-catering accommodation are only able to operate on a restricted basis
From 28 December, accommodation can be provided for those already resident. work-related purposes. vulnerable people and those in emergency situations
Partners can attend scans with pregnant women, following an announcement on 30 June, but a woman can only be accompanied by a partner in active labour, and for an hour after birth
In June, general visiting restrictions were relaxed in hospitals and care homes but this has now changed again
Since 22 September, care homes and hospitals have been advised to significantly scale back visits - one member of a family will be allowed to visit once a week while the measures apply
Covid-19 testing is available to one visitor or care partner per care home resident per week up to Friday 8 January 2021
The executive said more frequent visits may be permitted in exceptional circumstances, including for people in palliative care facilities and those receiving end-of-life care
Visitor attractions and other services
Cinemas, bingo halls, bowling alleys, soft play areas and amusement arcades were closed on 26 December
Museums, galleries and indoor and outdoor attractions have also had to shut
Libraries NI will not be providing access to browse books or use IT although branches will continue to provide access to the Book and Collect Service and eBooks, audiobooks, eMagazines and eNewspapers through online platforms.
Theatres and concert halls had been told they could provisionally reopen from 1 September, but on 26 August it was announced that would be delayed further