Coronavirus: Shops in NI reopen their doors on Friday
By Jayne McCormack
BBC News NI Political Reporter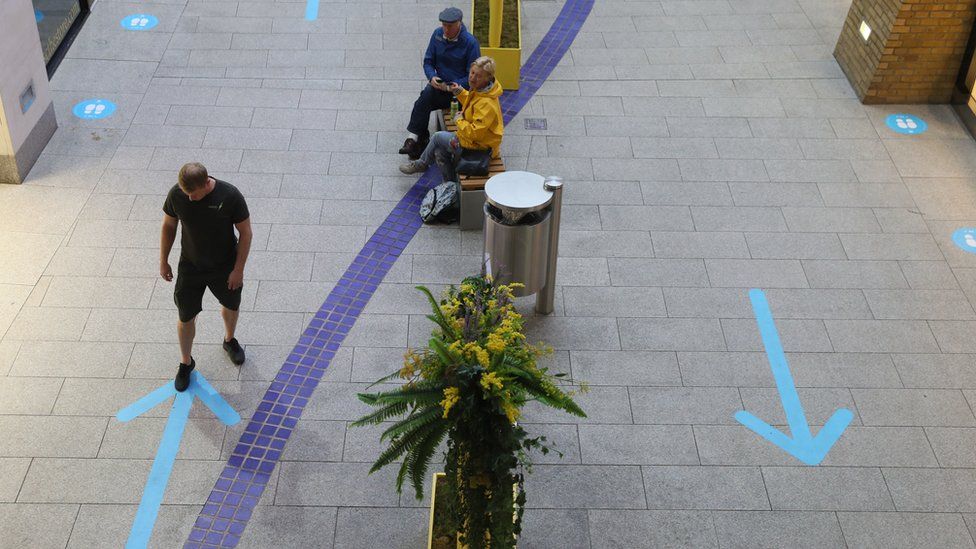 Non-essential retailers in Northern Ireland have now reopened after being forced to shut at the start of the Covid-19 pandemic in March.
It is part of a number of lockdown measures lifted by the executive.
From today, groups of up to 10 people in NI who do not live together can also meet outdoors.
However, they must adhere to social distancing advice requiring people to stay 2m (6ft) apart, First Minister Arlene Foster said.
The executive met on Thursday and agreed to lift a number of lockdown restrictions, because the R-number - which measures the rate of infection - is currently estimated as being between 0.5 and 0.9.
Michelle Greeves, manager of Victoria Square shopping centre in Belfast, said stores had been planning how to open safely for weeks.
"We all live for retail and we've missed it so much, we've missed being able to do what we know we do well," she said.
The manager of Londonderry's biggest shopping centre, Foyleside, told BBC Radio Foyle that a number of public health measures were in place, including sneeze guards.
Fergal Rafferty added that while it is not mandatory, shoppers are encouraged to wear face masks.
The owner of a Belfast jewellers told BBC's Good Morning Ulster programme that it has been a "big job" to get everything ready to reopen.
Peter Lunn said he expects his stores will only be able to handle half the volume they did before, due to safety measures.
Stormont ministers had been coming under pressure to allow more shops to open, after all high street shops in the Republic of Ireland resumed business on Monday.
Retailers had voiced concerns that they could be placed at a disadvantage against competitors across the border.
Analysis: Significant step for economy but major questions remain
By John Campbell, BBC News NI Business and Economics Editor
Retail is the single biggest source of employment in Northern Ireland, accounting for more than 15% of all employee jobs.
So the reopening of the sector is a significant step in the easing of lockdown.
But there are major questions about how it will be handled.
Childcare reopening has not synchronised with retail reopening, so some parents expected back at work could face a very difficult situation.
And what of the customers - will they be content to get back into the shops?
Lockdown has probably accelerated the move towards more online shopping.
From Friday, places of worship and community centres can also open to provide childcare for parents who are required to return to work.
But it is still not clear when all day care centres can resume business, and there remain restrictions on group size.
At present, only vulnerable children and children of key workers can avail of childcare, but last week the definition of a key worker was expanded, as more sectors of the economy begin to reopen.
According to the Nevin Economic Research Institute (NERI), about 350,000 workers in Northern Ireland have dependent children.
Its research suggests 70% of them are likely to have "intensive childcare requirements".
The first and deputy first ministers held meetings on Friday, with the health and education ministers, with a view to providing more information for the childcare sector.
It was not mentioned in the executive's five-step Pathway to Recovery blueprint.
What other lockdown measures have been lifted?
From Monday, people in Northern Ireland will be allowed to move house, after the property market was paused following the imposition of lockdown in March.
Elite athletes will also be allowed to begin using outdoor sports facilities to train from Monday.
Speaking on Good Morning Britain, First Minister Arlene Foster said that the executive would be discussing indicative dates next week for reopening salons and hopes "to be able to bring some joy" to people.
But ministers have not yet decided whether to bring forward the date hotels, other tourist accommodation and the hospitality industry can reopen.
Economy Minister Diane Dodds told BBC One NI's The View programme on Thursday night that she hopes to get the executive to agree on a date next week, when ministers meet again.
Speaking on the BBC's Good Morning Ulster on Friday, Mrs Dodds said she had "a date in mind" for an early reopening of the hospitality sector but would not be drawn on when it was.
"I would like to see it as soon as is practically possible but those are decisions that have to be taken collectively," she said.
The minister added that she wants the executive to reduce social distancing advice from 2m to 1m, in order to give the hospitality industry a "fighting chance to be viable".
The World Health Organization (WHO) has said 1m is safe, but it will be up to the Stormont Executive to take a collective decision to amend the guidance in Northern Ireland.