Coronavirus: Catholic school heads call for exam cancellation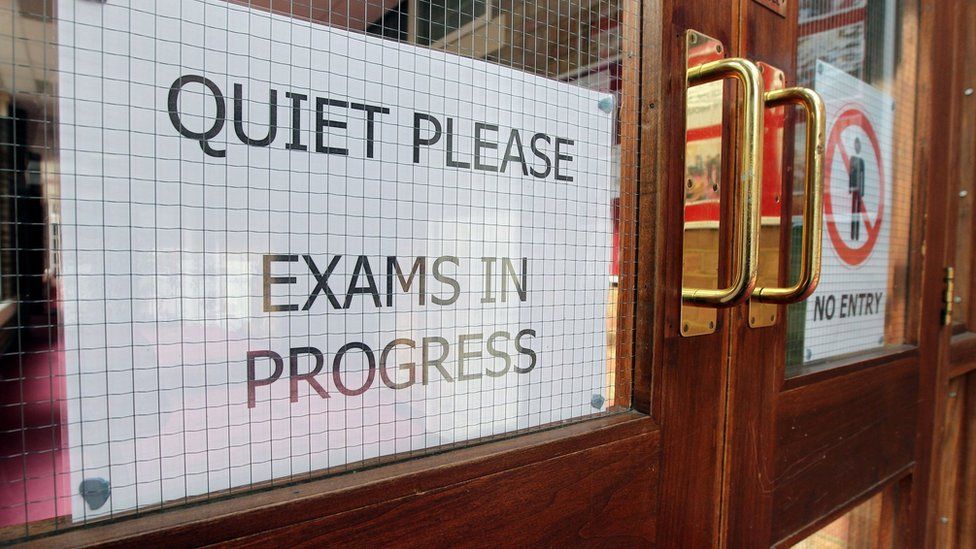 A group of more than 200 Catholic school principals have signed an open letter calling for transfer tests to be abandoned for at least one year.
They cited "the inevitable emotional distress of primary school children during this pandemic" and the break in education.
The principals have also asked all grammar schools to suspend the tests.
So far, 11 Catholic grammar schools and the integrated school, Lagan College, have confirmed they will not use the test results to admit pupils in 2021.
Unofficial transfer tests have been used by schools since the abolition of the 11-plus in 2008, and are run by private test providers Association for Quality Education (AQE) and the Post-Primary Transfer Consortium (PPTC), which runs the GL Assessment.
The GL Assessment is used by Catholic grammars.
Kieran O'Neill, chair of the Catholic Principals' Association, told the BBC he wanted other grammar schools to follow their lead.
"The grammar schools that have already made the decision to suspend the use for this year have led the way," he said.
"And whilst that is to be commended, there are still a number of Catholic grammars and indeed other grammars across the province, that haven't done so.
"So we felt that it was necessary at this stage to continue to apply that pressure on the grammar schools."
His organisation, which wants a complete end to academic selection, is also calling for the tests to be cancelled in future years due to the impact of the coronavirus.
"The current Year 5 children have just had four months out of school," said Mr O'Neill.
"Next year, following the formula suggested by Education Minister Peter Weir, they may have two days in school and two days off school and, depending how long this continues, they will receive 50% of their education for their whole P6 year."
Last month, Archbishop Eamon Martin, head of the Catholic Church in Ireland, called for Catholic grammar schools to suspend academic selection in 2020.
But Mr Weir rejected that call, saying there was no "viable alternative" to put in the place of the transfer test.
If the exams do not go ahead, the schools would be required to use different criteria to select pupils.
In its letter, the Catholic Principals' Association urged Mr Weir to intervene.
It notes that by the end of this month, Year 6 children will have missed out on four months of school and face-to-face teaching.
It also says pupils returning for their final year of school before moving to secondary school will have "significantly less face-to-face teaching".
The Association for Quality Education (AQE) said its testing would be "reviewed" amid the coronavirus pandemic, but that transfer tests were fairer for pupils than "selection by parental wealth".