Coronavirus: NI's hotels and bars can reopen from 3 July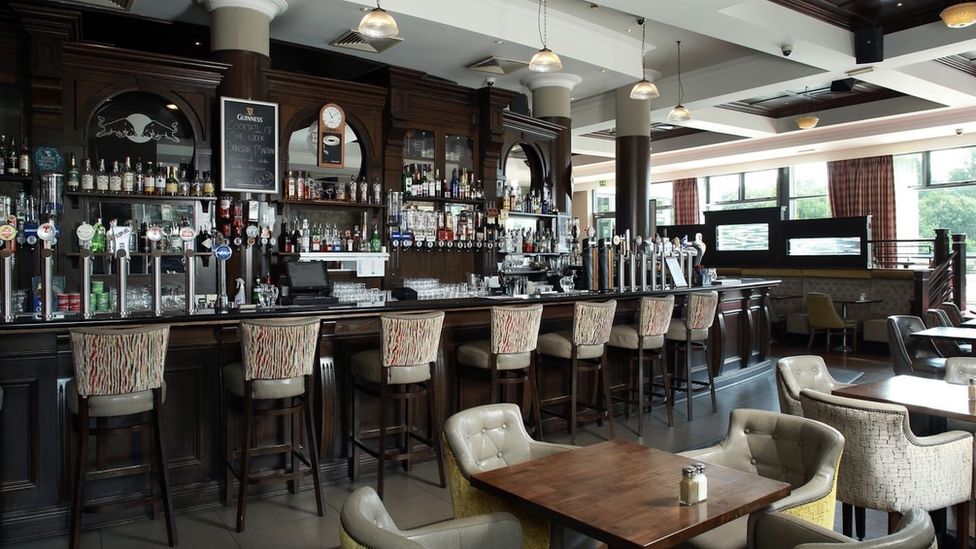 Northern Ireland's hotels, bars, restaurants and cafes can reopen from 3 July, the Stormont Executive has confirmed.
Self-catering accommodation such as caravans can also open from 26 June.
First Minister Arlene Foster said the moves will only go ahead if the spread of the virus remains low.
Many in the tourism and hospitality industries had been calling for the date of 20 July to be brought forward, after the Irish government said the sectors in the Republic of Ireland could reopen on 29 June.
It means Northern Ireland becomes the first part of the UK to announce such changes to its coronavirus regulations.
Stormont's Economy Minister Diane Dodds, who had lobbied for an earlier date, described the move as a "good day for the Northern Ireland economy".
"It's a good day for tourism and hospitality, and in particular a sector that has been incredibly hard hit by the lockdown."
She stressed that the plans were dependent on the transmission of the virus.
The decision came as it was announced that no new coronavirus-related deaths were recorded in Northern Ireland on Sunday.
The Department of Health's death toll, which relates mostly to deaths in hospitals, remains at 541.
What can reopen next in NI?
Caravan parks, camping sites and self-catering tourist accommodation can reopen on 26 June - next Friday.
From 3 July, hotels will be permitted to open, but spas and leisure facilities within them will not be able to open.
From this date, restaurants, cafes and coffee shops can also resume trading.
Pubs and bars will also be allowed to trade, but must serve food and operate on a table service basis.
Those pubs that do not serve food will be allowed to sell alcohol outdoors.
Visitor attractions such as museums, and cultural heritage sites can reopen from 3 July as well.
The first and deputy first ministers stressed that social distancing rules must be adhered to by all those businesses seeking to reopen.
The Executive also agreed to continue reviewing the 2m (6ft) social distancing requirement.
What reaction has there been?
It is estimated the hospitality industry employs 65,000 jobs in Northern Ireland and is worth £2bn annually.
Colin Neill of Hospitality Ulster said Monday's decision marked a "significant milestone in what will be a long and challenging path to rebuild our hospitality sector".
"Operating under the restrictions will not be easy and we recognise that many businesses will still be unable to reopen," he said.
"But we welcome the minister's comments to bring forward proposals on reopening these parts of the industry in due course."
Janice Gault, the chief executive of the Northern Ireland Hotels Federation, said the earlier date would give the tourism sector an opportunity to trade over the summer season.
"Today's new date also puts Northern Ireland on a similar trajectory to the Republic of Ireland, and will allow us to compete on an all-island basis and hopefully, as transport links improve, in the Great Britain market as well," she added.
Childcare 'not forgotten'
Speaking at the executive's daily press briefing on Monday, Deputy First Minister Michelle O'Neill rejected suggestions that ministers had not made childcare a priority in their recovery plan.
Further work must be done to facilitate childcare for parents who will now be expected to return to work, she added.
Currently childcare is only available for vulnerable children, or those of key workers.
Mrs Foster said the executive had agreed to extend the definition of a key worker to include people working in manufacturing and construction.
"It very much is at the top our agenda now because there is a recognition we need to support the sector in tangible ways," she said.
Mrs Foster also said the executive had agreed to adopt a "graduated approach" to extending the so-called bubble model.
Ministers hope to announce a date within the next fortnight to allow two households to form a support unit, she added.
Ms O'Neill said the executive was due to officially review the regulations on Thursday.
"We'd be hopeful that following that executive meeting, we'll be in a position to come forward with some more good news of other sectors as per our plan, so for example, our hairdressers and our barbers and looking to give indicative dates there also."
The first and deputy first ministers initially published a recovery blueprint without indicative dates, but have said they want to move away from that, where it is possible to do so.
The Department of Health has confirmed the R number of the virus in Northern Ireland remains at between 0.5 and 0.9.
R is the number of people each infected person, on average, passes the virus on to and it has been at the heart of Stormont's decision making. The goal is to keep R under one.
Less than 5% of the population have recovered from Covid-19 and have detectable antibodies, the department suggests.
That means "any subsequent waves of the epidemic have the potential to be significantly worse" than the current outbreak, according to the department's update.