Coronavirus: NI schoolchildren to follow 1m social distancing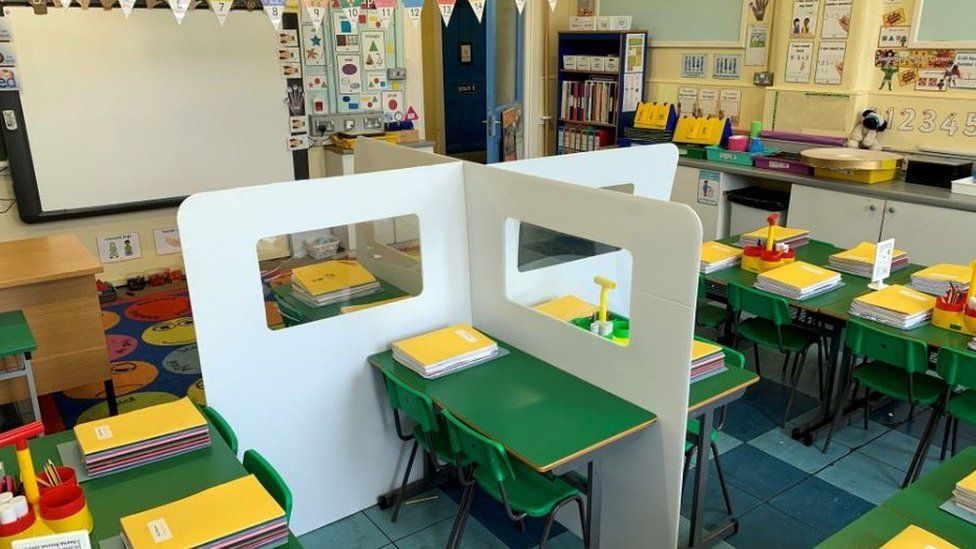 Social distancing of 1m (just over 3ft) as opposed to 2m (6ft) is "safe and appropriate" for children and young people at school, the Northern Ireland Executive has agreed.
The measure will allow "full classes to attend" school.
That is according to guidance being sent by Education Minister Peter Weir to school principals.
Mr Weir also said he has moved the target for full reopening from 17 August to 24 August.
The guidance outlined how schools may operate when they fully reopen and is due to be published on Friday.
Speaking on BBC NI's The View on Thursday night, First Minister Arlene Foster said the executive's objective "is to get everybody back to school in September, I think that's what parents want".
She said they would work with schools "to find extra space, whether that's the assembly hall, the dining hall, or indeed as I've said, other facilities beside the schools".
Deputy First Minister Michelle O'Neill said: "This was all discussed today with the chief medical officer and the chief scientific officer; we would never step outside that, we will make sure that we can get the maximum number of children into school, but all that has to be safe for the children, safe for the staff."
In the letter, Mr Weir said the guidance had undergone "extensive review by the Public Health Agency (PHA) and Chief Medical Officer (CMO)".
He said that the guidance has a "day one focus" and that it concentrates on "social distancing and hygiene considerations within schools settings".
The letter said: "The Northern Ireland Executive has agreed that the current social distancing guidance of 2m must continue to be followed between all adults within the education sector, but that a distance of 1m is safe and appropriate between children and young people.
"Using 'protective bubbles' has been supported by the Department of Health and PHA, and flexing their use to 1m will allow full classes to attend.
"The 1m guidance between children is to be followed as far as possible within the confines of the physical capacity of each classroom and the 2m rule for staff adhered to fully."
Mr Weir also said that the term will now start for Primary Seven, Year 12 and Year 14 pupils on 24 August.
"To facilitate these arrangements, schools will be opening in week commencing 17 August for preparation purposes," he said.
Mr Weir added that the guidance "will be subject to ongoing review" depending on scientific and medical advice over Covid-19.
However, a primary school principal in Belfast has said the advice is "impossible" to implement and had left him "totally confused".
'Totally impossible' guidance
"I'm sitting here with a piece of paper in front of me trying to work out how I could possibly place desks in a primary classroom," Paul Bell, from Botanic Primary School, told BBC Radio Ulster's Evening Extra.
"A lot of my classrooms are 56m square... I have no idea who has done the mathematics to indicate in any way that you can put a full classroom of 30 pupils in and still have 2m from the teacher."
He added: "I'm quite happy to assist a programme whereby we will get the children back into school as quickly as possible, quite happy to talk about bringing children back in August, quite happy to have all of these conversations - but it's impossible to have conversations where advice is issued which is totally impossible to implement."
Mr Weir, also speaking on the programme, said that protective bubbles and reduced social distancing will "mean that for many schools you'll be able to get every pupil in".
"For others, it will be at least a large percentage of their pupils in each day and we will work with schools where they cannot get everybody in to see if there's any additional action that can be taken.
"I think if there's a willingness to do this, I don't think it's a mathematical impossibility.
"I think a reduction from two (metres) to one (metre) is a massive game changer in terms of education. This is a very positive step forward."
The change in social distancing guidelines would allow more children to attend throughout the week.
Draft plan's suggested measures
A draft plan of the new guidance previously suggested a range of measures for the full reopening of schools, including that the beginning and end of school days could be staggered to avoid all children arriving and leaving at once.
The 'Education Restart' guidance has been drawn up by Department of Education (DE) officials, principals and teaching unions.
It will provide detailed guidance to schools and principals about how the school day would operate.
Some of the measures in it are understood to include:
Staggered starts and ends to the school day so parents are not dropping all children off at once
Staggered meal and break times so children are not mixing in the playground with a lot of others at one time
School meals may have to be eaten in classrooms or even outside
There are likely to be one-way systems in school corridors
Schools will be asked to use sports halls or libraries for classes, or even hold some outside if it's possible
Children may not be able to bring things like books or stationery home and then back to school
Items such as Lego and soft toys that are difficult to clean are likely to disappear from classes
There is also expected to be guidance on hygiene measures, cleaning, and the circumstances in which Personal Protection Equipment (PPE) can be used in schools.
However, while the guidance is detailed, a lot of decisions on how schools will operate when the new term begins are still going to be left up to principals and teachers.