PSNI officers 'seriously hurt' in west Belfast attack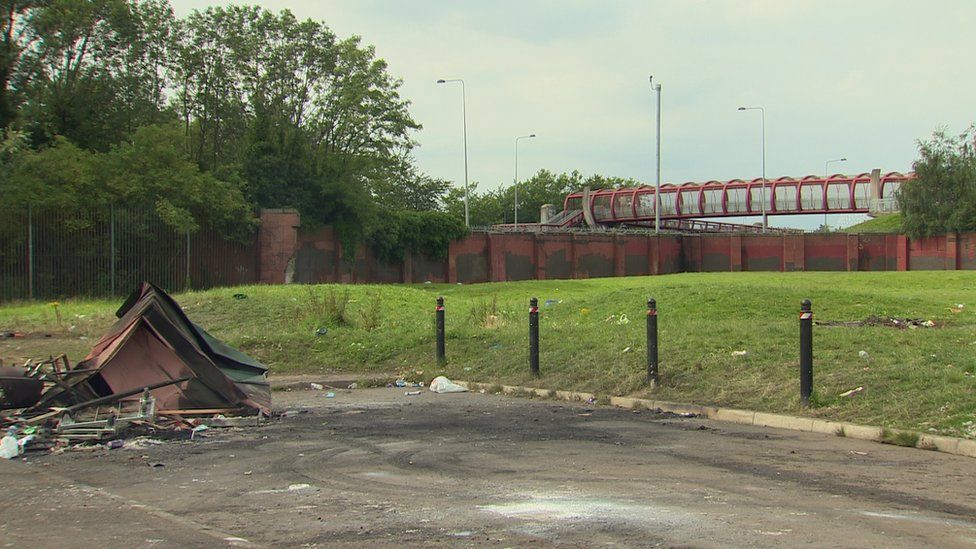 The Police Federation for NI (PFNI) has said a police officer sustained potentially two broken vertebrae in an attack in west Belfast on Saturday.
The PSNI was protecting contractors asked by a landowner to remove anti-internment bonfire material from their site.
Three officers were taken to hospital.
They have since been discharged.
A police press conference on Sunday heard officers sustained head, neck and back injuries, as well as concussion.
Earlier, Mark Lindsay, chair of PFNI, said some had been seriously hurt.
"One officer injured is one too many," he said on Sunday.
"Some have received quite serious injuries.
"We're aware of one with potentially two broken vertebrae. Those could be career-ending injuries.
"They could be life-changing injuries."
PSNI Chief Constable Simon Byrne said his officers had faced "shocking violence".
Justice Minister Naomi Long condemned the attack and said it was "utterly intolerable that police officers have been targeted in this way".
"My thoughts are with those who have been injured," she said.
"I have spoken to the chief constable to express my concern for his officers and to thank him for PSNI's role over the weekend in protecting public safety and ensuring the safety of contractors."
Mrs Long said the "multi-agency approach adopted in response to public concerns over bonfires" had "allowed the vast majority of contentious bonfires to be removed or significantly reduced in scale without incident". 
She added that "clearly and regrettably, however, there are still some determined to orchestrate violence in order to draw the police into conflict".
On Sunday Ass Ch Const Mark McEwan told BBC News NI that it was a "disgraceful attack on officers simply trying to do their job" adding that police had been removing material with "very little disturbance" over the past few weeks.
However he said officers had come under "sustained violent attack" on Saturday.
"Our community has made it clear they do not want or support internment bonfires in their area," he said.
He said the aim was to "keep young people safe and out of harm's way".
He said the injuries ranged from concussion to those on the head neck and back, adding that, considering that heavy vehicle parts had been thrown, it was fortunate no long-term injuries had been sustained.
He said he was "confident the "appropriate level of resourcing" had been deployed.
'Sick of being a punchbag'
Northern Ireland Policing Board chair Doug Garrett said the number of officers injured in "sustained violence" was "deeply disturbing".
"Thankfully we have not seen this number of injuries for some time but that is little comfort to the officers who were subjected to this sustained violence and who have been left with a range of serious injuries as a result," he said.
Bonfires are lit in some republican areas in early August to mark the anniversary of the introduction of internment - or detention without trial - on 9 August 1971.
The BBC is not responsible for the content of external sites.
Skip twitter post by Simon Byrne
Allow Twitter content?
This article contains content provided by Twitter. We ask for your permission before anything is loaded, as they may be using cookies and other technologies. You may want to read Twitter's cookie policy, external and privacy policy, external before accepting. To view this content choose 'accept and continue'.
The BBC is not responsible for the content of external sites.
End of twitter post by Simon Byrne
On Saturday, Mr Lindsay, said officers were "sick of being a punchbag for a society that has failed to tackle contentious issues".
"The attacks were premeditated," he said. "Petrol bombs and chunks of masonry don't materialise out of thin air.
"What happened posed real risks to the lives of officers. Petrol bombing is a clear attempt to murder or maim officers who were there to uphold the law".
Chief Constable Simon Byrne tweeted: "My thoughts are with our injured colleagues who faced shocking violence just trying to do their job."
Alliance Policing Board member John Blair said such behaviour was "utterly unacceptable" and he hoped the injured officers make a full recovery.