Belfast City Council rejects bullying claims investigation
By Mark Simpson
BBC News NI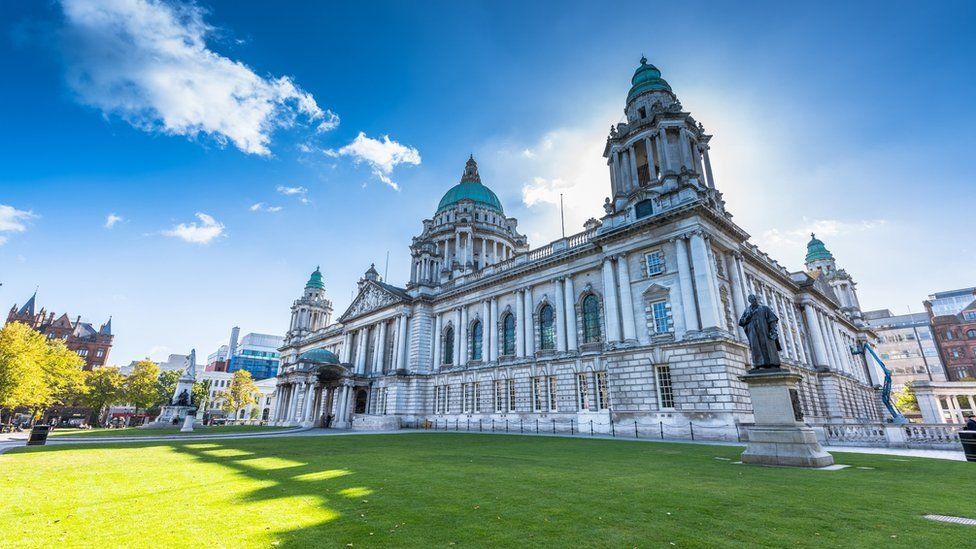 Belfast City Council has rejected Sinn Féin's call for an independent investigation into allegations of bullying of staff at City Hall.
Instead, councillors passed a motion re-iterating their support for staff.
The motion, proposed by the DUP, was passed by 31 votes to 18.
Sinn Féin had called the meeting and want an independent commission to be set up to investigate the matter. No details of the allegations have been disclosed.
The Progressive Unionist Party claimed the Sinn Féin accusations of bullying were "shameless showboating" and lacked substance.
Sinn Féin said the allegations were real and "very serious".
The party had said the complaints relate to "harassment and bullying from councillors and political parties".
Its motion was proposed by councillor Ciaran Beattie.
It added: "We recognise that staff may be more fearful raising concerns because of the environment in which they work.
"With this in mind, we call upon the council to establish an independent commission to examine this issue and report the findings and make recommendations to ensure the protection of our staff."
Earlier, a council spokesperson said: "This motion is a matter for elected members to discuss at the council meeting. We do not comment on items on the agenda in advance of the meeting."
Sinn Féin is the largest party on the 60-member council.
DUP councillor Brian Kingston described the bullying allegations as "unspecific" and "rather vague".
PUP councillor Dr John Kyle said the allegations were "scurrilous" and unsubstantiated.
He said: "This party [PUP] has not been advised of any complaints against it.
"And I'm not aware of any other party being advised of a complaint.
"In fact, in the past two years there have been no formal complaints of bullying and harassment received by the senior management team or human resources."
After the vote, Mr Beattie, who is the leader of Sinn Féin on the council, said the decision not to set up an independent investigation was "shameful".
The DUP motion which was eventually passed had the support of the Ulster Unionist Party, PUP and Alliance Party.
It stated: "This council agrees that any incident of harassment, bullying or intimidation of staff by any member of council, or a party group on council, is a very serious matter and is unacceptable conduct; agrees to remind staff of the procedures which exist for the reporting of any such incident; and agrees to remind councillors of their responsibility to ensure that they behave appropriately towards staff at all times."