Exam results: Peter Weir accused of 'taking lead from London'
By Jayne McCormack
BBC News NI Political Reporter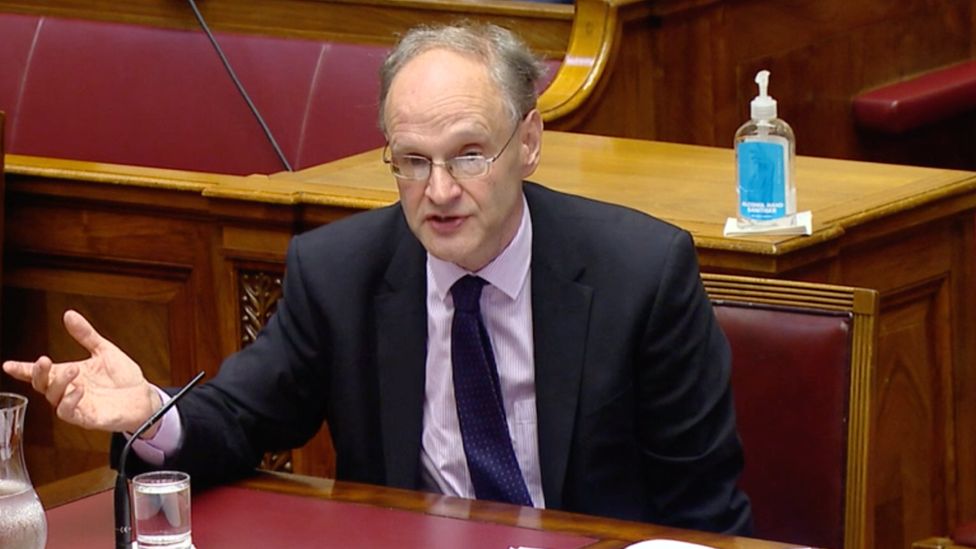 Education Minster Peter Weir has been accused of "taking his lead" over A-level exam results from London instead of making his own decisions first.
He faced criticism from Stormont parties at a special meeting of the assembly on Tuesday.
Some assembly members welcomed his decision but argued he should have acted sooner.
The DUP minister said any system in the absence of students sitting examinations would have its "flaws and drawbacks".
It was because of a process known as standardisation, which aims to avoid a situation where a school could award all its pupils unrealistically high marks.
SDLP MLA Daniel McCrossan welcomed the changes, but his party submitted an amendment calling on the minister to work with executive colleagues and ensure students waiting for university places do not miss out.
He also accused the DUP minister of "failing students" in Northern Ireland.
"I'm glad you moved but I regret it took Boris Johnson and England to move first," he said, during the debate.
"Are we to take our lead from London, or are we here to put first the interests of our young people?"
Alliance's Chris Lyttle, chair of Stormont's Education Committee, also criticised Mr Weir.
"The pattern is emerging of a minister consistently following a Conservative government rather than leading for the people of Northern Ireland," he said.
Sinn Féin's John O'Dowd, who served as Stormont's education minister, said he did not want to "bash" Mr Weir, as he had experience of the role and understood its complexities.
However, he added that Mr Weir had not moved quickly enough when it became apparent that there were flaws in CCEA's grading system.
'Somebody must be held to account'
"His copy book has been blotted, his leadership has been questioned but we now need to see decisive leadership in the days and weeks ahead because we have our schools reopening," he said.
"He has an opportunity to step forward and give the leadership."
Ulster Unionist leader Steve Aiken summed up the events of the past week as a "fundamental failure".
"I know we don't seem to hold anyone accountable or responsible, but on this occasion somebody must be held to account for what has happened to students in Northern Ireland," he said.
Several DUP MLAs took to Mr Weir's defence during the debate, which lasted more than two hours.
Christopher Stalford said the minister had taken "reasonable and proportionate" decisions.
"No-one should doubt his commitment to ensuring every young person in Northern Ireland should get the best start in life," he said.
While former assembly Speaker Robin Newton said Mr Weir had shown "integrity" throughout his time in office.
But People Before Profit MLA Gerry Carroll called on the minister to resign for what had happened.
"Peter Weir is not worthy of his brief," he told the chamber.
"The public could have forgiven a humble minister who recognises the gravity of an error made - they did not deserve a double-down response which is exactly what they got."
Green Party MLA Rachel Woods criticised the DUP minister for presiding over a system that leads to inequality between students in NI and says a review should be considered
While Traditional Unionist Voice (TUV) leader Jim Allister said Mr Weir's "deafness and blindness to the problem was the greatest weakness the minister showed".
He also questioned whether exam board CCEA is "fit for purpose".
He maintained that he had acted fairly and the intention of his department had always been to ensure the grades were as accurate as possible.
The motion passed with the SDLP's amendment without MLAs moving to a formal vote.