Bombardier: 95 jobs at risk of redundancy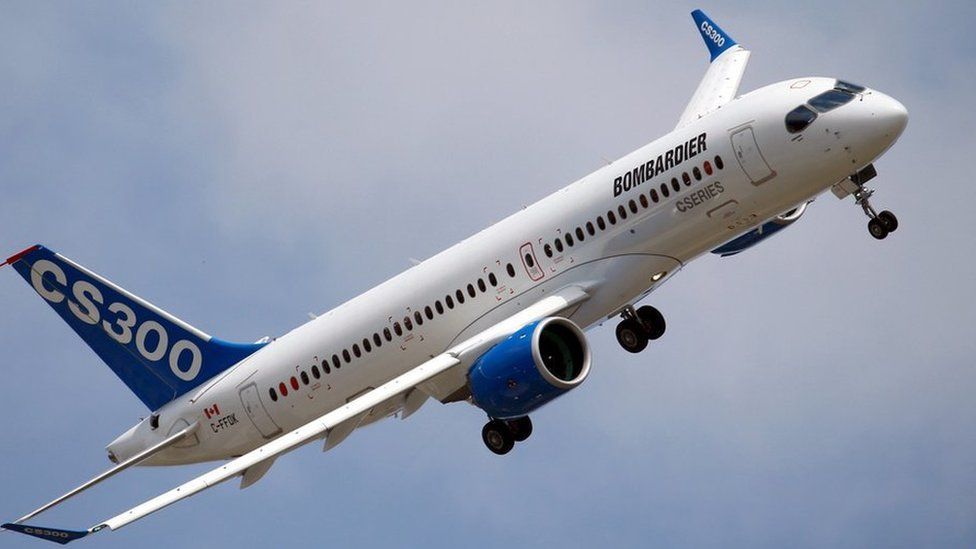 Aerospace firm Bombardier has said a further 95 jobs are at risk of redundancy at its NI operations.
It follows the firm's announcement in June of a workforce reduction due to interruptions and challenges caused by Covid-19.
In a statement it said "95 Bombardier core employee jobs in Northern Ireland are at risk of redundancy".
It said it deeply regretted "the impact this will have on our workforce and their families".
However, Bombardier added that "it is essential we align our business with current market realities to ensure we have a sustainable long-term future".
The company employs about 3,500 in Northern Ireland.
The trade union Unite said that the announcement by Bombardier was a "further blow" to its workforce.
It repeated its call for "a Northern Ireland rescue strategy combined with a UK-wide aerospace taskforce to save this critical industry".
Unite Regional Secretary Jackie Pollock said "additional job losses" were "unnecessary" and that the focus should be on seeking "support and resources for the sector".
East Belfast MP Gavin Robinson said the announcement emphasised "the huge impact that Covid-19 has had across all sectors of our economy, but particularly within the aerospace industry".
"Unfortunately today's announcement appears to be related to global forces of which we have only very limited powers to intervene," he said.
"However, the sale of Bombardier's operations locally remains a key target which we hope can be a springboard for the future."
Mr Robinson said it highlighted the need for targeted support to the aerospace sector and that he would "continue to press for UK-wide action in this regard".
It said the move was in response to "extraordinary industry interruptions and challenges" caused by the coronavirus pandemic.
Having reviewed its operations in Belfast, Bombardier said it had to adjust the workforce "to align with market demand for the remainder of this year and through 2021".
Bombardier's Northern Ireland operations are currently in the process of being sold to the US firm Spirit AeroSystems.
Today's announcements reflect the range of sectors affected by the pandemic.
Retail and aerospace are two big parts of the Northern Ireland economy.
Across the UK, Marks & Spencer is cutting 7,000 jobs over the next three months across its stores and management.
Unions from both sectors are now calling for targeted government support to help with recovery.
Covid 19 has changed how we shop and what we buy which is putting pressure on retailers to adapt.
Raymond Neal from USDAW union said: "We need to save these jobs. Retail workers were key workers throughout this pandemic and feel they have been let down."
The retail sector was already struggling before this pandemic hit.
Aodhan Connolly, NI Retail Consortium said: "This pandemic has brought about 10 years worth of change in 13 or 14 weeks. This shows that retail will need more support from the Executive."
Meanwhile, Bombardier says demand for the rest of this year has softened further which is why it is consulting on further redundancies.
Susan Fitzgerald of Unite said: "We are watching this industry bleeding out. There has been complete inaction from Stormont and from Westminster.
"Advanced manufacturing is a big part of the Northern Ireland economy and tens of thousands of jobs are at risk across the UK. "
"We are calling on the government to extend the furlough scheme and implement a host of other measures to save these jobs."