Coronavirus: Craigavon Hospital patients test positive
By Marie-Louise Connolly & Louise Cullen
BBC News NI health team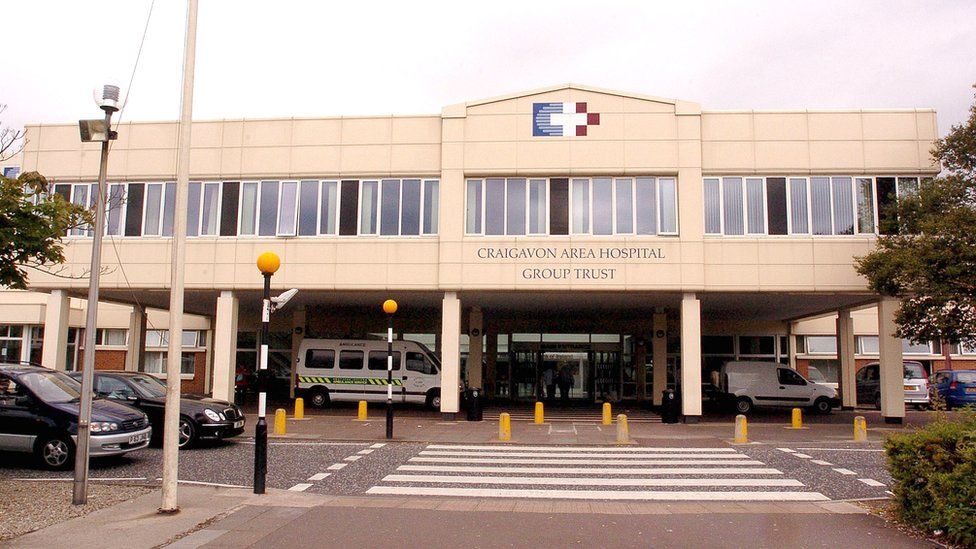 Five patients on the haematology ward at Craigavon Area Hospital have tested positive for Covid-19.
Some were being treated for blood disorders. A member of staff on the ward is also affected.
Others have been sent home to self-isolate, and the ward has been closed to new admissions.
It is the second confirmed outbreak at the hospital, which treated the highest number of Covid-19 patients in NI during the height of the pandemic.
The BBC understands two nurses and a junior doctor from the Respiratory Emergency Department have also tested positive, while another 20 colleagues are isolating.
Most of those staff members have been tested, with the majority of results coming back negative.
Infection control experts have been at the hospital site on Tuesday.
It is understood there is no identifiable link between the two clusters.
The Southern Health and Social Care Trust said one member of staff on the haematology ward had tested positive and three "close staff contacts" were self-isolating as a precaution.
The trust also confirmed 12 patients on the ward had been tested for Covid-19 - five of them tested positive and one further haematology in-patient was also identified.
"Trust staff are working closely with the Public Health Agency to manage the situation and the safety of both patients and staff remains a priority," the trust said.
"There will be no routine visiting to the ward until further notice unless in exceptional circumstances.
"Covid-19 is rising again in our community. We urgently appeal to everyone to wash their hands, cover their face maintain social distancing."
The families of patients are being contacted by the trust.
Dr Sara Hedderwick, a consultant in infectious disease at the trust, said they were "spending a significant amount of time" ensuring the affected patients were as safe as possible.
"It has meant in the first instance we will have to restrict our visiting to that area, which is obviously hugely upsetting for the patients on the ward," she said.
"It will have wider implications for our haematology patients who were expecting to be admitted in the future."
Dr Hedderwick said the pandemic had not gone away.
"As the winter comes back I think we're going to see more and more and more of these clusters in lots of places - hospitals being one of them," she said.
"We don't know who's got Covid - up to 40% of people with Covid don't really show any symptoms
"We know people can walk Covid on to our hospital site, they can be a patient, they can be a staff member and as we've allowed visitors to go back, increasingly it could be a visitor."
Forty-seven new cases of coronavirus have been confirmed in Northern Ireland in the past 24 hours by the Department of Health, bringing the overall tally to 6,823.
Health Minister Robin Swann said Northern Ireland was "walking a tightrope" in the balance to restart society amid rising cases of Covid-19.
He told the Stormont press briefing that public messaging about safety measures was as vital today as it ever was and the advice remained "a matter of life and death".
"Our concern is some of you are getting fed up listening to it and getting tired following it," he told the news conference.
"Complacency is our enemy.
"I hope you'll forgive me for repeating the messages, over and over again."
The minister hailed the success of the Department of Health's StopCOVID NI app, which he says has been downloaded more than 300,000 times.
Mr Swann says 237 exposure notifications have been issued to those who would have been in close proximity with someone who had tested positive for the virus.
"A number of these would certainly have been missed by the tracing teams were it not for our app," he explained.
In the Republic of Ireland, 92 new cases of Covid-19 were reported on Tuesday; there were no further deaths linked to the virus.