Martina Anderson apologises 'unreservedly' for Troubles pension tweet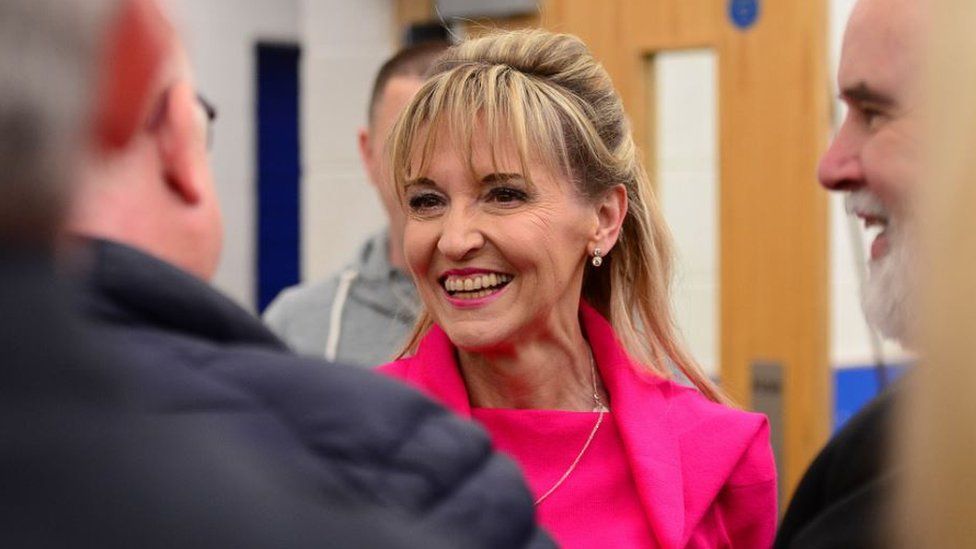 Sinn Féin's Martina Anderson has apologised "unreservedly" for hurt and offence caused after she claimed a compensation scheme for injured Troubles victims would "discriminate, criminalise and exclude".
The senior MLA had been criticised for making the remarks on social media on Tuesday.
Her tweet has since been deleted.
In a statement, Ms Anderson said her comments had been "clumsy" but were not directed at victims.
The Foyle MLA and former MEP also claimed the money was mainly for those who took part in what she described as "Britain's dirty war in Ireland", and would mostly go to "those involved in collusion" and British troops, for instance paratroopers involved in shootings in Ballymurphy in 1971 and on Bloody Sunday in 1972.
"It was never my intention to cause them any hurt," she said on Wednesday.
"All victims of the conflict deserve acknowledgement of their pain and loss and I support them in their efforts to get their pension."
Sinn Féin President Mary Lou McDonald said it was right that Ms Anderson had apologised.
She told Irish national broadcaster RTÉ that her party still had concerns about the pension scheme, but that the comments had caused hurt to victims and an apology was "absolutely necessary".
"All of us recognise what they've been through they are absolutely entitled to their pension," she said.
Earlier, a woman who challenged the delay in a compensation scheme for Troubles victims described Ms Anderson's tweet as "very hurtful and insulting".
Jennifer McNern, who lost lost both legs in an IRA bomb attack on the Abercorn Restaurant in 1972, said the payments were for "forgotten victims".
"We as a group have campaigned for over 10 years for people who have been injured through no fault of their own, people who have been forgotten about and pushed aside the whole way through the peace process," she said.
"If you see the people who are applying for this pension, they are blind, they are paralysed and they are amputees.
"That is the people who will avail of this pension when it opens."
Ms McNern added: "I personally don't need apologies [for the tweet], I just need the payments to be put in place."
Last week, a judge ruled that the NI Executive Office had acted unlawfully in delaying the scheme, which was approved by Westminster in January.
It followed a number of legal challenges brought against the delay, one of which was taken by Ms McNern.
Another was by Brian Turley, one of the so-called Hooded Men detained and subjected to special interrogation methods by the British military in the early 1970s.
He said that while Ms Anderson's tweet was "offensive" and "very immature", he accepted her apology.
"She didn't want to see British soldiers that shot people dead getting a pension, I think that's what she was thinking," he told the BBC's Talkback programme.
Mr Turley says that there is "a bit of discrimination" with who will receive the pensions.
"Some people, through no fault of their own, were maybe shot after they had done time in jail and, for me, I think both sides should get it. UVF, IRA, whoever [has been injured]," he said.
Alan McBride, co-ordinator of the WAVE Trauma centre, and whose wife Sharon was murdered in the 1993 IRA Shankill bombing, said Ms Anderson's comments were "highly insulting and insensitive" to the people he works with.
"Our lives were just in the wrong place at the wrong time, they were horrifically maimed, not one of them was involved in anything," Mr McBride said.
"They were maimed by republicans, they were maimed by loyalists, they were maimed by the state.
"They fought a very long campaign to get this pension over the line and following the elation from Friday's court case to have this nonsense now come out from Martina Anderson I think is highly insulting.
"So I hope she has the moral courage to apologise for the hurt she has caused."
The victims' payments, approved by Westminster in January, will give regular payments to people seriously injured, but have been long delayed by arguments over the definition of a Troubles victim.
Analysis: BBC NI political correspondent Enda McClafferty
On the surface it looks like Martina Anderson was off on a solo run this time.
As you could imagine this is the last thing Sinn Féin wanted to be talking about today because down south they very much want to keep the pressure on [EU commissioner] Phil Hogan.
I think the party leadership had to move pretty quickly whenever it came up yesterday afternoon to try and get it taken down so they weren't going to have to field questions all day on this.
Whenever you talk about victims in Northern Ireland and you see tweets like this it doesn't bode well for the party down south.
They will be hoping the fact that they moved fairly swiftly to try and put distance between the party and what Martina Anderson had to say, plus her apology, that people will simply move on from this.
Mr McBride said he "absolutely had to question" where that figure came from given the criteria for those eligible.
She said the scheme should be "needs based and open to all who were seriously physically and psychologically injured during the conflict".
Ms O'Neill, as deputy first minister, had refused to designate a department to administer the funding, expressing concerns that it could potentially discriminate against some republicans with convictions from the Troubles.
On Monday, the justice department was designated to administer the scheme.
Victims Commissioner Judith Thompson said: "I think it's absolutely and completely understandable when you hear the distress and the anger that has been expressed this morning.
"This has been incredibly widespread, I could not count the number of times that I have talked to people over the last five years who experienced terrible injury or devastating bereavement and the very next thing that happened was that somebody said something that blamed that individual or in some way disrespected their memory."
Doug Beattie, of the Ulster Unionist Party, said Ms Anderson's apology was "a belated recognition of the deep hurt and offence caused".
"Apologies are always to be welcomed, but given past experience, many people will be wondering about the sincerity of Martina Anderson's apology for her tweet which so insulted and offended innocent victims," he said.
"A number of Sinn Féin representatives - including Martina Anderson - have made a concerted effort to spin the line that former soldiers will get this pension.
"This is utterly false, and even a cursory glance at the legislation will show this."
DUP Foyle assembly member Gary Middleton described Ms Anderson's remarks as "a deeply offensive tweet about innocent victims".
He said he would raise the comments with the assembly authorities as to whether it breached the MLAs' code of conduct.
SDLP leader Colum Eastwood called on the Sinn Féin leadership to apologise, describing the comments as "grossly insulting to victims".