Coronavirus: NI pupils to wear face coverings in corridors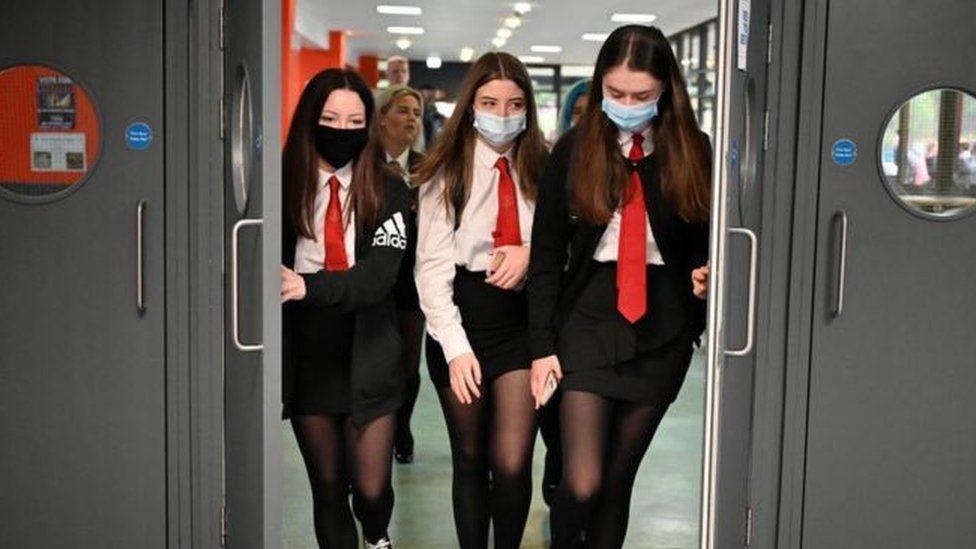 Post-primary pupils and teachers will be required to wear face coverings in school corridors and other communal areas.
Education Minister Peter Weir said the measure would come into effect on 31 August when schools return full-time.
The use of masks on public transport in NI is still "strongly recommended" under the updated guidance.
Meanwhile, a Belfast primary school has said some pupils and staff will have to self-isolate for 14 days after a "member of the school community tested positive for Covid-19".
Cairnshill Primary School headteacher Joanne Currie posted a message on the school's website saying: "I have sought the most up-to-date advice from the Public Health Agency (PHA) and ensured that the affected area in the school remains closed and will now undergo an enhanced clean.
"The pupils and staff that are affected have been notified separately and will now be required to isolate for a period of 14 days in line with advice from PHA."
She added that the school remained open for other classes.
Earlier this month, Mr Weir said he was not recommending face coverings be worn by pupils.
He said the new decision followed further advice received from Stormont's chief medical and scientific officers.
"The current public health advice is that the use of face coverings provides some benefits," he said.
"However, it is not a replacement for frequent hand washing, social distancing where possible, covering your mouth and nose when you cough or sneeze and regular cleaning of surfaces.
"It is also important to remember that evidence suggests that the risk of transmission in schools is relatively low compared to some other settings."
The education minister added that face coverings were not compulsory for "routine use" in schools.
"However, staff and pupils may wish to use them during the routine school day and this is acceptable," he said.
"Schools should also be aware that some persons (including some children) are exempt from wearing face coverings."
In terms of travelling to school, Mr Weir said "the advice remains the same".
He said it was "strongly recommended" pupils wear face coverings on dedicated school transport, including buses and taxis "where it is appropriate for them to do so".
Principal Hilary Wood said it was about the "safe restart of the school".
She said it would not be a requirement during exercise in the playground or "when eating at break time and lunchtime".
Education Secretary Gavin Williamson said it followed advice from the World Health Organization and that head teachers would be given the "flexibility" to introduce masks in post-primaries.
The move followed calls from the Association of School and College Leaders for the UK government to change its guidance.