Kilkeel: Farmer 'devastated' after 2,000 pigs die in fire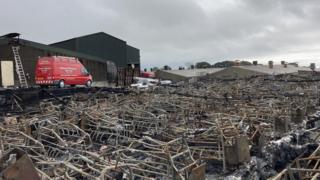 A Kilkeel farmer said he is "devastated" at the loss of at least 2,000 pigs in a fire.
The farrowing house at Glenmarshal Pedigree Pig, a shed where sows and their piglets were kept, was destroyed.
Owner Trevor Shields said fire fighters did a "tremendous job" in stopping the fire from spreading.
"In layman's terms it's the maternity ward and there were 140 sows in there with baby piglets, up to about three weeks old," Mr Shields said.
"Total number somewhere around 2,000 and they are just gone, which is very sad."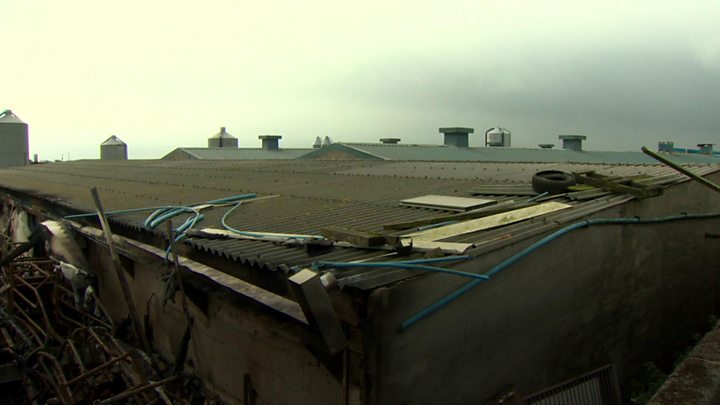 He added: "It is very emotional, it's actually difficult for me to even talk about it."
The NI Fire and Rescue Service was called to the farm on the Carrigenagh Road at 20:54 BST on Monday.
Mr Shields said he was told the cause of the blaze is likely to have been an electrical fault and the Fire Service is treating it as an accident.
Mr Shields said Glenmarshal is a well-known name in the pig breeding world and a regular prize-winner at the Royal Ulster Agricultural Society's Balmoral Show.
"Our losses are quite substantial because this is one of the top breeding farms in Europe and there's bloodlines that have just been wiped away," he said.
"We'll just have to put the pieces together and get over it because they are gone.
"Some of the lines may still be here on the farm in other parts, but there will be lines that have been lost. Some of those could go back as far as 40 years.
"The animals that we show at Balmoral are born from 1 September. Unfortunately they are gone."
Speaking in the assembly, Agriculture Minister Edwin Poots described the fire as "an absolutely awful thing to have happened".
He said he had asked his department's veterinary service to get in contact with the owner.
"I would hope that they will be able to ensure that in terms of animal welfare and all of that there, they can give qualitative advice and support to the individual," the minister added.
'Difficult conditions'
Four fire engines were called to the scene and the blaze was brought under control by 23:50 BST.
Assistant Group Commander Martin Healy said they arrived to a well developed blaze and they "worked in difficult conditions to prevent the fire spreading to adjacent buildings".
He said it was "a very difficult scene to witness" and he was thankful they were able to stop the fire spreading to other sheds where more pigs were housed.
Cmdr Healy said one of the farm workers suffered slight burns to his feet and was treated at the scene before being brought to hospital.
Special animal rescue teams worked alongside fire crews at the scene.
Engines, from Kilkeel, Newcastle and Warrenpoint, attended the incident along with the Animal Rescue Team, a Command Support Unit and a water tanker.