Carl Frampton tells court money was 'stolen' from him
By Mark Simpson
BBC News NI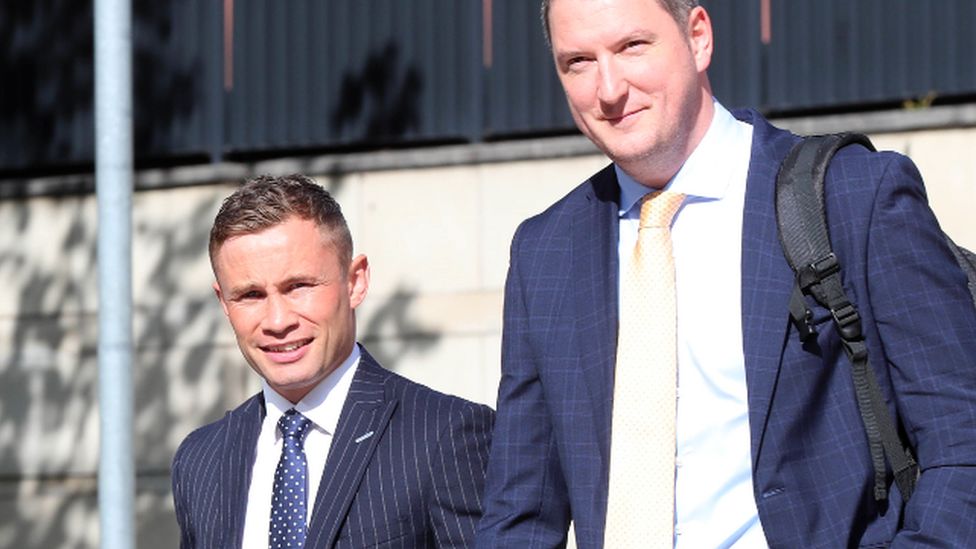 Boxer Carl Frampton has told a court he believes money was "stolen" from him when Barry McGuigan was his manager.
Mr Frampton said he was not paid as much as he should have been for his fights and he was not managed as well as he should have been.
Mr McGuigan denies any wrongdoing in the case the boxer brought against him and the firm Cyclone Promotions (UK) Ltd over alleged withheld earnings.
He has taken a separate case against Mr Frampton, alleging breach of contact.
The long-running partnership between Mr Frampton and Mr McGuigan ended in August 2017.
On day two of Mr Frampton's case at the High Court in Belfast, the 33-year-old boxer said: "My case is that Barry McGuigan as my manager didn't look after me."
Outlining his complaints, he said they included "being paid late, being paid less money than I should have got".
When it was put to him in court that he was claiming that money had been "stolen" from him, he responded: "Yes".
Mr Frampton told the court that matters reached breaking point in 2017 when a tax official called at his house over an outstanding bill.
"Someone from HMRC had come (to my home) looking for £397,000 in unpaid VAT," he said.
"When that happened, that was the turning point for me."
He said the McGuigan family played down the incident.
"They told me it would be would be fine, 'don't worry about it'."
During cross-examination, Mr McGuigan's barrister strongly disputed the suggestion that money had been "stolen".
He said the only reason Mr Frampton knew how much money was made during each fight was because the McGuigans told him.
Mr Frampton denied unlawfully breaching his contract and said that by summer 2017 trust had broken down.
Earlier in the hearing, the boxer spoke of his financial dealings with Mr McGuigan.
"It was always difficult to speak to Barry about financial issues," he said.
"I got the impression he didn't really know what was going on."
However, he added that during the earlier part of his career he had trusted Mr McGuigan as much as his own father, before their commercial relationship broke down.
He said he also trusted Mr McGuigan's family and would have signed documents they asked him to sign with the same confidence "as if my dad had asked me to sign something".
He added: "I signed whatever I was asked."
When it came to money, he said Mr McGuigan's sons Jake and Blane played down the revenue generated by boxing.
He said their general response when he raised the issue was: "We don't make profits, there's not enough money in this game, we receive a wage."
Wednesday's hearing was the second day of proceedings, which are expected to last two weeks.