Coronavirus: Local regulation breaches could carry £1,000 fine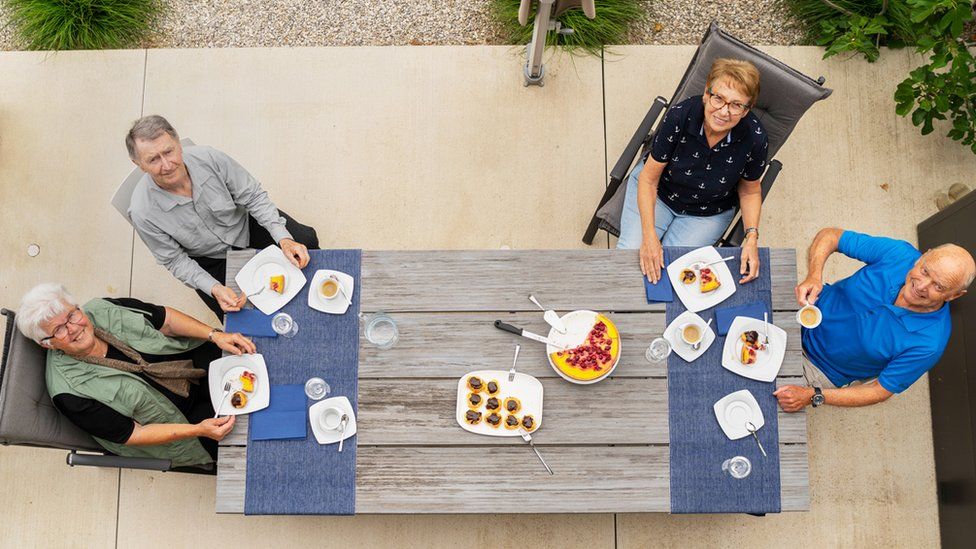 Fines ranging from £60 to £1,000 could be issued for breaches of coronavirus regulations in areas where local measures have been imposed, according to Health Minister Robin Swann.
Mr Swann said the regulations were a "very intensive piece of work".
He said they needed to be "watertight" in case enforcement is necessary.
Speaking to BBC News NI's Evening Extra programme on Monday, the minister added that case numbers have risen due to "unregulated, unmanaged" gatherings, such as dinner parties or "somebody dropping into your house for a cup of coffee".
The measures announced on Thursday mean people cannot visit others in their homes in these areas and no more than six people from two households will be allowed to gather in a private garden.
Those living in the restricted zones are being advised not to travel outside them unless it is necessary.
The measures will be in place for at least two weeks.
There are some exemptions, including:
Those in a social bubble with one other household
Those with caring responsibilities, including childcare
Essential maintenance
Supported living arrangements
Visits required for legal or medical purposes
Marriage or civil partnerships where a person is terminally ill
Mr Swann said the majority of infections "are actually taking place in house transfers and community transfer as well".
"What we are trying to do with these regulations is actually target the locations where we're seeing the spread of Covid."
The minister also told BBC News NI that his department's Chief Scientific Advisor, Professor Ian Young, has been in contact with universities about the return of students.
He appealed to students to "be responsible... because what we don't want to see is somebody coming into those areas, potentially contracting Covid-19 and then going home at the weekend".
On Monday, the Department on Health in Northern Ireland reported two new coronavirus-linked deaths.
That means the death toll from the virus in Northern Ireland now stands at 570.
The latest figures on the department's dashboard shows 109 new confirmed positive cases of the virus in the past 24 hours, bringing that total to 8,423.
The department's daily figures are mostly comprised of hospital deaths and where a patient had previously tested positive for the virus.
In the Republic of Ireland, no further coronavirus-related deaths were reported on Monday, but a further 208 cases have been confirmed.
The country's death toll stands at 1,784, with 31,192 positive cases reported.
Some doctors in Northern Ireland said they believe a second wave of Covid-19 is "likely" to happen within the next six months, according to a survey.
The survey, which was conducted by the British Medical Association (BMA), found that 80% of 500 GPs and hospital consultants surveyed believe a second wave is "likely" or "very likely" to happen.
Some surveyed also expressed concerns about capacity to manage the pandemic alongside restarting routine care for patients.
Speaking to BBC Radio Foyle, Dr Tom Black, the Northern Ireland chair of the BMA, said he was concerned about "a second surge in the coming months".
"There are worries about staff sicknesses and burnout, there are worries about maintaining services during the winter pressures and getting a flu vaccination programme up and running.
"It's a lot of pressures all coming at the one time."
However, Dr Black believes the restrictions introduced in areas with high case rates on Monday could help mitigate some of these issues.
"It is time to batten down the hatches and be careful," he added.
Mr Swann said that the possibility of a second NI-wide lockdown is "something we still have to consider", however, "I'd rather we didn't get to the point that it's necessary".
Although positive case numbers are rising, including in the number of people aged over 60, he added that "we are not seeing that translating into hospital admissions".
What questions do you have about the latest restrictions? Let us know and a selection will be answered by a BBC journalist.
Use this form to ask your question:
If you are reading this page on the BBC News app, you will need to visit the mobile version of the BBC website to submit your question on this topic.
Meanwhile, DUP Chief Whip Sammy Wilson claimed earlier on Monday that Mr Swann and others had pressed for more extensive lockdown restrictions.
Mr Wilson told the BBC's Good Morning Ulster programme: "If the technocrats in the Department of Health and if some of the ministers in the executive had had their way these restrictions would be far more severe and many businesses would be experiencing far, far greater difficulties as a result of them."
The East Antrim MP added: "Other ministers wanted far, far more widespread restrictions and those were opposed by our party, and quite rightly so."
The health minister told BBC News NI: "There was nothing that we suggested that was knocked back or challenged."
He also said he would not comment on Mr Wilson's "bogus" claims.
Justice Minister Naomi Long said those commenting on the new measures should "try to be more accurate in future".
Infrastructure Minister Nichola Mallon said it is "deeply regrettable that in the middle of a public health crisis energies are being spent on giving misleading briefings".