Coronavirus: Announcement on pubs' curfew postponed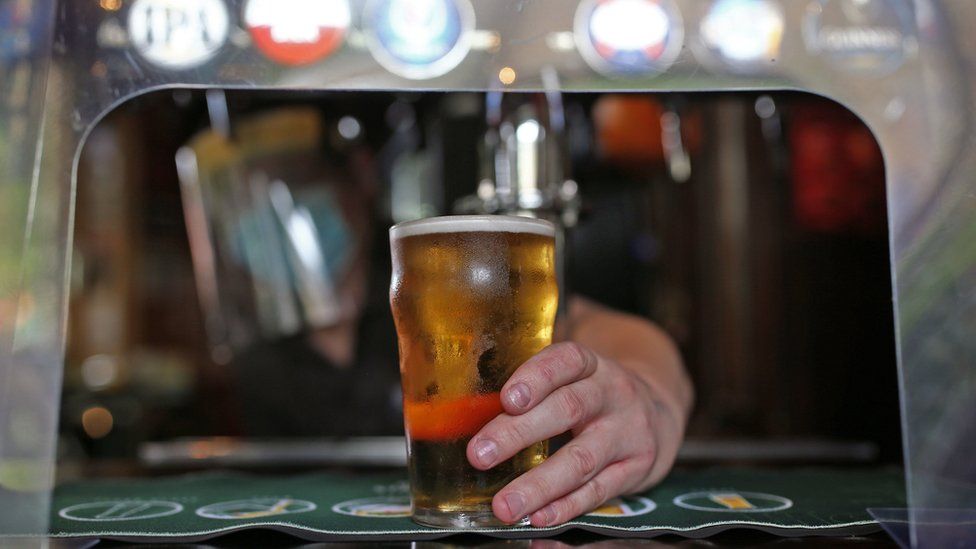 No decision has been reached by the executive yet on imposing a curfew for pubs and restaurants in NI, First Minister Arlene Foster has said.
It had been anticipated they would announce shorter opening hours for the industry.
Mrs Foster said ministers would revisit the issue in the assembly on Monday.
Hospitality leaders have been calling for a later closing time for NI than in the rest of the UK, where it is 22:00 BST.
In the Republic of Ireland it is 23:30.
In Northern Ireland, off-licences and supermarkets can sell alcohol until 23:00 most days. The cut-off is 22:00 on Sundays.
It is understood that imposing a curfew earlier than 23:00 could mean changing legislation around NI's current licensing laws.
It was thought NI Executive ministers would be likely to set a closing time of 23:00 for pubs and restaurants to shut.
However, the move will require amending primary legislation which may take some time so it is unclear as to when the move will be enforceable.
Speaking at the executive press briefing at Stormont, Mrs Foster said the chief medical officer and chief scientific adviser were "fully supportive" of the executive's actions on Thursday.
"We have always taken our own advice and the virus acts differently in different jurisdictions," said the first minister.
Previously, the executive had said it would support a joined-up approach across the UK and Republic of Ireland.
Mrs Foster said there was a "strong unity of purpose in relation to the way forward" at Stormont.
"In the past some of our media friends have criticised us for not having issues tied down fully, but the issue will be dealt with in the coming days," she said.
Deputy First Minister Michelle O'Neill said the executive's "top priority" remained keeping schools open, and other restrictions needed to be given due consideration.
"Let us get this right and try to communicate it in the best way we can," she added.
Hospitality industry representatives have called on the executive to agree to a curfew of 23:30, if one is to be imposed.
Earlier, Colin Neill, of Hospitality Ulster, said the 90-minute time difference would affect many businesses.
"In reality, it is 50-70% of an already reduced income and will reduce staff hours or the need to bring staff back off furlough," he said.
"We would ask that the NI Executive listens to the heartfelt plea of the sector and chooses a 23:30 closure time if a curfew is imposed, to give some chance to those who have had such an awful time in the last number of months."
Meanwhile, the leaders of Stormont's four pro-EU parties were in Dublin earlier for Brexit meetings with the Irish foreign affairs minister Simon Coveney.
They discussed their opposition to Downing Street's Internal Market Bill.
The proposed legislation, which would break international law, has been described by Number 10 as a safety net, in case talks to work out details of the Northern Ireland Protocol fail.
Sinn Féin's vice-president and Deputy First Minister Michelle O'Neill, SDLP leader Colum Eastwood, Alliance leader Naomi Long and NI Greens leader Clare Bailey spoke at a joint press conference afterwards and said Mr Coveney had "assured" them of the EU's support for Northern Ireland.
In a statement, Mr Coveney said there was "strong agreement" at Thursday's meeting about the importance of implementing the NI Protocol in full.
"We also noted the particular challenges facing business in Northern Ireland," he added.
"They need certainty and this needs to be delivered through full implementation of the protocol."