Coronavirus: Eighteen Altnagelvin staff off work due to Covid outbreak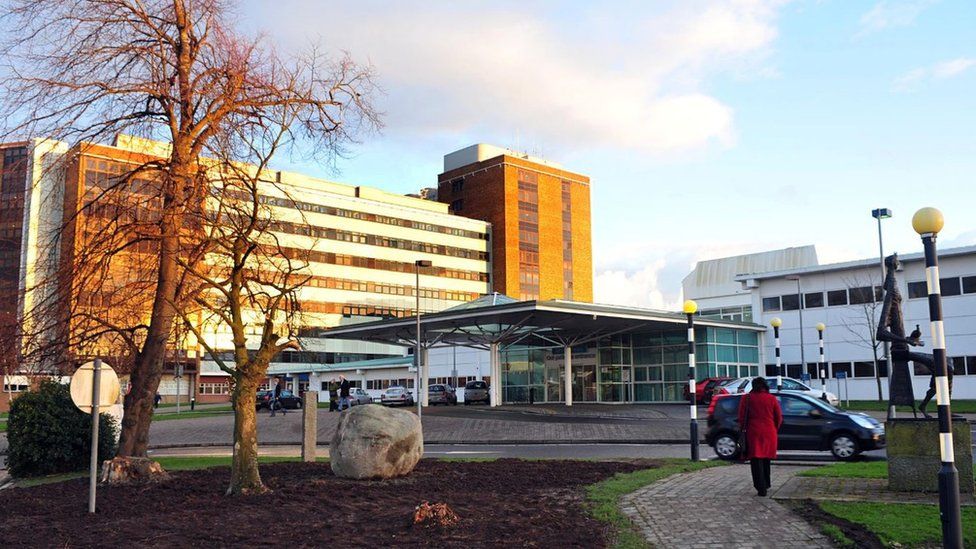 Eighteen staff members from a ward at Altnagelvin Hospital in Londonderry are currently off work as a result of a Covid-19 outbreak.
The Western Health Trust has confirmed to the BBC that three members of staff on ward 40 have tested positive.
Another 15 are currently off work and self-isolating as a precautionary measure.
The trust said all 23 patients on the ward have been tested and there are currently no positive cases.
Ward 40 at the hospital provides rehabilitation care for elderly stroke victims.
Dr Bob Brown, from the Western Health Trust, said it was "taking all the necessary infection prevention and control measures to protect our patients and staff".
The Department of Health and Public Health Agency "have been informed of the situation", he added.
Meanwhile, 10 members of ambulance staff in Craigavon, County Armagh, have tested positive for Covid-19, the Northern Ireland Ambulance Service has confirmed.
A further six workers have also been advised to self-isolate.
Northern Ireland Ambulance Service chief executive Michael Bloomfield said none of them were seriously ill.
He told BBC Radio Ulster's Good Morning Ulster programme that Craigavon station had a total staff of 60.
Fifteen of them were on the trip, 12 of whom were ambulance staff and 10 of those had tested positive.
Mr Bloomfield said it was believed the the initial case, which was discovered on 13 September, was contracted through community transmission from a family member.
"As a result of the staff being away together that's how it happened and it highlights how contagious the virus is," he said.
Mr Bloomfield said he was confident none of the affected staff had had patient contact.
"The fact that there are a higher number of people currently unable to work in Craigavon, it does mean we are grateful that we can bring in staff from other areas."
Mr Bloomfield highlighted how "challenging a time" the last six months had been and his staff had "worked exceptionally hard and needed down time".
He said the staff involved were getting occupational health support and assuming they had no more symptoms, they will all be back at work in the next few days.
Nigel Ruddell, medical director of the Northern Ireland Ambulance Service, said there was no doubt some response times have been affected.
"As always we put our efforts into making sure that we respond to the most serious emergencies first and foremost, we aim always to get to the sickest patients the quickest," he said.
"Patients with lower-grade emergencies, less urgent problems, unfortunately they are the ones who are likely to be affected and upfront I will apologise for any delay to any patient."
The Department of Health reported no further coronavirus-linked deaths on Thursday, with the death toll remaining at 577.
According to the latest figures, 9,950 people have tested positive for Covid-19 in NI since the pandemic began.