Q&A: What are NI's Covid rules on weddings?
By Jayne McCormack
BBC News NI Political Reporter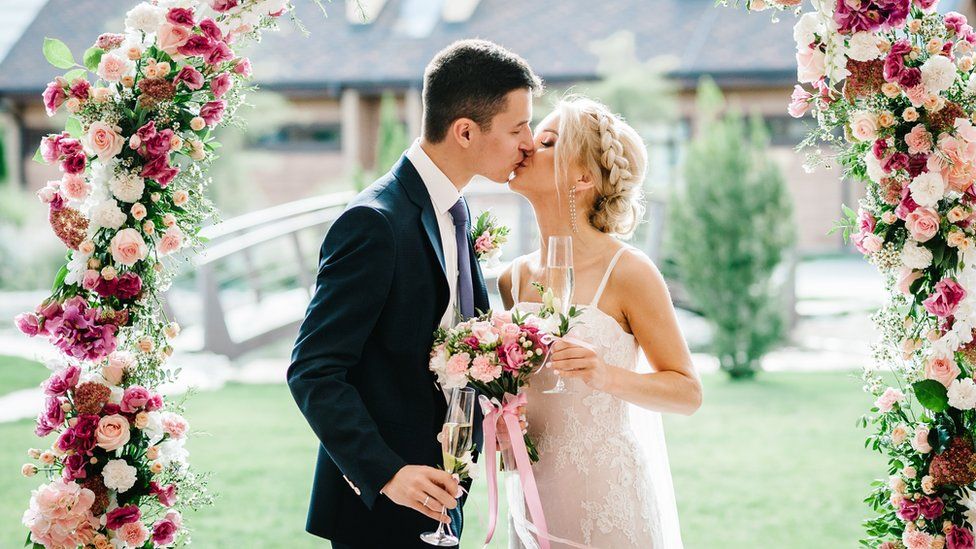 When the coronavirus pandemic took hold in March 2020, couples preparing for their big day had to abruptly stop planning.
Since then, there have been further changes to the rules for weddings, civil partnerships and receptions.
Here's a guide to the current rules.
How many people can attend my ceremony?
In Northern Ireland, there is no set limit for guests at a ceremony in a venue.
The number permitted to attend weddings and civil partnerships is informed by a risk assessment for the venue.
For outdoor ceremonies and receptions, the maximum numbers permitted has increased to 500 or is capped at the venue's specific risk assessment level if lower.
Face coverings must be worn by all unless exempt, other than those in the marriage party.
Places of worship and local government offices are still permitted for weddings.
There is a limit of up to 15 people who can gather outside a venue to spectate.
Social distancing must be adhered to.
Post-ceremony receptions and functions were allowed to resume on 24 May.
In England and Wales, there is no set limit on the number of guests who can attend a wedding while in Scotland, it depends on the area and which level of restriction it is in.
From 5 July, up to 50 people will be able to attend wedding receptions in the Republic of Ireland.
Can I have my ceremony at home?
The rules on gathering in people's homes in Northern Ireland are currently 15 people from three households meeting in a private garden.
From 5 July, this is set to rise to 15 people from any number of households in a private garden but will need to be ratified on 1 July.
However, in the circumstance that one of the couple is terminally ill, a ceremony inside a private home is allowed.
In this case a maximum of 10 people can attend including all participants and the officiant.
What about getting ready?
Hairdressers and make-up artists are often an important part of the day.
This includes beauty and nail salons that also had to close their doors back in December.
Do guests have to wear face coverings during the ceremony?
Yes, face coverings must be worn by all unless exempt, other than those in the wedding party.
Children aged 12 or under are exempt.
Anyone travelling by public transport to a wedding must wear a mask during their journey - with limited exemptions.
Can group or extended family photos be taken?
A photographer or videographer can come to your home, so as long as they can maintain social distancing with no close contact, in line with a completed risk assessment.
The advice says large groups should not form for the purposes of photographs unless social distancing can be adequately maintained.
How do table numbers work?
Designing a table plan was complicated enough before the pandemic.
However now there are limits in place.
No more than 10 people can be seated at any one table, not including children under 12.
No limit applies to the table where the married couple or civil partners are seated.
Table service applies during the reception and guests must stay at their table.
Can music be played during the ceremony?
Yes, either live or pre-recorded.
However there are different rules on music at wedding receptions.
No live music is allowed at present, but background music can be played at an "ambient level".
Only one dance is allowed for the couple getting married, but this cannot take place to live music. It must be a pre-recorded track.
A DJ can play but the volume must be reduced to "allow normal conversation", the executive has said.
The executive has given an indicative date of 22 July to allow live music and dancing to resume at licensed and unlicensed premises.
However this will need to be approved on 15 July.
How long might restrictions be in place?
It depends what happens with the spread of the virus in Northern Ireland and the Delta variant.
The Executive Office has deemed that indoor marriages and civil partnerships, in the context of Covid-19, must "still be seen as carrying a serious risk".