Lough Neagh: Sand dredging approval 'assault on environment'
By Conor Macauley
BBC NI Agriculture & Environment Correspondent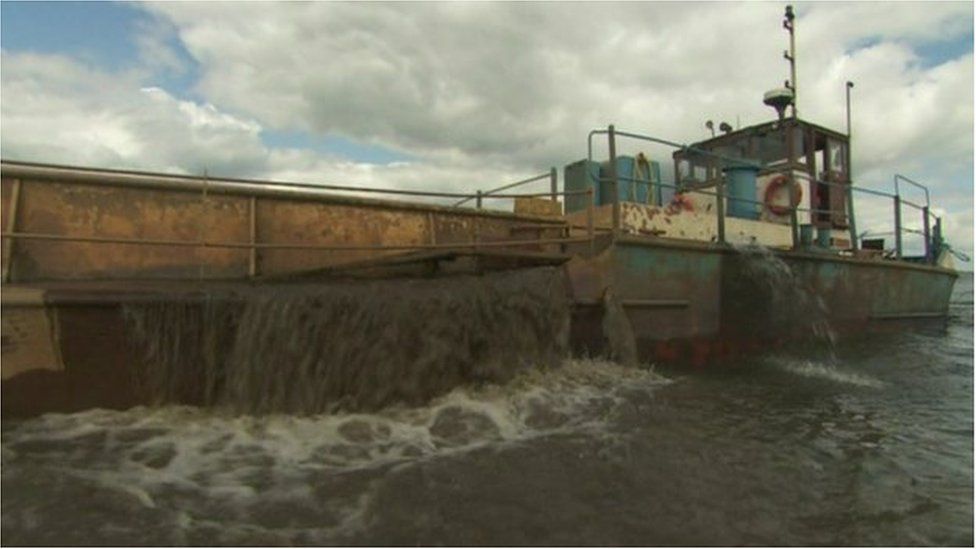 A decision to approve continued sand dredging in Lough Neagh has been described as "an appalling assault on ecology and our environment".
On Thursday, the infrastructure minister granted planning approval to continue dredging at the EU protected site.
Nichola Mallon said it was a "finely balanced decision".
There has been a six-year legal wrangle over the controversial practice on the lough.
Reacting to Ms Mallon's decision on Thursday, Green Party NI leader Clare Bailey said "nothing is sacred" " if the lough is "dug out and destroyed".
She added that dredging "is thought to have had a devastating impact on the entire ecosystem of the lough".
"Northern Ireland is disintegrating into an environmental wasteland and it's under the watch of executive parties that give us all of the soundbites about addressing climate breakdown and the ecological crisis, but none of the substance."
Friends of the Earth's James Orr described the decision as "a major blow to the environmental integrity of the lough and the political integrity of the planning system".
"You cannot permanently remove the bed of the lough without far-reaching ecological harm," he said.
"To approve this extraction in a place that is meant to be a specially protected nature reserve means that nowhere is safe in Northern Ireland from extractive industries."
The minister said she had had to weigh up the various benefits with the potential for harm.
Ms Mallon said she had come to the conclusion that the work would cause "no adverse effect" to the protected features of the lough.
Approval covers two distinct areas totalling around 3km sq in the north west of the lough.
The move follows a recommendation for approval from the Planning Appeals Commission last year.
It is the end of a long legal and planning battle, which started when former Environment Minister Mark Durkan attempted to halt sand extraction on the lough in 2014.
At that time, it emerged the practice, which had been going on for years, didn't have planning approval.