Twelve-year-old Ballymena house fire victim named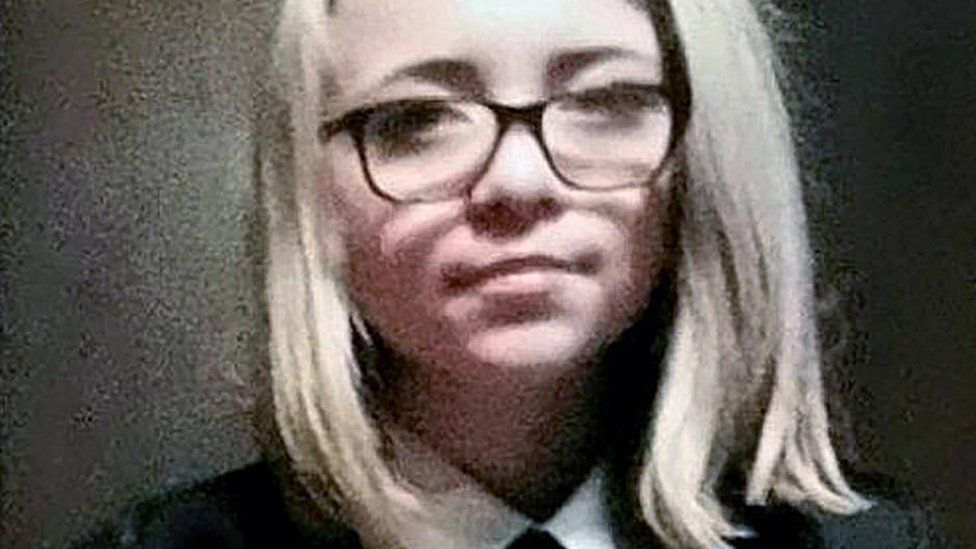 The year nine pupil at Dunclug College was described by her headteacher as being a "beloved" student.
The Northern Ireland Ambulance Service (NIAS) said it was called to a house at Staffa Drive in the Ballykeel area of County Antrim at around 17:50 BST.
A man who was in the house at the time was taken to hospital for treatment, according to police.
A vigil for Brooke was held in the Ballykeel estate on Thursday evening.
Her grandfather Billy McMaster told BBC News NI the family was devastated by the "massive loss" of a "loving" young girl.
"She loved her school friends, she loved school, she just loved life in general," he said.
Mr McMaster also paid tribute to the emergency services who attended the scene and those in the local area who have offered their support.
"Words cannot express it. We are all numb. We really appreciate the whole community, the whole estate."
In a post on Facebook, Dunclug College principal Ruth Wilson said that staff and pupils "record deep sorrow on the tragic death".
The Police Service of Northern Ireland (PSNI) and NI Fire and Rescue Service attended the property.
Pastor Tom Todd said the family are "in a total state of shock".
BBC News NI reporter Kevin Sharkey at the scene
Several bunches of flowers have been placed at the police cordon around the family home.
Tributes to a young neighbour and friend.
Brooke Reid McMaster is being remembered here in Ballykeel as a friend who lived life to the full.
At her school, Dunclug College, teachers and pupils are remembering her as 'a joy of a child' who played the piano and liked sport.
Forensic teams have been at the family home today assisting the police and fire service investigation into the cause of the tragedy.
The outcome of that investigation will take time. For now, the community here is looking out for her family.
This is a close knit community, mourning the loss of a young friend and coming to terms with the tragic death of another young person.
Local Presbyterian Minister, the Rev Martin McNeely, told me that he has presided at the funerals of 6 young people in the Ballykeel area since the beginning of the year.
He said the tragic death of Brooke has left the community "stunned and silent" once more, but still determined to stand strong with another grieving family.
He told BBC News NI that he had spoken to family members who "are trying to work out what has happened".
PSNI Ch Insp William Calderwood said that the cause of fire has not yet been determined and will be be subject to investigation, with the NI Fire and Rescue Service.