How it started: Belfast dad and daughter tweet goes global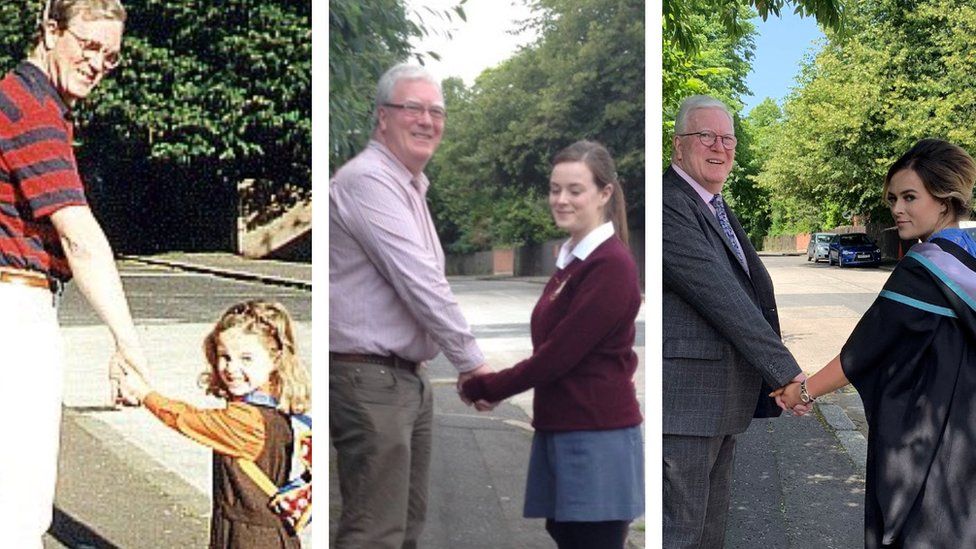 A Belfast dad says he has been left "flabbergasted" by the positive worldwide reaction to three family photos he posted on social media.
Ciarán Shannon shared pictures of him and his daughter, Niamh at various stages of her academic life.
All the pictures were taken in exactly the same spot outside their home.
They were posted on Twitter as part of the "How it Started. How it's going" trend and have been liked almost a million times.
The BBC is not responsible for the content of external sites.
"I've just been watching the numbers go up and up," said Mr Shannon.
"It's like watching the electric meter when the tumble dryer is on."
Similar posts on Twitter have been shared in recent weeks on the same theme.
"I'm flabbergasted by the reaction my pictures have got," said Mr Shannon.
"The good thing is that now nearly a million people know how proud I am of my daughter."
Ms Shannon, 25, is now a maths and science teacher. The pictures were all taken by her mum Brenda.
The first was taken on Niamh's first day at St Therese of Lisieux Primary School in north Belfast, in September 1999.
Mr Shannon said: "I think I was more nervous than her. I was as proud as punch."
The second picture was on Niamh's final day at school in May 2013, and then the final one was in the summer of 2018 when she graduated from university.
The three pictures are side-by-side in a frame on a wall in the family home.
Now, they are being seen around the world and many people have commented on them.
One person wrote: "I don't know you or anything about you but this brought a tear to my eye. Strange times."