Grenfell Tower: Insulation firm 'dedicated to fire safety'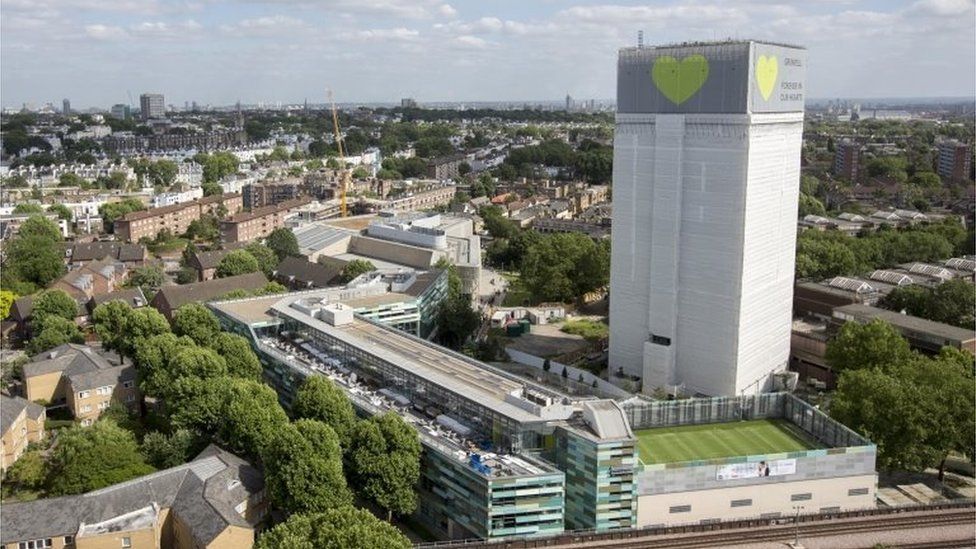 The company at the centre of the Grenfell Tower inquiry has assured a Stormont committee of its dedication to fire safety.
Kingspan Insulation provided K15 insulation to the London tower block that caught fire in 2017, in which 72 people died.
The material was one of two found to be combustible.
The company, based in the Republic of Ireland, has almost 400 staff at three sites in Northern Ireland.
The inquiry heard that Kingspan sold its insulation to the Grenfell tower project on the basis of testing carried out on an older version of the product that caught fire more slowly and emitted less heat.
As part of the Building (Amendment) Regulations (Northern Ireland) 2020, the Stormont Finance Committee hearing looked at the possibility of introducing small-scale testing on building material, such as insulation cladding.
Fergal Murphy of Kingspan Insulation told the committee that relying on small-scale tests should not be a substitution for large-scale testing, and that changing the fire testing regulations could mean that some material would need to be imported, and that could lead to a loss of jobs and increase the company's carbon footprint.
Maliosa McHugh asked if any life was meant to take less priority than a carbon footprint, to which Mr Murphy replied that fire safety is the company's main concern.
Mr McHugh also said there was an inconsistency in Kingspan calling for greater testing, despite ignoring failed tests in the case of Grenfell tower.
Mr Murphy said that Kingspan has acknowledged and apologised for shortcomings. He also said that had Kingspan been consulted, the K15 material was not suitable and would not have been recommended for use in that affectation.
Jim Allister MLA also questioned Kingspan's dedication to large-scale testing.
Mr Murphy said that since Grenfell, changes have been carried out including "full traceability on the K15 product... and new fire testing protocols".
He was questioned further by Mr Allister on comments made by Philip Heath, Kingspan Insulation's technical manager.
It has emerged at the ongoing Grenfell inquiry that Mr Heath said builders asking questions were mistaking him for "someone who gives a damn".
Mr Murphy replied: "It would be inappropriate for me to comment on Mr Heath… He is still employed by Kingspan".
Chris Pateman, from Engineered Panels in Construction, said a ban on combustible material would be "a sub-optimal solution. Northern Ireland has the opportunity to benefit from the ban in England…"
He was further questioned by Jim Wells, who said: "This committee would be hung out to dry if we allow anything to pass through this committee which endangered the lives of those living in high-rise buildings in Northern Ireland."
Mr Pateman said that "there is a limit to the extent that the manufacturer can influence" the building designer on which material to use; and that the building designer needs to satisfy himself that the products used together would not be combustible.
He said that relying on "adding together lab results on individual elements ignores how they may act together".
He said that the most appropriate test to judge how combustible a building is, is a large-scale test.