Loyalist Winston Rea's signature 'may link him to interviews'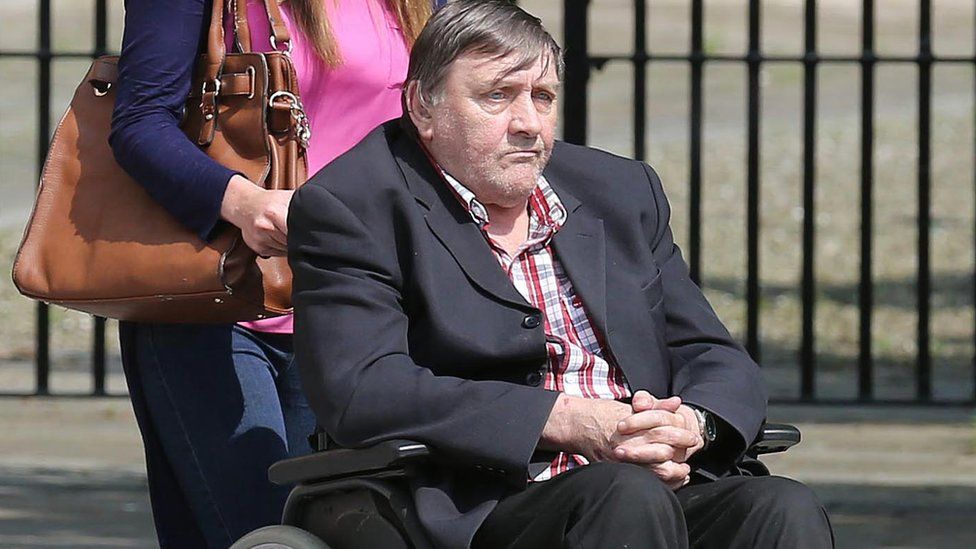 The trial of a leading loyalist has heard a handwriting expert concluded his signature may link him to a set of interviews given to Boston College.
Winston Rea, 69, from Springwell Road, in Groomsport, County Down, faces up to 19 charges.
They include aiding and abetting the murders of two Catholic men.
Mr Rea denies all the charges, which are based on interviews he allegedly gave to the US college.
The recording were made as part of an oral history project and the prosecution alleges Mr Rea took part on the understanding they would not be published until after his death.
On Tuesday, his no-jury trial at Belfast Crown Court was told samples of a signature allegedly relating to the Boston interviews were compared with several known and recorded signatures of Mr Rea given to the police.
Mr Justice McAlinden heard the signature comparison was carried out by a forensics handwriting expert with 27 years' experience based at the Northern Ireland Forensic Laboratory in Carrickfergus, County Antrim.
In a statement of his findings, the expert said he was asked to determine if Mr Rea had signed an affidavit, held in the Royal Courts of Justice in Belfast, and if he had also signed several other authorisations he allegedly gave.
The comparison was made with several statements Mr Rea had given to police over the years, notably in 2013 and 2017.
In the first of the "questioned signatures" the expert reported that it "corresponded closely" with the "specimen" signatures supplied to him.
He said the comparison of the signature on the first affidavit showed a degree of fluency consistent with it being a naturally-written genuine signature, and that in his opinion "it was written by Winston Rea".
However, while the expert said the second "questioned signature" he was given to compare was a photocopy of an authorisation, it too "corresponded closely" with the "specimen" signatures in design and other graphic parameters.
Again, he said it was his "opinion the handwriting evidence strongly supports the proposition" that Mr Rea was the signatory to the authorisations.
The court is hearing recordings from more than 30 police interviews conducted over six days following Mr Rea's arrest in May 2016.
In them he is heard repeatedly saying "no comment" to each of the questions put to him.
Based on the Boston College tapes, the prosecution claims Mr Rea is "Interviewee L".
The court heard "Interviewee L" on tape confessing to crimes committed between 1973 to 1996, including membership of the Red Hand Commando, aiding, abetting and conspiring to murder Catholic men John Devine in July 1989 and John O'Hara in April 1991, and conspiring to threaten to kill Loyalist Volunteer Force (LVF) leader Billy Wright in August 1996.
In all, Mr Rea denies all 19 charges, which also include attempted murder and other terror-related charges, including conspiring to possess firearms secured from the Ulster Resistance paramilitary group on dates between November 1986 and October 1994.