Covid-19: NI economy expected to stall after record growth
By Clodagh Rice
BBC News NI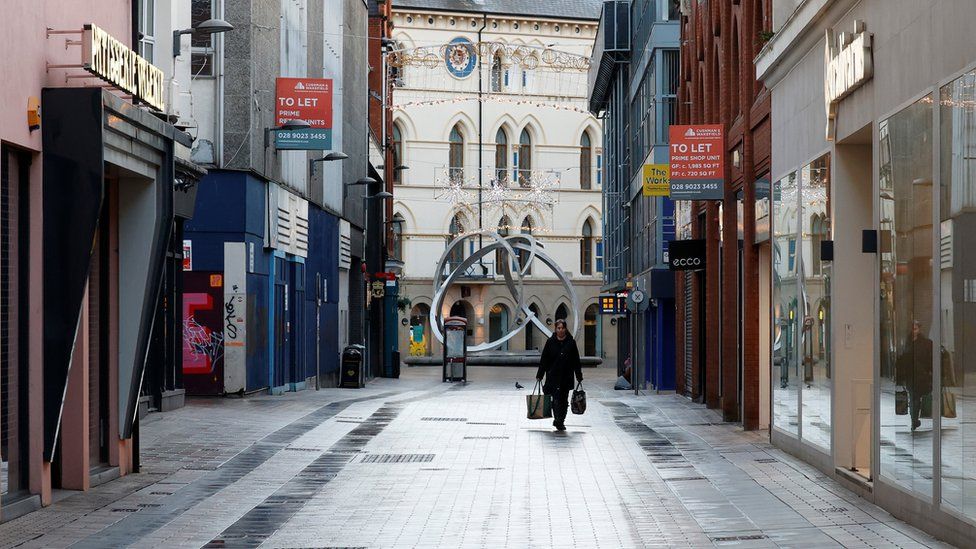 The NI Composite Economic Index, considered to be the local equivalent of GDP, was released on Thursday.
Despite a pick-up in activity, it was still 2.9% lower than the same time the year before.
The figures coincide with a period when Covid-19 restrictions were eased.
The Northern Ireland Statistics and Research Agency (Nisra) said the recovery was driven by increases in activity in services, production and construction.
While UK GDP saw a slightly bigger bounce back (16%) in the third quarter, over the year it has declined significantly more, down 8.6% on 2019.
Construction output in Northern Ireland in the third quarter rose by 36% after a record 30% drop the previous quarter, but is still 5% lower than the same period in 2019.
The record increase in construction activity in the three months to September was driven by increases in new work and repair and maintenance.
'Challenging' quarter ahead
Although figures coincide with when most restrictions were eased, recovery is expected to have stalled since then, as further lockdown restrictions were put in place from October onwards.
Danske Bank chief economist Conor Lambe said: "With a further six-week period of restrictions coming into effect in late December and expected to be in place until at least the first week of February, the economy is also likely to experience a challenging first quarter of 2021."
The bank's report said if the current lockdown is extended, tighter measures were introduced or restrictions were reintroduced later in the year, economic recovery would slow further.
Mr Lambe added: "Disruption related to the end of the Brexit transition period also remains a risk. If it takes firms longer or costs more than expected to adjust to the new trade processes, then the adverse impact on the rate of economic growth would likely be larger."
The report also said it is likely to be a number of years before output returns to pre-pandemic levels and further job losses are expected in sectors like hospitality and the arts.
It is forecasting that the average number of employee jobs will fall by 3% in 2021 and expects the unemployment rate to rise to 6.7% in 2021, peaking at around 7% in the second quarter of this year.
Funds for 'excluded' group
Meanwhile, a £20m fund for company directors in Northern Ireland will open to applications next week.
Company directors say they have been "excluded" from previous financial support schemes since the pandemic hit.
The scheme was announced in November, but with no details of how much the grants would be worth or a date to apply.
Applicants will be eligible for a £1,000 grant. When the scheme closes, any under spend will be distributed among applicants in a top up grant up to a cap of £3,500.
Economy Minister Diane Dodds said: "Many company directors who have been adversely affected by Covid have found themselves in financial difficulty. I am pleased that we are able to help address the gap in national support for this group by introducing a local support scheme."
Hospitality Ulster welcomed the announcement but said the grants would fail to cover the "huge debts" run up by the sector.
Chief Executive Colin Neill said it "acknowledges the fact that company directors... have fallen through the gaps and been excluded from the wider Covid-19 funding packages," adding it would still only "plug some of the gaps".
The Federation of Small Businesses has called for support to company directors to be "significantly increased".
Head of External Affairs for NI Roger Pollen said: "While the initial level of support is very modest, it is a good first step which we hope will be followed by more generous resource to assist those directors who have yet to receive support almost a year after the pandemic began."
The scheme opens at 18:00 GMT on 21 January and will be delivered by Invest Northern Ireland on behalf of the Department for the Economy.