Covid-19: Leaders hold 'positive' meeting with retail sector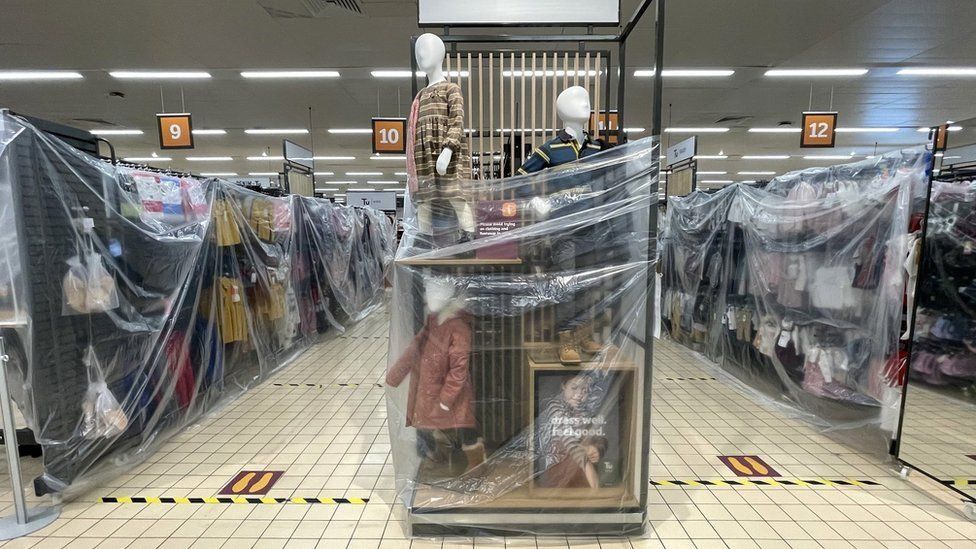 The first and deputy first ministers have met with representatives of the retail sector.
It follows the justice minister's call for larger retailers in NI to "step up" and stop selling non-essential items during the lockdown.
Some retail chains who have been allowed to stay open have been criticised, whilst smaller stores are closed.
Deputy First Minister Michelle O'Neill described Friday's meeting as positive.
First Minister Arlene Foster praised retail workers and urged members of the public to "show their gratitude" to them by adhering to current public health guidance when shopping.
Retail NI said it presented the ministers with a five-point plan for the sector, including the restoration of click-and-collect on an appointment basis and vaccination for essential retail workers "at an appropriate point".
Retail NI chief executive, Glyn Roberts, said representatives of larger stores had argued "strongly" to be able to continue selling non-essential products.
Currently click-and-collect is only allowed for those businesses deemed essential and allowed to remain open.
"I think it is up to ministers to decide what the next move is in regard to restricting some of the supermarkets, and I have to say there are some of the supermarkets that haven't been covering themselves in glory," he said.
Representatives from a number of large stores - including Tesco, Sainsbury's, ASDA, Lidl, IKEA and Marks and Spencer - were invited to take part in the meeting with Stormont ministers on Friday.
Mr Roberts said the tone of the meeting had been constructive and hoped that a way forward could be found in the coming days.
Aodhán Connolly, of the Northern Ireland Retail Consortium, said the case had been made during the meeting for click-and-collect to resume as evidence showed "it actually does make a difference and it can be done very safely".
Mr Connolly said he did not see a situation where some aisles of some larger stores were closed off to shoppers.
"That happened in Wales and it was an absolute disaster - it created flashpoints, it created aggravation, it created queues and problems," he said.
Earlier, Justice Minister Naomi Long said larger stores needed to "do the right thing".
"We saw the difficulties in other places where they tried to define what was essential and what wasn't," said the justice minister.
"We need to go further - if stores don't step up and do this on a voluntary basis we will have to find ways in regulations to stop it," she said.
"It's not one store or one product line, it's a wider issue we're trying to work through."
Asked whether some stores should be allowed to sell hot tubs during the lockdown, Mrs Long said just because shops were selling certain products, did not mean people should buy them.
"Just because it's there doesn't mean you should do it - don't buy the hot tub, don't do those things at the moment," she said.
Earlier this week the First Minister Arlene Foster said some larger firms had been behaving in a selfish way.
Northern Ireland is in the third week of a six-week lockdown, with ministers scheduled to review the measures next week.
However health officials have warned that an extension of the restrictions could be required to reduce pressure on the health service.
The first and deputy first ministers said they would take evidence from health officials before deciding whether an extension of the lockdown would be required.