Covid-19: NI lockdown to be extended until 5 March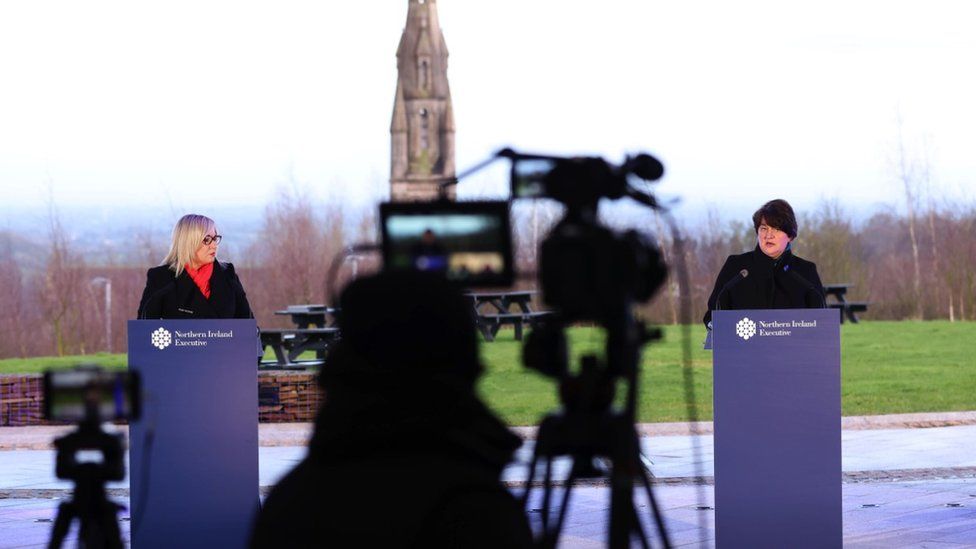 Coronavirus lockdown restrictions in Northern Ireland will be extended until 5 March, the first and deputy first ministers have said.
The executive backed the health minister's proposal on Thursday and will review the move on 18 February.
But ministers were also told that restrictions may have to remain in place until after the Easter holidays.
A lockdown closing non-essential retailers and encouraging employees to work from home began after Christmas.
Family gatherings are prohibited and people have been ordered to stay at home for all but essential reasons.
Schools are closed to most pupils until after February's half-term but a paper looking at reopening will be put to ministers at next week's executive meeting.
The lockdown came in response to a spike in the number of cases of coronavirus, which followed a relaxation of some rules in the run-up to Christmas.
First Minister Arlene Foster said extending the restrictions was an "appropriate and necessary response" to tackle the "imminent threat" posed by Covid-19.
She said she understood it would be difficult for many people to accept, given the uncertainty facing families and businesses, but added: "To not press forward would risk all of the hard-won gains."
The first and deputy first ministers were right to state just how tough this decision will be for many people.
But there's an acceptance among the public that restrictions would have to be extended, given how bad things are in our hospitals.
Their decision also suggests politicians have perhaps learned from the last wave of the pandemic, when restrictions were turned on and off sporadically, and the impact that had both on cases and the messaging.
They're not alone in sustaining tough lockdown measures, with other UK nations and the Republic of Ireland also keeping their restrictions in place for several more weeks.
Beyond that, it is thought health officials also want to ensure the vaccination programme is also "well advanced" before any restrictions are relaxed.
The hope is that, by spring, the picture will have improved significantly.
Until then the price we are paying for relaxations before Christmas looks likely to keep rising.
Deputy First Minister Michelle O'Neill said she recognised the executive was asking a lot of everybody but insisted the measures were important.
"We don't know what will come after [5 March]," she said.
Ms O'Neill said there was a commitment not to keep restrictions in place longer than necessary but decisions would have to be taken in line with the health advice and concerns about a new variant of the virus which is more transmissible.
The executive's decision comes as another 21 deaths were recorded by the Department of Health on Thursday.
While some may wonder why are restrictions are being extended when the executive's policy has always been based on this rate of infection, the difference is that this time around there are three times as many people in Northern Ireland's hospitals than there were in last April's peak.
Daily case numbers are still significantly higher too.
While ministers have agreed to keep the current restrictions in place until March, Health Minister Robin Swann said it was possible they could be needed until Easter, which this year falls in the first week of April.
It is understood this plan is being discussed across the four UK nations but ministers will have to consider that in the review next month.
Ministers were also warned that restrictions would be eased on a step-by-step basis in line with reducing pressures on the health service and ensuring the vaccination programme is "well advanced" before any relaxations are agreed.
Mrs Foster pleaded with people struggling with their mental health during the lockdown to "please seek help".
More than 100 medically-trained military personnel are to be deployed to help health staff deal with the pressure the latest phase of the pandemic is placing on hospitals.
The chief medical officer Dr Michael McBride said the "sustained pressure on our health service" would probably last for three to four weeks.
In the Republic of Ireland, 51 Covid-19 related deaths and 2,608 new cases of the virus were recorded on Thursday.
More support for businesses
Simon Hamilton, the chief executive of the Belfast Chamber of Trade and Commerce, said the extension of the lockdown would be of "little surprise to most businesses".
This extension will come as little surprise to most businesses. There is though huge ongoing frustration that financial support for closed businesses needed to save jobs is still slow to materialise and many, including lots in Belfast city centre, are falling through the cracks https://t.co/EGiTAelKFZ

— Simon Hamilton (@SimonHamilton) January 21, 2021
The Stormont executive has agreed how to allocate almost £300m to help businesses, education, tourism and transport during the next phase of the lockdown.
There will also be £16m for tourism and hospitality, two sectors which have largely been unable to operate.
In addition, two more support schemes for the sector have been opened.
One aimed at large tourism and hospitality businesses is offering a pot of £26m, with the Department for Economy having identified 250 businesses that will be eligible.
The other is a £4m scheme to support those who provide bed-and-breakfast accommodation.
Janice Gault from the trade body the Northern Ireland Hotels Federation said the schemes were a "real lifeline for the sector".
"Trading over the last year has been limited with reserves now severely depleted and businesses operating in survival mode," she added.
Also among those to receive the extra cash will be limited company directors, who had not received support since March.
Last week, a scheme was announced to give directors £1,000 grants which one director described as a "kick in the teeth" given that he had little to no income for the past 10 months.
But that scheme is to be boosted with another £20m so the payments on offer will more than treble to £3,500.
Local newspapers will also benefit from 12 months of rates relief.
Latest Covid-19 news in Northern Ireland