Brexit: NI hauliers raise concerns over 'competence' of new customs agents
By John Campbell
BBC News NI Economics & Business Editor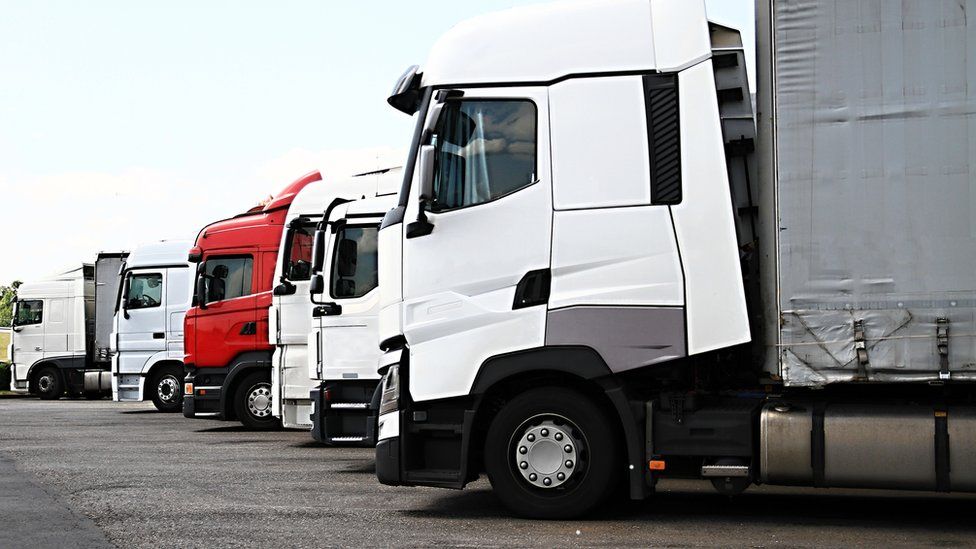 Hauliers in Northern Ireland have raised concerns about the competence of newly-trained customs agents offering advice to businesses.
Customs declarations are now required for most commercial goods moving from Great Britain to Northern Ireland.
In many cases businesses are paying for assistance from customs specialists.
But John Martin from the Road Haulage Association (RHA) said some agents were "not competent to do the job".
"They've been recruited towards the latter part of last year and there's been insufficient time to enable those staff to be trained," he told a Stormont committee.
'Complexities and demands'
That was echoed by Chris Slowey, the managing director of Manfreight, a County Armagh haulage firm.
He said that most customs expertise in the UK had been lost over the past 30 years.
"Nobody fully understood the complexities or demands for the movement of goods from GB to NI or RoI [Republic of Ireland]," he said.
He said members of his team were trying to learn from people who had only been in the job for 20 days.
He added that one agent told him on Tuesday he would no longer serve the island of Ireland because of the complexity of using seven different systems to move retail products.
The availability of customs professionals is an issue for all of the UK and had been repeatedly raised in recent years.
Customs procedures are now required for importing and exporting goods from Great Britain to the EU.
It was estimated that as many as 50,000 customs agents would be needed to do this work but it is not clear how many have been recruited.
The UK government created a £84m grant scheme to help customs firms recruit and train new staff.
It also established a Customs Academy to help provide businesses with customs expertise and training.
In Northern Ireland it has established the Trader Support Service to help businesses with customs declarations.
A Northern Ireland haulage firm has been forced to lay off 10 members of staff because of the problems affecting goods being transported from Great Britain, according to the DUP's Ian Paisley.
The North Antrim MP told Westminster's Northern Ireland Affairs Committee the company had also asked temporary staff not to return for work until the problems had been resolved.
He said he knew of logistics firms currently losing about £100,000 a week.
Mr Paisley said trade operations across the Irish Sea had been an "unmitigated disaster" since the new customs arrangements had been introduced at the beginning of this month.
There was now a "de facto, administrative red-tape blockade", he said.
Northern Ireland Secretary Brandon Lewis told the Commons committee there had been "some challenges" with Irish Sea trade in the early part of January but the government was working through those with companies.
His comment came as a new system for moving mixed loads of food products from Great Britain to Northern Ireland had a successful first test.
This type of haulage is known as groupage as it involves goods from different companies for different customers being grouped together on one lorry.
Moving food products in this way has become complicated because of strict EU food safety rules.
A new system which involves certifying and sealing individual pallets is now being tried.
Seamus Leheny, from the trade body Logistics UK, said the first load had been moved from Liverpool to Belfast on Wednesday morning but further trial runs would be needed.