Food supply problems in NI clearly a Brexit issue - Coveney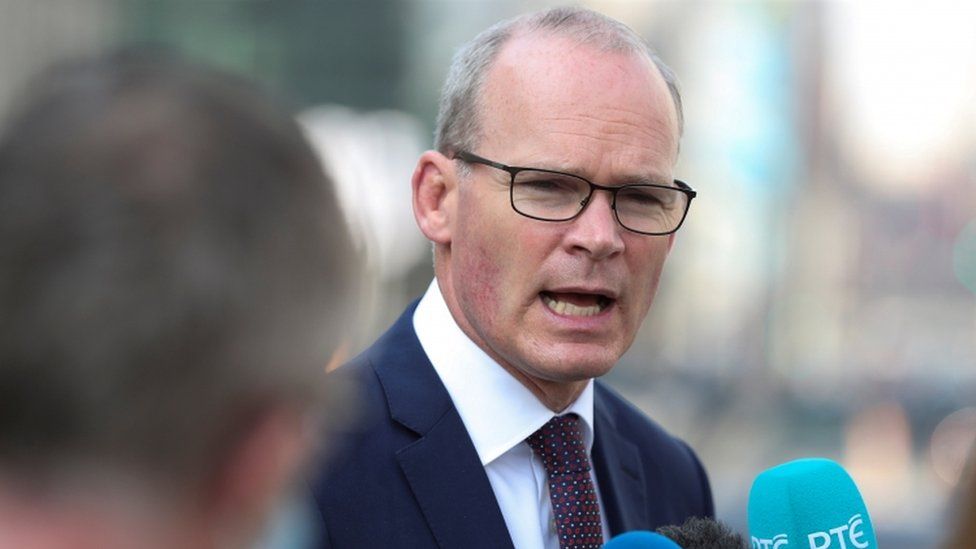 Food supply problems into Northern Ireland from Great Britain are "clearly a Brexit issue", Ireland's foreign affairs minister has said.
Simon Coveney said the shortages were "part of the reality" of the UK leaving the EU.
"Let's not pretend Brexit doesn't force that kind of change," he said, speaking on ITV's Peston programme
On Tuesday, the NI secretary said images of empty supermarket shelves had "nothing to do with the protocol".
Rather, Brandon Lewis argued the disruption caused by coronavirus before Christmas was responsible for the shortages of some food products.
'Predictions of Armageddon'
The Northern Ireland Protocol between the UK and the EU requires health certifications on animal-based food products entering NI from the rest of the UK.
Mr Coveney said it meant "very real change" for some businesses, as there now had to be a "certain number of checks" on goods from Britain into Northern Ireland.
He said that some companies were not ready for this.
Mr Coveney said the Republic of Ireland would work with the UK and EU to "make sure" supermarket shelves were not empty in the future.
He said the Brexit divorce deal agreed with the EU by then-prime minister Theresa May would have caused less separation from Northern Ireland from the UK.
Asked about Mr Coveney's comments, International Trade Secretary Liz Truss said the disruption had been "down to both" Covid and Brexit - but defended the situation.
Speaking on the Peston programme she said "there was always going to be a period of adjustment for businesses" and "we are now seeing a more rapid flow of goods into Northern Ireland those supermarket shelves are being stocked".
Ms Truss said the government would continue to support businesses, and that "predictions of Armageddon haven't happened".