Covid-19: 'Two or three' Sinn Féin councillors at republican funeral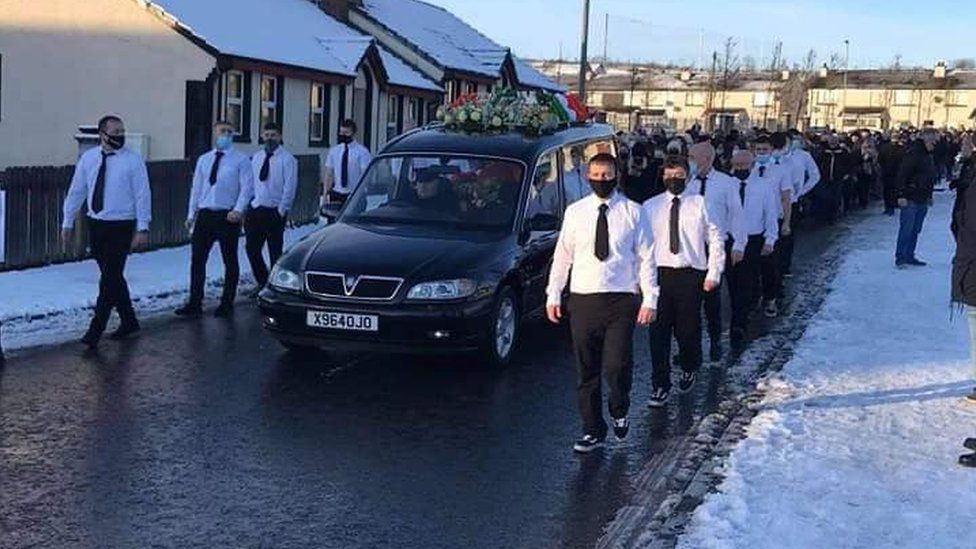 "Two or three" Sinn Féin councillors paid their respects from the roadside at a republican funeral in Londonderry, the party's Gerry Kelly has said.
Police have begun an investigation into potential breaches of Covid-19 regulations at the funeral of an IRA man.
Eamon McCourt, 62, who reportedly died with Covid-19, was buried on Monday.
"Let me make it very clear that Sinn Féin was not involved in organising this funeral," Mr Kelly said.
"It was arranged by the family."
Police said a "significant number of people" had gathered, in a manner "likely to be in breach" of the coronavirus regulations.
Speaking on BBC Radio Ulster's Talkback, Mr Kelly, an assembly member for North Belfast, added: "They are very difficult times, but any breaches of the public health regulations will and should be fully investigated."
Mr Kelly said that while a small number of Sinn Féin representatives paid their respects "in a personal capacity", to his knowledge no party members were part of the cortege.
He added that he was "fairly certain" no Sinn Féin assembly members were present.
Later on Monday it emerged the DUP members of the Policing Board have expressed their concerns to PSNI Chief Constable Simon Byrne.
In a letter, MLAs Mervyn Storey, Joanne Buntin, Trevor Clarke and Tom Buchanan ask the Chief Constable to confirm if any political representatives were present at Mr McCourt's funeral.
They also ask Mr Byrne to "clarify the nature of engagement by the local police with the organisers of the funeral".
The DUP MLAs say the scenes at the funeral "reaffirmed public perception that the PSNI is unwilling to apply the rule of law toward republicans in a manner that is fair and equitable to other sections of our community".
PSNI Ch Supt Darrin Jones said anyone found in breach of public health regulations will be reported to the Public Prosecution Service.
He said police had "engaged with representatives of the family of the deceased, the local church and local political representatives", prior to the funeral.
"As a result, police were given a number of assurances as to the conduct of the funeral, and that people would seek to pay their respects to the deceased from outside their homes rather than gather at the funeral."
Pictures of the leading republican's funeral show men in white shirts and black ties flanking the cortege and dozens of others behind them.
Ch Supt Jones added: "Regrettably at the funeral on Monday morning, a significant number of people gathered as part of the cortège, in a manner likely to be in breach of the health protection regulations."
Unionist politicians had called on the police to act after images circulated online of mourners.
Ulster Unionist assembly member Doug Beattie said police must take "robust action".
"Clearly some people seem to have the bizarre and mistaken belief that republican funerals are somehow Covid-free zones," Mr Beattie said.
"It is utterly shameful that such a gathering should take place in open defiance of the regulations which the rest of society is being told to abide by, and at a time when people are gasping for breath and dying scared and alone."
DUP MLA Gary Middleton said those who had abided by Covid-19 restrictions would view the scenes from the funeral "with dismay".
He said it was "hard to put into words the sheer recklessness of those involved".
Among them was Deputy First Minister Michelle O'Neill, the Sinn Féin vice-president, who later admitted the public health message had been undermined.
In May, Assistant Chief Constable Alan Todd said there had been social-distancing breaches at funerals in Northern Ireland in both the unionist and nationalist communities.