Covid-19: Back office health staff 'should not be vaccine priority'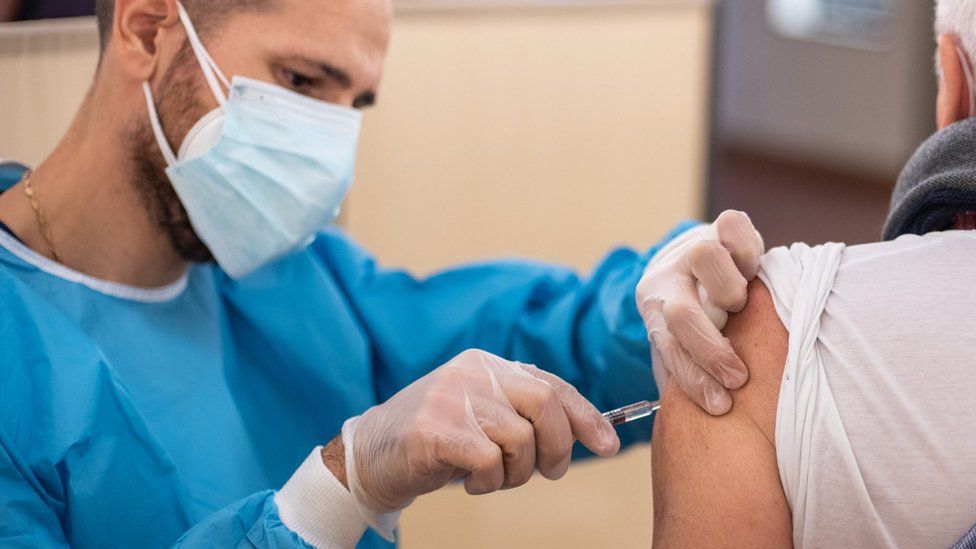 A decision to allow NI back office health workers to be vaccinated at an early stage goes against the guidance of the government's advisory body, its deputy chair has said.
These staff are part of phase one of NI's Covid-19 vaccine rollout.
Prof Anthony Harnden said the Joint Committee on Vaccination and Immunisation (JCVI) had made front-line health workers the "clear" priority.
He said giving a dose to backroom staff took it away from those at higher risk.
As of Monday, 159,642 people in Northern Ireland had received a first coronavirus vaccine dose.
On Tuesday, the Department of Health daily figures reported an additional 16 Covid-19 related deaths and 550 new cases, bringing the total number of positive tests to 101,291.
Since Monday, there has been a reduction in the number of inpatients, patients receiving intensive care treatment, and the number of patients ventilated.
It also said that the decision "does not go against JCVI guidance".
'Should be just front-line staff'
BBC News NI has contacted the department for a response to Prof Harnden's comments.
Speaking on BBC News NI's Good Morning Ulster programme, Prof Harnden said vaccinating back office health staff did not follow the JCVI's guidance.
It advises the first priorities for any Covid-19 vaccination programme "should be the prevention of Covid-19 mortality and the protection of health and social care staff and systems".
He said that people have to "remember that for every dose you give to somebody else who isn't hugely at risk, you're denying somebody at risk that first dose".
Prof Harnden added the JCVI "really feel quite strongly that it should be just front-line healthcare and social care workers".
"We purposefully put the front-line worker into our advice and into our strategy.
"The reason we said that was threefold. One, because of their exposure risk; two, because of the possibility that they would transmit to vulnerable elderly people that they were looking after who we know are hugely at risk; and, third, to keep the NHS running at a time of crisis."
'Frontline depends on back office'
Last week, a DoH spokesperson said the department took the decision to vaccinate staff in its Business Services Organisation (BSO) because they help ensure that health trusts and organisations "can effectively deliver vital services".
"Protecting BSO staff via vaccination to continue to deliver this support is essential for the smooth and continued functioning of the HSC (Health and Social Care system) during the pandemic and particularly at this time of extreme pressure on our health service.
"If the back office is down, the front line can't operate effectively."
Prof Harnden said this reason, of keeping the health system running smoothly by vaccinating back office staff, was a "stretch of the argument".
"One could argue that actually lots of systems in the UK need to work very smoothly and there are lots of different groups clamouring to receive the vaccine as soon as possible and I fully understand that.
"The JCVI took a really strong stance on this that what we wanted to do was protect [from] hospitalisations and deaths."