Concerns over Topshop stores in NI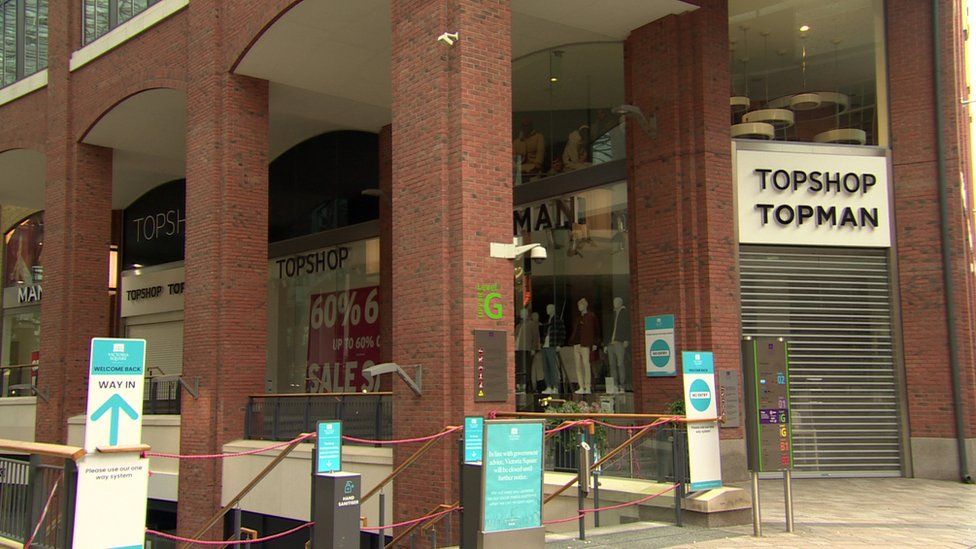 "We are all a bit sad about losing the store, I had such a good time there."
Student Finn Devlin has been working as a retail assistant at Topshop in Victoria Square in Belfast for the last 18 months while studying at university.
On Monday, he woke up to the news that he was out of a job after online retailer Asos bought the Topshop, Topman, Miss Selfridge and HIIT brands, but not the stores.
Thousands of jobs remain at risk after online fashion retailer Asos struck a £295m deal to buy four brands from failed retail group Arcadia.
"It's going to create such a hard time for anyone in retail to try and find a job now," Finn said.
Working at Topshop, Finn was able to suit his shifts around his university studies, something he is worried about trying to find again.
"I don't know if I'll be able to find that flexibility from another company, but it's going to be difficult being a student and trying to find a job, when so many other people have lost their jobs already."
Topshop has 14 outlets in Northern Ireland.
These are at: Armagh, Ballymena, Bangor, Belfast - Victoria Square, Belfast - Boucher Road, Coleraine, Cookstown, Craigavon, Enniskillen, Londonderry, Newry, Newtownabbey, Omagh and Portadown.
Monday's news is another blow for the retail sector which is the second largest employer of women in the Northern Ireland economy.
Dr Lisa Wilson from the Nevin Economic Research Institute said: "This immediately has a huge impact not just on women workers, but also younger workers who rely on this sector for employment.
"The fact that we have been in and out of lockdowns means females have been bearing the brunt of those closures."
Is this the end of shopping?
Retail expert Kate Hardcastle said: "I absolutely don't think this is the end of traditional bricks and mortar retail.
"We will have a future and it will be vibrant.
"It's just there will be less of it and I'm hoping we will replace the quantity of square footage with quality."