Holocaust survivor Walter Kammerling has died aged 97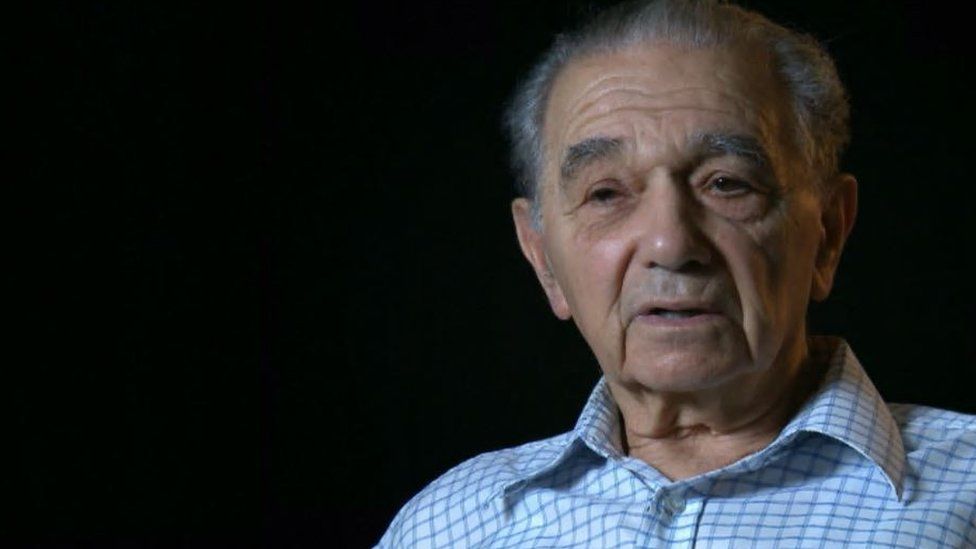 Education Minister Peter Weir has joined those paying tribute to the Holocaust survivor Walter Kammerling, who has died at the age of 97.
As a young Jewish refugee from Vienna, Mr Kammerling arrived in Northern Ireland in February 1939.
He spent three years working on a farm in Millisle on the County Down coast. It was set up to offer a place of safety to Jewish refugee children.
Mr Kammerling returned to Austria after World War Two and then settled in England in the 1950s.
He later returned to Northern Ireland to share his story with local schools and groups in a bid to keep the memory of the Holocaust alive for future generations.
Mr Weir said Mr Kammerling had inspired and informed many through his work with the Holocaust Educational Trust.
Karen Pollock CBE, chief executive of the Holocaust Educational Trust said the impact he had over the years was "immeasurable".
"He dedicated his later years to travelling the length and breadth of the UK, sharing his testimony with students through the trust's outreach programme, ensuring that the human history of the Holocaust lives on.
"Not long ago, he travelled back to Northern Ireland with the Trust, to speak to post-16 students who have completed the Trust's Lessons from Auschwitz project."
Mr Kammerling's parents and sister Ruthi were murdered at the Auschwitz-Birkenau concentration camp in 1944. He joined the British army that same year and served in Belgium and the Netherlands.
'Such a lovely gentleman'
He visited Millisle Primary School in 2014.
Former principle Linda Patterson remembers a man "generous with his time and spirit".
"He was such a lovely gentleman to talk to, I could have spoken to him for hours. My sympathies are with his wife and family.
"For our children to be able to hear directly from Walter, who had experienced all this himself, it was brilliant for them. He made it all come alive."
Outside the school is a large, striking sculpture of a gold star - a permanent memorial to the town's role in helping survivors of the Holocaust.