Brexit: Sinn Féin and DUP clash over Larne port threat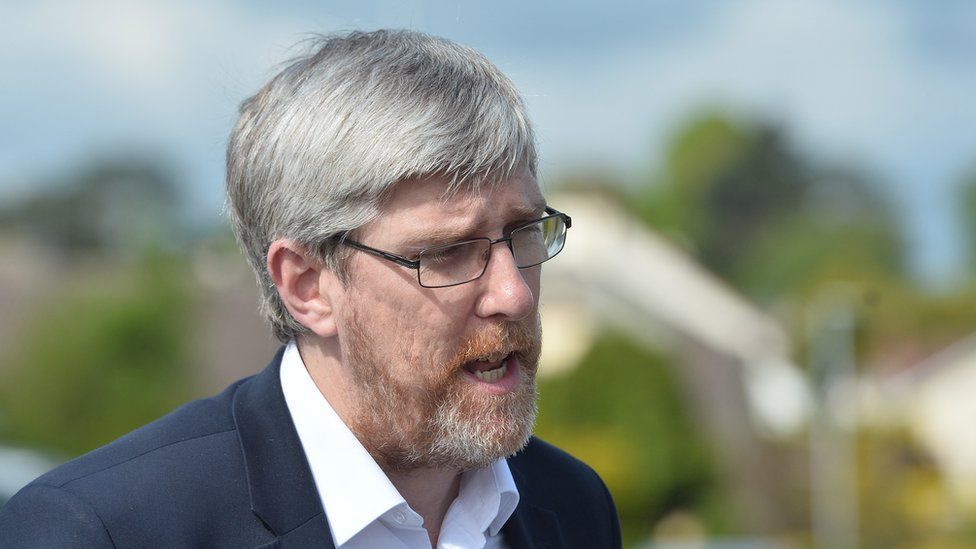 Port workers carrying out Brexit checks who were withdrawn amid security concerns were used as pawns in a "very cruel game", Stormont has been told.
Sinn Féin MLA John O'Dowd made the claim during assembly question time.
He accused the new DUP agriculture minister of allowing the threat narrative to continue.
Gordon Lyons did this because it suited his party's "agenda", said Mr O'Dowd.
But the accusation was angrily rejected by Mr Lyons who described the comments as "disgraceful".
Mr O'Dowd was speaking during the new minister's first question time since his appointment last week.
He said he had been concerned for staff safety following the appearance of threatening graffiti and amidst allegations of staff intimidation.
No decision has yet been made about the resumption of physical checks by Department of Agriculture, Environment and Rural Affairs (DAERA) staff who also work at the ports checking goods moving over the Irish Sea border.
Mr O'Dowd said that despite the fact the police had advised that there was "no credible threat", Mr Lyons had referred to threats during his contributions.
Mr Lyons said the graffiti, which referred to port staff as targets, had been "very much taken as a threat".
He said a process was now in train within the department to speak to its staff, carry out an internal risk assessment, introduce any changes deemed necessary and make a decision on next steps.
But Mr O'Dowd said the new minister should act immediately to restore services at the port.
"I've no problem with anyone ensuring the safety of their workers but my concern is this, the fact that there is no credible threat which has been stated by the PSNI and the fact that a lie got halfway around the world before the truth had got its pants on," he said.
"That that agenda of those workers being removed, suits your political agenda and rather than dealing with the facts, you're allowing these non-existent threats to carry forward a political agenda which would be contrary to your statutory duty and the code which you have as a minister."
Mr Lyons dismissed the claims and said the safety of staff was his first priority.
"We have put in place a clear process, there were concerns, there were threats," he said.
"The graffiti was very much taken as a threat; there were a number of other concerns that were expressed and it was only right that we took precautionary measures and ensured that additional mitigations were put in place.
"I don't see the problem with wanting to make sure that the full threat assessment was done, making sure that we did our own risk assessment and making sure that any mitigations that needed to be put in place were put in place."