Brexit: NI port staff to return after security concerns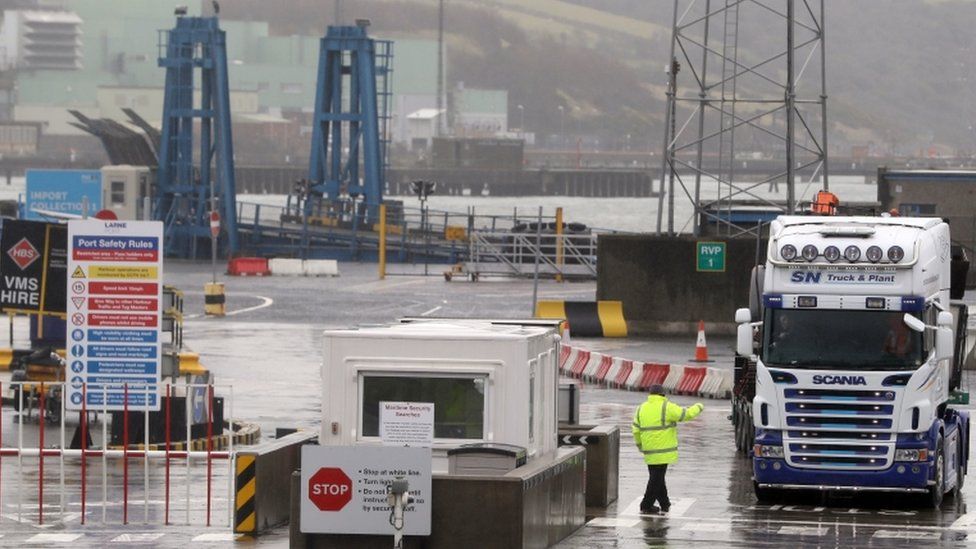 Staff from NI's agriculture department will return to work at post-Brexit border posts from Wednesday.
The officials were withdrawn from duty on 1 February amid security concerns.
The department said the decision to return was taken following a "full threat assessment from the PSNI, conducting our own internal risk assessment and liaising with staff and unions to put mitigations in place".
Physical checks on products of animal origin will now recommence.
Northern Ireland remained part of the EU's single market for goods when the rest of the UK left at the end of the transition period.
This means that some products from Great Britain now have to enter NI through border control posts.
On 1 February a council and the Department of Agriculture, Environment and Rural Affairs withdrew staff amid claims of intimidation.
Threatening graffiti appeared on walls in loyalist areas of Northern Ireland.
The council staff later returned to work, but the department's stayed out.
On Monday, the PSNI chief constable Simon Byrne said he had no evidence of a "credible threat" to them.
Later that day, Sinn Féin MLA John O'Dowd told the Stormont assembly that the information that led to the suspension of the checks was based on "misinformation" and the staff were used as pawns in a "very cruel game".
Mr O'Dowd said: "There has to be some form of investigation as to why this issue came to light and why it was dealt with the way it did because at the heart of it are workers and their families.
"It had to be traumatic for those workers to be told they were under threat, to have to go home and tell their families, 'we are under threat', when no such threat existed.
"Why were those families put through that trauma?
"There is no-one within the [agriculture department] qualified to second-guess the PSNI's assessment in this matter."
Mr O'Dowd claimed in the assembly that the Democratic Unionist Party (DUP) - which has responsibility for the department which oversees customs posts - had not acted to return the staff to work because it suited the party's "agenda".
That accusation was angrily rejected by Agriculture Minister Gordon Lyons of the DUP, who described the comments as "disgraceful".
The DUP has been opposed to the post-Brexit trade arrangements for Northern Ireland, including those inspections.
Mr Poots had said he was concerned for staff safety after the appearance of threatening graffiti and allegations of staff intimidation.
Police have since said there was no evidence of loyalist paramilitary groups being involved in the graffiti nor that car registrations of staff had been recorded, as had been claimed.
On Tuesday, trade unions' representative Alan Law said it "simply didn't happen" that they told Mid and East Antrim Borough Council that staff number plates were being recorded.
Mr Law said he told the council, writing on behalf of Unite, Nipsa and GMB unions, that workers had been threatened by graffiti and "potentially other methods" and asked for reassurances that the council was conducting a risk assessment.
He said it was "wholly inappropriate" that the number plate issue was attributed to the trade unions in a council statement.
Mayor Peter Johnston said the council was "presented with lots of information from many different stakeholders with regards to the threats and community tension around the port staff in Larne".
He said a unanimous decision was taken by councillors to withdraw its staff.
"Throughout all of this our priority and our duty of care ultimately is with our staff," he added.