Bloodlands: 'A foot in both the present and the past'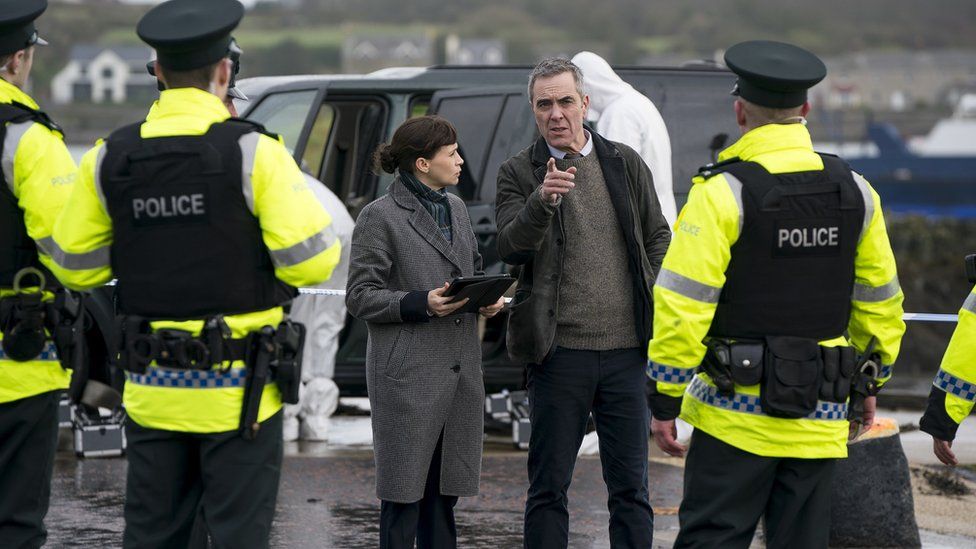 A mysterious assassin in the police force, a detective haunted by decades-old crimes and the austere beauty of Strangford Lough - it could be yet another drama rooted in Northern Ireland's troubled past.
But Bloodlands is a different kind of thriller, according to star James Nesbitt.
"It's a thriller that could be set anywhere, it just happens to be set here," he says.
"It's not really about the Troubles. Certainly they're in the backdrop but it's really about a father and daughter.
"It's about him trying to uncover unanswered questions from the past, but also build a safe future for his daughter going forward."
Nesbitt plays DCI Tom Brannick, who is sucked into a dangerous game of cat-and-mouse after a car containing a possible suicide note is pulled out of Strangford Lough.
He quickly links it to an infamous cold case - the hunt for Goliath, a legendary assassin possibly operating within the police force.
For Brannick, it's personal. His wife Emma was possibly one of the killer's victims.
The four-part drama also gives Coleraine native Nesbitt the chance to work with Line of Duty writer Jed Mercurio, who is the series' executive producer, for the first time.
"I've wanted to work with him for a long time and we finally found this," Nesbitt says.
"The writer Chris Brandon is from County Down, he's a new writer and it's a sensational character he's created."
For Brandon, the character of Brannick personifies the struggles of how Northern Ireland deals with its history, but also how times have changed.
"As a veteran detective Brannick has a foot in both the past and the present," he says.
"He has hope for the future in the potential of his daughter, but he is stopped from moving forward by the resurrection of an assassin myth; a symbol of police collusion in past violence that holds deeply personal significance.
"Tom must cut out the root of this myth in order to have any hope of a peaceful tomorrow.
"He must confront his past to protect the future he prizes above all."
The series also stars Charlene McKenna as DS Niamh McGovern, Lorcan Cranitch as veteran police officer Jackie Twomey and Lisa Dwan as Tori Matthews, a doctor teaching at Queen's University in Belfast, where she runs into Brannick's daughter.
Dwan says part of the joy of working on Bloodlands was collaborating with a film industry in Northern Ireland that has been involved with some of the biggest hits of recent years, from Mercurio's Line of Duty to the global sensation Game of Thrones.
"I think there's a confidence in the Northern Ireland film industry all over, there's production companies setting up left, right and centre," she says.
"There's a plethora of talent here and its' a very young, creative spirit that hasn't been overmined. There's no cynicism, everyone is just so delighted to be working and creating."
The series was filmed last year before lockdown took hold.
Both Nesbitt and Dwan both say they relished working in the settings of Strangford Lough and the Mourne Mountains, a landscape that Brandon says has an "austere beauty" that "holds memories of stories past".
But the location and the Northern Ireland weather also brought its challenges.
"It was incredibly cold, particularly when we had to go down to the islands of Strangford Lough," Nesbitt says.
"At times it was hard to speak, my mouth would be paralysed and I just couldn't get my jaw moving.
"The privilege of the job is the hardness of it sometimes, because that's what you want to do, that's why you go into acting. It was challenging but fabulous."
Bloodlands starts on BBC One at 21:00 GMT on Sunday, 21 February.